Trans Woman Born 'Harry Potter' Changes Her Name After J.K. Rowling Transphobia Charges
Turns out the boy who lived was actually the girl who lived—until a legal name change. Ellen Potter, who previously shared the same name as J.K Rowling's fictional and widely beloved wizard Harry Potter, received an outpour of support after she came forward with her story on social media on Saturday.
"@jk_rowling So I was born named Harry Potter, before the books were published, it's just a coincidence but it's been challenging going through life with a famous name. anyway, I just got my legal name change approved," Ellen Potter wrote along with a photo of her name-change documents.
The woman's post comes following a hailstorm of controversy surrounding the allegedly transphobic comments author JK Rowling has shared on social media. Some of Ellen Potter's followers congratulated her on her name-change journey but didn't miss the chance to fire shots off at Rowling over the irony of a transperson taking the steps to remove her association with the name Harry Potter.
"Bravo, congrats, and I'm so sorry that your birth name is associated with... That. Harry is dead. Long live Ellen!" one person tweeted.
Another wrote: "This is the biggest 'f**k you' and I love it."
While Rowling is no stranger to immense criticism, the 55-year-old Brit has found herself at the top of celebrity cancel list more often than usual as of late. Just ahead of the September release of her latest novel Troubled Blood, Rowling was the butt of the trending hashtag #RIPJKRowling with critics declaring her "dead" in response to the thriller book—published under her alias Robert Galbraith—which follows the story of "a transvestite serial killer" (better described as "a murderous cis man who dresses a woman to kill his victims," according to Pink News.
"in memory of jk rowling. she ain't dead, but she killed her own career by proudly hating trans people & no one would really miss her that much anyway #ripjwrowling," one person tweeted at the time.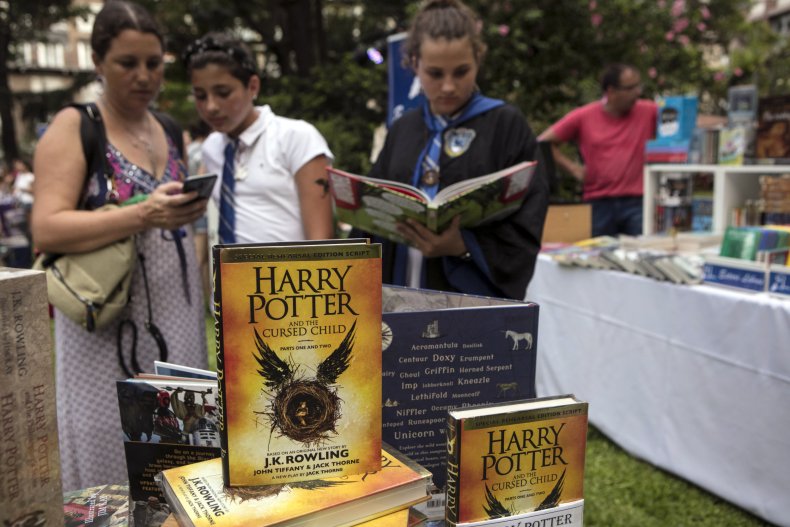 Rowling first came under fire back in December after she tweeted her support to Maya Forstater, a tax specialist who was fired from her job after posting transphobic tweets. Then in June, Rowling was in the hot seat with the LGBTQ+ community again after she tweeted a response to a news article regarding "people who menstruate." Rowling suggested the phrase was an attempt to "erase" women.
"If sex isn't real, there's no same-sex attraction. If sex isn't real, the lived reality of women globally is erased. I know and love trans people, but erasing the concept of sex removes the ability of many to meaningfully discuss their lives. It isn't hate to speak the truth," she wrote, adding, "The idea that women like me, who've been empathetic to trans people for decades, feeling kinship because they're vulnerable in the same way as women—ie, to male violence—'hate' trans people because they think sex is real and has lived consequences—is a nonsense."
She expounded upon her beliefs about the trans community and issue they encounter in a personal blog on her website, in which she spoke out against new trans activism and Trans-Exclusionary Radical Feminists.