Is J.K. Rowling Making Money From 'Hogwarts Legacy?' What We Know
Hogwarts Legacy is coming to Xbox X/S and PS5 in February but questions still remain surrounding the involvement of Harry Potter franchise creator J.K. Rowling.
Formerly a universally beloved author, Rowling's personal legacy has been tainted in recent years with accusations of transphobia and she's often pulled into social media debates with fans-turned-critics.
Rowling had made millions for writing the original Harry Potter book series, which has since spawned a successful movie franchise, theme parks a stage show and countless merchandising opportunities. There have been video games based on the books in the past but the upcoming Hogwarts Legacy tells a new story, and is one of the year's most hotly anticipated games.
The controversy surrounding Rowling has led some to call for a boycott of the video game and debate rages as to whether Hogwarts Legacy will be a success or not.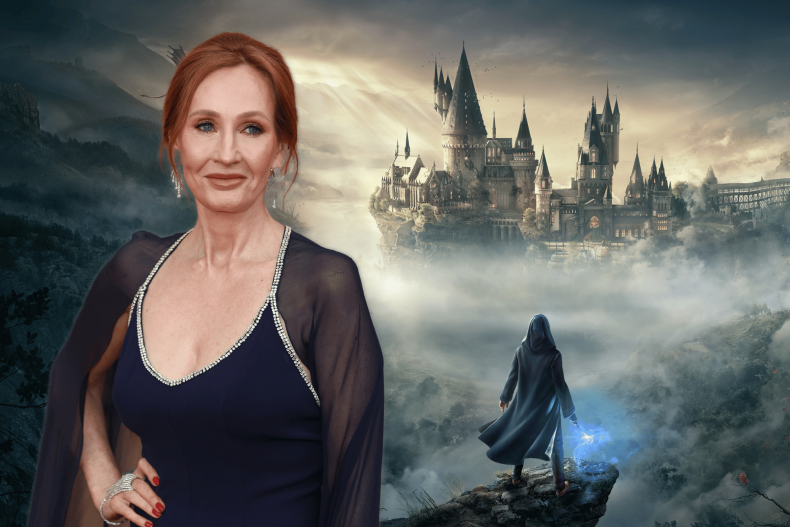 News website for "geek girls" The Mary Sue has made it clear they are "over" Rowling. Trans writer Jack Doyle detailed Rowling's alleged transgressions towards the trans community on the site in late December, calling her "capacity for nonsense" as boundless as the Forbidden Forest.
Members of the website, and countless others online have asked people not to buy the new game.
"Even if you are a fan of Harry Potter, you don't need to keep spending money to feed her machine or build her platform," journalist D.R. Medlen wrote after calling Rowling a "disgusting TERF." The acronym TERF stands for "trans-exclusionary radical feminist."
Sebastian Croft provides the voice for the main character in Hogwarts Legacy and earlier in January explained that he signed up to the project before he was "aware of J.K. Rowling's views."
"I believe whole heartedly that trans women are women and trans men are men," he wrote on Twitter.
But, is a boycott of the game necessary to keep money out of the pockets of Rowling, if that's your prerogative? Rowling didn't write the script for Hogwarts Legacy and the publisher, Warner Bros. Games, told fans in September 2020 that Rowling "is not directly involved in the creation of the game."
Although Rowling seemingly hasn't created new content for the game, the entire premise of the world Hogwarts Legacy is based on is still Rowling's intellectual property, and by association, she is sure to receive royalties based on that.
Rowling consistently makes passive income on all Harry Potter products. Multiple sources have cited that Rowling earns anywhere between $50 million to a $100 million each year from royalties. Forbes estimated she earned $95 million in 2017 alone.
It's not been announced how much money, or what percentage of profits Rowling could make from Hogwarts Legacy. The video game industry is often overlooked as a money maker but Statista.com predicted that revenue in the video games segment is projected to reach US$221.40 billion in 2023. They believe the industry will continue to grow exponentially too.
As is the case with every ticket bought to The Wizarding World of Harry Potter theme parks, every copy of Hogwarts Legacy sold is likely to send a percentage of the money made to Rowling. If she doesn't receive royalties from each sale, that would be because the rights to the royalties were paid up front.
Opponents of hers are calling for a boycott to prevent Rowling from profiting, but would it work?
"According to my research, there have been a number of known video game boycotts and none of them apparently have substantially hurt the developers' bottom line," crisis communications expert at Goldman McCormick PR, Ryan McCormick told Newsweek.
A debate is raging online as to whether people should be excited about Hogwarts Legacy or should avoid it altogether.
Perhaps anticipating the backlash in advance of the game's release on February 10, the game's director Alan Tew told IGN: "I think for us there are challenges in every game we've worked on. This game has been no different."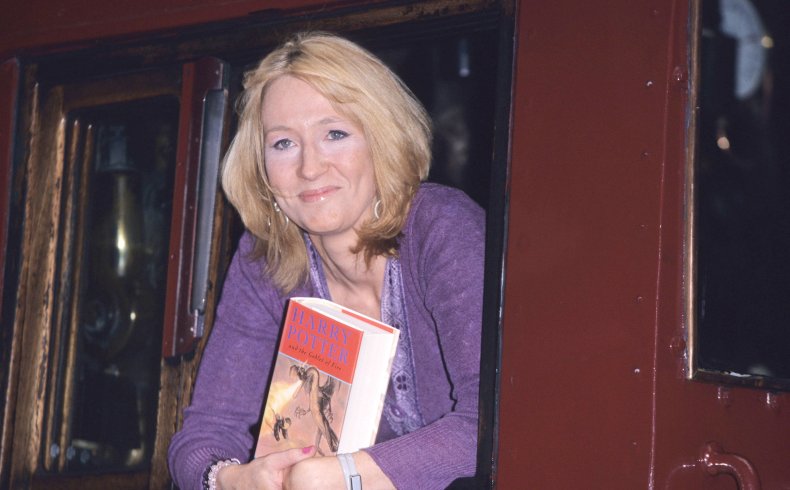 He spoke without mentioning Rowling specifically.
"We know our fans fell in love with the Wizarding World, and we believe they fell in love with it for the right reasons. We know that's a diverse audience. For us, it's making sure that the audience, who always dreamed of having this game, had the opportunity to feel welcomed back. That they have a home here and that it's a good place to tell their story," Tew said.
McCormick predicts Hogwarts Legacy will overcome the controversy surrounding the Harry Potter creator.
"Gauging the wind of public discourse, as of now I don't believe a boycott of Hogwarts Legacy is gaining enough traction or momentum to counterbalance the number of individuals who are excitedly anticipating the game's release," he said.
What is more likely to affect sales and profits is if developers Avalanche Software haven't made a game that's up to scratch.
"If Hogwarts Legacy doesn't meet expectations, it won't need a boycott to drive gamers away," McCormick said.
Newsweek reached out to J.K. Rowling's representatives but they declined to comment at this time.
Hogwarts Legacy will release on Xbox X/S and PS5 on February 10. The Xbox One and PS4 release will be on April 4 and it will be out on Nintendo Switch on July 25.