J.K. Rowling Stokes the Flames of Latest Transphobic Controversy With New 'Witch' T-Shirt
Harry Potter author J.K. Rowling is showing that she won't relent in her transphobic stance with a recent Twitter update promoting a company that sells anti-transgender merchandise.
The company in question, Wild Womyn Workshop, markets itself as a feminist group, though many say its women-first, pro-lesbian agenda frequently disparages the trans community. Anti-trans comments also fill the company's social media pages.
The Wild Womyn Workshop t-shirt that Rowling promoted reads: "This Witch Doesn't Burn." Some may simply view this as a response to the dismal critical evaluation of her latest book, Troubled Blood, published under the pseudonym of Robert Gailbraith. But given Rowling's history of speaking out against transgender rights, the choice to wear a shirt from this particular company appears pointed—especially when one also considers some of the criticisms that were leveled against Troubled Blood. Aside from the book being derided as boring, critics and readers heaped scorn on the work and Rowling because the detective novel's villain is a crossdressing male serial killer.
Rowling detailed some of her beliefs on transgender issues in a June essay published on her personal website. In that piece, she states, "When you throw open the doors of bathrooms and changing rooms to any man who believes or feels he's a woman – and, as I've said, gender confirmation certificates may now be granted without any need for surgery or hormones – then you open the door to any and all men who wish to come inside. That is the simple truth."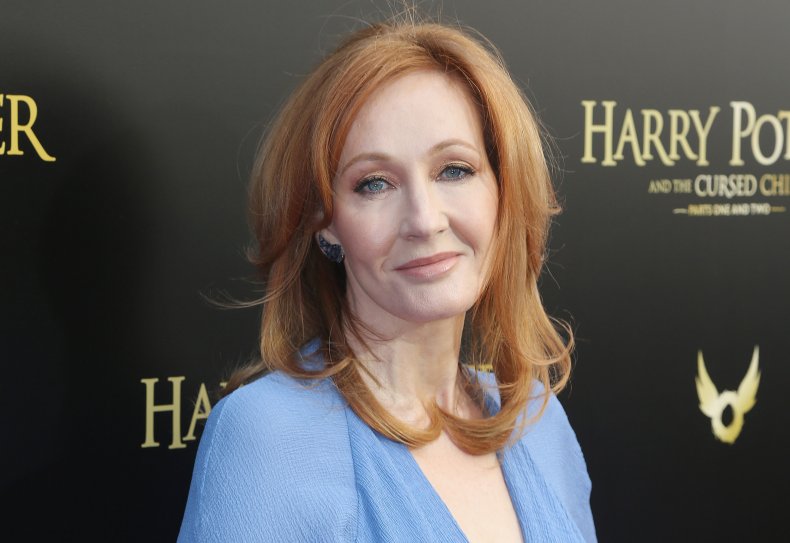 At the beginning of the summer, the English author unleashed a series of controversial tweets. One that left little doubt as to her anti-trans views read "TERF Wars." (TERF is an acronym for "trans-exclusionary radical feminist.")
These moves deeply upset a large portion of her fanbase, including many transgender readers (and their allies) who found solace in the stories of Harry Potter. Stars from the successful film franchise spoke out against Rowling, including Emma Watson, Rupert Grint and Fantastic Beasts actor Eddie Redmayne. The boy wizard himself, Daniel Radcliffe, released a statement through The Trevor Project, an organization providing crisis intervention and suicide prevention services to lesbian, gay, bisexual, transgender and queer youth.
"To all the people who now feel that their experience of the books has been tarnished or diminished, I am deeply sorry for the pain these comments have caused you," Radcliffe said in his statement. "I really hope that you don't entirely lose what was valuable in these stories to you."
Rowling, for her part, remains clearly defiant and hasn't backed down from any of her remarks. Newsweek reached out to Wild Womyn Workshop over email for comment, but didn't hear back in time for publication.