J.K. Rowling Thanks Fan Site Founder for Saying She Is Not Transphobic
After a month of tweets, back and forths and intense scrutiny over her views on transgender issues, J.K. Rowling has ignited the debate once more by thanking Harry Potter fan site founder Emerson Spartz, of MuggleNet, for supporting her.
"After hours of stomach churning & frantic pacing, I decided that, as founder of MuggleNet, I have to say something. I can't believe I have to say this, but @jk_rowling is NOT transphobic," posted Spartz.
"Thank you, Emerson," posted Rowling a few hours ago, "for being who I always thought you were." At the time of writing, the tweet had already garnered close to 1,000 comments.
J.K. Rowling came under fire in early June for her controversial opinions on transgender people.
Her views caused divisions among fans and co-workers, including the stars of the Harry Potter franchise. Daniel Radcliffe, Emma Watson, Rupert Grint, and Eddie Redmayne all made it clear in comments that they did not agree with Rowling's statements.
"As someone who has worked with both J.K. Rowling and members of the trans community, I wanted to make it absolutely clear where I stand," said Eddie Redmayne. "I disagree with Jo's comments. Trans women are women, trans men are men, and nonbinary identities are valid."
In addition, two of the biggest Harry Potter fan sites, The Leaky Cauldron and MuggleNet, distanced themselves from the author. They said in a joint statement that her views were "harmful and disproven beliefs about what it means to be a transgender person" and "out of step with the message of acceptance and empowerment we find in her books and celebrated by the Harry Potter community."
Both websites said they would no longer be promoting J.K. Rowling's achievements unrelated to the world of Harry Potter.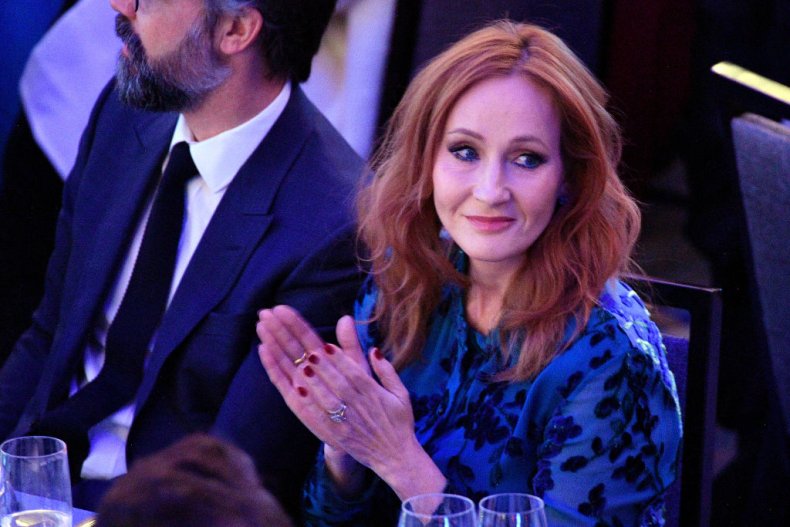 Certain rights groups condemned Rowling's comments as anti-trans. It all started on June 6, when Rowling commented on an article discussing menstruation products, and took issue with the phrase "people who menstruate."
"'People who menstruate.' I'm sure there used to be a word for those people. Someone help me out. Wumben? Wimpund? Woomud?" wrote Rowling in a tweet.
One person tweeted in response: "Transgender men can menstruate. Non-binary people menstuate. I, a 37 year old woman with a uterus, have not menstruated in a decade. Women are not defined by their periods."
Another commented, "Using non-gendered language is about moving beyond the idea that woman = uterus. Feminists were once mocked for wanting to change sexist language, but it's now common to say firefighter instead of fireman."
A series of trans-related tweets followed from Rowling: "The idea that women like me, who've been empathetic to trans people for decades, feeling kinship because they're vulnerable in the same way as women - ie, to male violence - 'hate' trans people because they think sex is real and has lived consequences - is a nonsense."
Rowling later published a 3,600 word essay discussing her thoughts about trans issues on her personal website, in which the Harry Potter creator doubled down on her views and revealed that she'd suffered violence and domestic abuse.
Fans coming Rowling's defence have said that her complex past and experience of abuse has led to her strong opinions on the subject.