JLM Couture Sues Hayley Paige Gutman for Millions Over Her Name—the Dispute Explained
A bitter legal dispute is raging between designer and Say Yes To The Dress star Hayley Paige Gutman and bridal brand JLM Couture over naming rights and social media accounts.
Last December, Gutman dramatically quit Hayley Paige—the bridal brand she had built over a decade—after contract disagreements with its parent company, JLM.
Since then, the row over the use of the Hayley Paige name and related social media handles has deepened.
A few days before Gutman announced her resignation, a court granted JLM a temporary restraining order against the designer over her use of Instagram. Gutman claimed the company had locked her out of the @misshayleypaige accounts and blocked her from using her own name for business purposes.
In a video revealing that she had resigned, Gutman said she had been 25 years old when she signed contracts with JLM and did not have a lawyer—a claim that JLM disputes.
"JLM Couture has convinced a court to temporarily prevent me from even using my own name in public in any business context, possibly even including announcing what they have done to me," Gutman said in the video she posted to a separate Instagram account.
"The court also granted them control of the million-plus follower Instagram account that I started in early 2012, along with my TikTok, and Pinterest accounts for their own purposes. At present, I am not even allowed to remove my personal photos or thoughts from these accounts."
However, in March, a federal court judge found that the @misshayleypaige Instagram account was a business account.
A spokesperson told the website Insider: "It always was, and currently is, owned by the company—just as every company owns and controls its own brands and branded social media accounts."
A representative for Gutman disputes this, telling Insider that the page had been started as a "personal account" and much of the content had "always been personal in nature.
The designer's representative added: "My client's employment agreement with them gives them absolutely no rights to the subject Instagram account. In fact, the agreement made no mention at all of social media at all."
Before Gutman's resignation, she and JLM had had a year of disputes over the @misshayleypaige account.
Issues arose when Gutman used the Instagram account to promote unrelated products from different companies, such as beer and olive oil brands. She also removed links and references to JLM from the account before restoring them in October 2020.
In November 2020, according to a complaint filed by JLM, Gutman was informed that she would not be given ownership rights to the @misshayleypaige Instagram account, prompting the designer to remove bridal-related links and posts from the page.
The complaint reads: "Gutman not only hijacked the Main IG Account, but she took steps to convert it from a JLM company account to a personal account."
On December 15, 2020, JLM sued Gutman over her use of the @misshayleypaige Instagram account, which they say she used "as her own business platform as if she were an influencer."
The temporary restraining order granted to JLM in December prevented Gutman from posting on the @misshayleypaige accounts without approval from JLM. She also had to surrender passwords for other social media accounts using the name.
Days later, on December 21, Gutman released the resignation video on her separate @allthatglittersonthegram account.
"I have used [the @misshayleypaige] account to talk about my life, family, fiancé and my beloved dogs, among many other personal topics," Gutman said in a press release accompanying the video. "And now JLM is denying me the ability to communicate with the many friends who have joined me on our shared journey, unless I get Mr. Murphy's permission first, to make sure it is, in his words, 'on brand.'
"Frankly, I feel violated by the idea that JLM may use my name to give you the impression that I continue to be associated with the company, even after I have left, while, at present, JLM asserts that I cannot use my own name myself," she added.
Responding to this claim, a spokesperson for JLM told Newsweek on May 6: "The judge, in her March ruling, points out that Ms. Gutman assigned all rights to the @misshayleypaige and related brands to JLM in exchange for increased compensation. This is customary in the fashion business."
In an earlier statement about Gutman's video, JLM said there had been "multiple rounds of negotiations between Hayley and JLM until both parties settled on an agreement each felt was fair and mutually beneficial.
"Second, Hayley has access to the social media accounts and JLM encourages and would welcome Hayley to continue contributing content that is supportive of the Hayley Paige brands."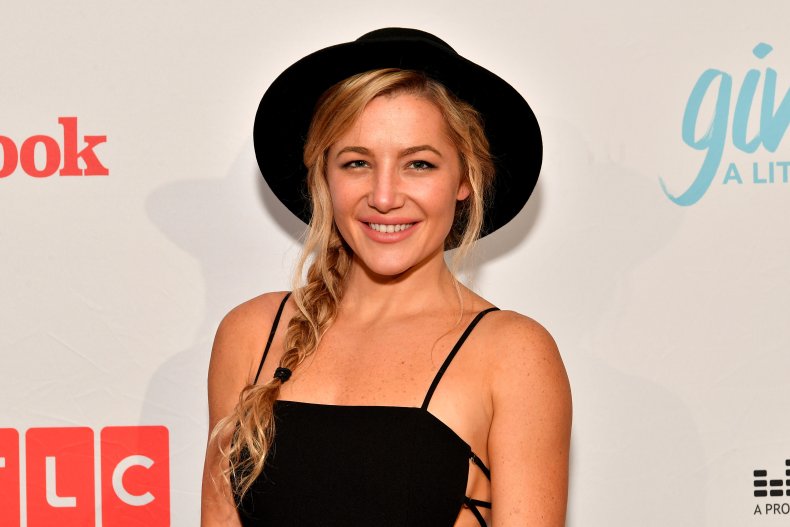 In March, it was reported that Gutman is in the process of changing her name.
"I may have lost this round in court, but the bigger story is about a girl you might know who is determined to pave her own future," Gutman said in another Instagram video. "I refuse to be nameless and I refuse to be jobless. Since they have taken my name, I've decided to change it, officially and professionally.
"I will not be reduced by what has been taken from me."
Now, in the latest round of the battle, JLM is suing Gutman's fiancé Conrad Louis Clevlen for copyright infringement, breach of contract and more.
The suit, per Insider, claims that Clevlen assisted Gutman in breaching her contract with JLM when she promoted other brands on her social media platforms without the company's consent, and because she received payments for sponsored content through Clevlen.
The lawsuit requests damages from the couple on 18 counts, totalling around $8.95 million.
JLM filed its amended complaint, naming Clevlen as a defendant, on May 3. It told Newsweek it had done so because "since filing its original Complaint in December 2020, it has come to learn the specific role Mr. Clevlen has played in facilitating and profiting from side deals by improperly using JLM's exclusive trademarks. Specifically, as detailed on Page 27 of the First Amended Complaint, JLM alleges that Mr. Clevlen used the @misshayleypaige trademarks, without the consent of JLM, to secure third-party side deals."
The company is also taking action over Gutman's posts about her dispute with JLM, in which she labeled the company "controlling, manipulative, and bullying."
"JLM is not trying to keep Ms. Gutman quiet—only to stop her from defaming the company," a spokesperson said.
In a statement emailed to Newsweek, Gutman said: "I find myself in an extremely costly legal battle. […] And when I used my platform to inform the public about my story, they sued me for defamation. I do not believe this is how creatives should be treated and I will continue to stand up for myself and others in this."
On the legal action against her fiancé, she added: "While this lawsuit was originally directed at me, JLM has now sued my fiancé Conrad personally for his alleged use of my name on social media, with our podcast, and in connection [with] the promotion of non-bridal products. We both feel so violated by this new escalation. JLM's decision to sue my fiancé is proof of their character and why I could no longer work for a company that operates itself in this manner."
In March, a federal court judge issued a preliminary injunction granting JLM control over the Hayley Paige wedding collection. The following month, the company announced that a new designer for the brand had been appointed, with Francesca Pitera taking on the role.
This article has been updated with comments and clarifications from JLM Couture and Hayley Paige Gutman.