J.Lo Gave USWNT's Carli Lloyd a Lap Dance During New York Show
During her concert Friday night at Madison Square Garden in New York City, Jennifer Lopez gave soccer star — and now two-time World Cup champ — Carli Lloyd a lap dance.
The U.S. Women's National Team midfielder was celebrating her recent World Cup victory by sitting in the audience of J. Lo's "It's My Party" tour stop in Manhattan. The two-time Olympic gold medalist was also celebrating her upcoming 37th birthday, which takes place this upcoming Tuesday, July 16.
"I've got a little present for you. Are you ready for this? I don't know if you're ready for this," Lopez told Lloyd. "I've got a little present for you. Actually, Carli, I got two presents for you."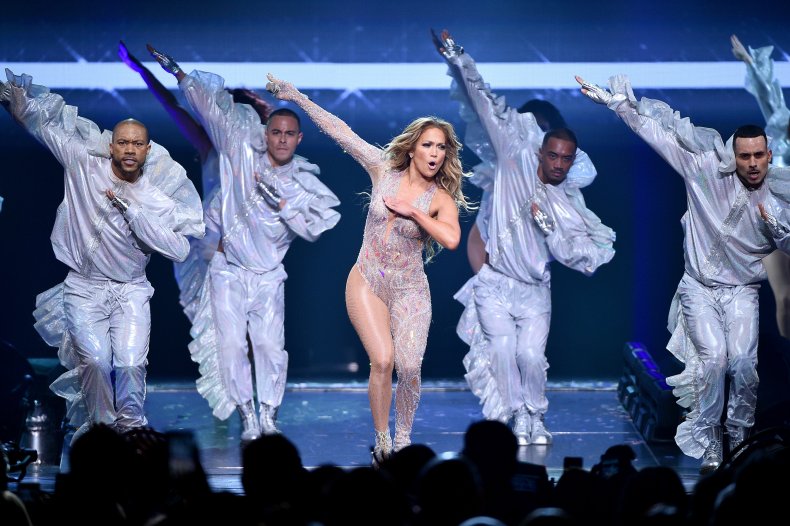 Lopez left the stage while two of her female backup dancers handcuffed the World Cup champ to a cushy, high heel-shaped chair. Next, the two dancers dressed in animal-print leotards and over-the-knee boots gyrated on Lloyd to the 2009 hit "Birthday Sex" by R&B singer Jeremih.
Lopez soon returned to the stage in a new costume, and with her female backup dancers the trio moved sensually in front of Lloyd. "Carli, you doing OK?" Lopez asked, then sitting on the Olympic gold medalist's lap herself as she sang a slowed-down version of her debut single "If You Had My Love" that was released in 1999.
Lloyd seemed thrilled by the experience, later tweeting, "A first for everything," along with a laugh-cry emoji. USWNT fitness coach Dawn Scott hilariously reacted to her tweet simply with two wide-eyed emojis.
Many fans took to social media to comment on the now viral lap dance. "It was so awkward to watch - poor Carli," one commented.
"Why are so many people weirded out by this?" another asked. "It's a show. It's a lap dance key word dance. This is a moment of empowerment. Why does it always have to be a man? We all know Carli is married. Y'all act like married, straight, World Cup champs, New Jersey natives can't [have] fun."
Lloyd's appearance onstage was just one of the many highlights from Lopez's show at Madison Square Garden, which lasted for over two hours and featured many of her hit songs including "Waiting For Tonight," "On The Floor," and "All I Have."
While performing "Limitless," a single from her latest film Second Act, the singer's 11-year-old daughter, Emme Maribel Muñiz, joined her onstage to perform the ballad, which earned a standing ovation from the audience.
Lopez will return to Madison Square Garden Saturday night for another stop on her "It's My Party" tour.