J. Lo's Past Critiques of Female Celebs Resurface Amid Shakira Dust-Up
A series of scathing comments made by Jennifer Lopez has gone viral after she voiced her displeasure at having to share the 2020 Super Bowl halftime stage with Shakira.
Lopez's comments raised eyebrows when her Netflix documentary Halftime debuted at the Tribeca Film Festival last week. "This was the worst idea in the world," Lopez says in the doc, commenting on the idea of having both artists share the billing for one of the biggest performances in the world. The documentary will be released on Netflix on Tuesday June 14.
Speaking her mind is nothing new for Lopez though, as she has a history of being brutally honest when it comes to assessing the careers of other high-profile female celebrities. One interview in particular where Lopez gave a very honest assessment of Hollywood actresses has resurfaced online. In an interview with Movieline Magazine in February 1998, Lopez spoke about Salma Hayek, Cameron Diaz, Claire Danes, Winona Ryder, Gwyneth Paltrow and Madonna.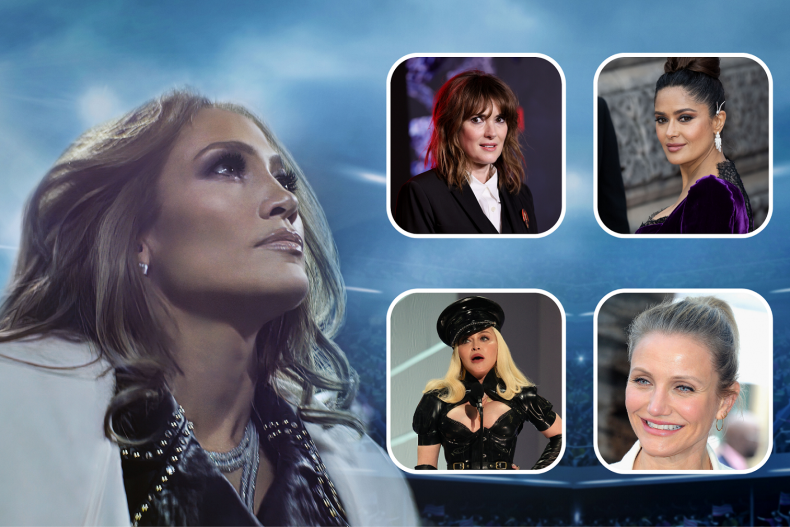 Commenting on Oscar-nominated actress Hayek, Lopez said, "We're in two different realms."
"She's a sexy bombshell and those are the kinds of roles she does. I do all kinds of different things. It makes me laugh when she says she got offered Selena, which was an outright lie." The 1997 movie Selena was considered a breakout role for Lopez as she starred in the movie biopic of Selena Quintanilla Pérez.
"If that's what she does to get herself publicity, then that's her thing. Columbia offered me the choice of Fools Rush In or Anaconda, but I chose the fun B-movie because the Fools script wasn't strong enough."
Hayek starred in the 1997 romcom Fools Rush In alongside Matthew Perry while Lopez starred in the more profitable adventure horror movie Anaconda in the same year.
Moving on to other actresses who were making it big in the late '90s, Lopez was marginally more complimentary of Diaz. "A lucky model who's been given a lot of opportunities I just wish she would have done more with." Lopez continued, "She's beautiful and has a great presence, though, and in My Best Friend's Wedding, I thought, 'When directed, she can be good.'"
Lopez went on to suggest Oscar-winner Paltrow found her fame after she became part of an A-list couple. "I swear to God, I don't remember anything she was in. Some people get hot by association. I heard more about her and Brad Pitt than I ever heard about her work."
Danes was next in Lopez' firing line, though she also had some kind words for the Romeo + Juliet star. She called her, "A good actress. Her emotional and inner life are available to her, which is a good start. But I feel like I see a lot of the same thing with every character she does. She's not that way in U Turn, though." Lopez and Danes both appeared in the 1997 movie U Turn, a neo-noir crime thriller directed by Oliver Stone.
"I was never a big fan of hers," Lopez said, moving on to discussing Ryder's career. "In Hollywood she's revered, she gets nominated for Oscars, but I've never heard anyone in the public or among my friends say, 'Oh, I love her.' She's cute and talented, though, and I'd like her just for looking like my older sister, Leslie."
Finally, all within the same interview, Lopez rated Madonna's acting ability, which she said wasn't as impressive as her singing ability. "Do I think she's a great performer? Yeah. Do I think she's a great actress? No. Acting is what I do, so I'm harder on people when they say, 'Oh, I can do that—I can act.' I'm like, 'Hey, don't spit on my craft.'"
After Lopez's recent comments about Shakira surfaced, from her upcoming Netflix documentary, portions of the 1998 interview with Movieline Magazine were shared again on TikTok by @Keriann who called it the "most iconic interview ever." The repost on TikTok gained 1.9 million views with hundreds of thousands of people liking, sharing and commenting on Lopez's comments.
Many people in the comment section brought up Lopez's apparent long-running feud with Mariah Carey which stemmed from Carey famously saying "I don't know her" about Lopez. "Mariah Carey was warning us all along," one fan wrote while another added, "And this is why Mariah Carey said she didn't know her... lol."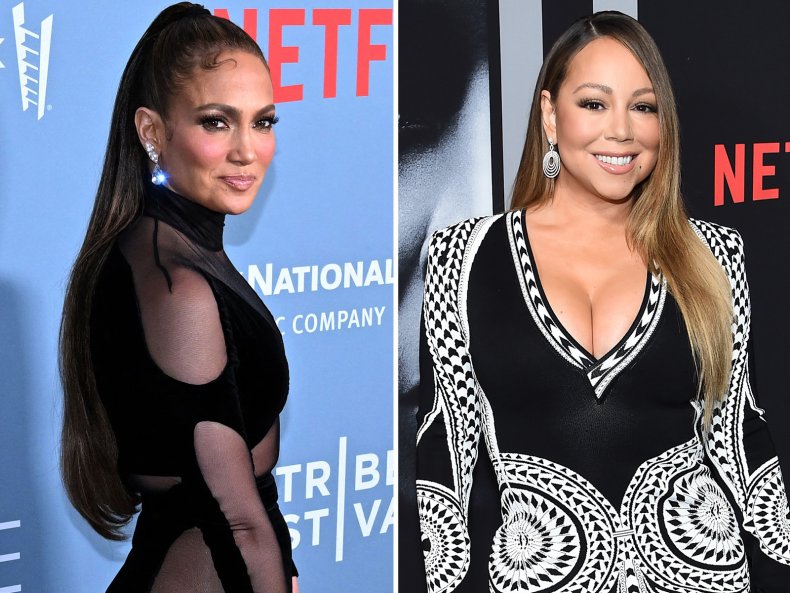 Lopez had a chance to address the 1998 interview 20 years later in an interview with NPR. Reflecting on the explosive interview, Lopez admitted it gave her "a lot of notoriety in the moment" but admitted that it "really p***** off" a lot of people in the industry.
"I was still in that kind of fan mentality, back in the Bronx. And then you go: Oh, wait a minute. You have a responsibility to present yourself in the way that you are, and not let people interpret it in a way that could be that you're this hurtful, callous person." She added, "So I learned to be more responsible."
Lopez and Shakira shared the stage on February 2, 2020 when they performed their now-acclaimed 14-minute halftime show. However, as the new Netflix documentary points out, Lopez was not happy about the collaboration.
Lopez' long-time manager Benny Medina is more direct with his assessment of the situation. "It was an insult to think that you needed two Latinas to do the job that one artist historically has done," he said in Halftime.
The documentary also features interviews with people close to Lopez, including Ben Affleck.
Halftime will launch on Netflix on Tuesday June 14.