Fans of Jennifer Lopez and Ben Affleck have been swept up in the joyous nostalgia ignited by their recent reunion, almost two decades after their engagement ended.
With memories of their public displays of affection, lavish shopping sprees and sun-kissed luxury getaways, there's much to look back on with fondness and delight as Bennifer 2.0 go from renewed strength to strength.
However, there is one part of the past that Lopez likely wishes would stay there—Affleck's decidedly large and dizzyingly colorful back tattoo.
The actor was first spotted sporting the inking—portraying a phoenix rising from the ashes—in December 2015, shortly after his split from ex-wife Jennifer Garner.
And so horrified was Lopez when confronted with photographic evidence of the tattoo at the time, she didn't hold back when asked to share her opinion.
"It's awful! What are you doing?" Lopez said on Watch What Happens Live at the time. "It has too many colors! His tattoos always have too many colors. They shouldn't be so colorful, you know what I mean? They should be, like, cooler."
While it's not known if he learned of the cutting words from his former fiancée and Gigli co-star, Affleck seemed to show some post-ink remorse, when he claimed, at first, that the tattoo was "fake for a movie."
Reinforcing his claim, Affleck told Extra host Mario Lopez in March 2016: "I actually do have a number of tattoos but I try to have them in places where you don't have to do a lot of cover up they get sort of addictive, tattoos, after a while."
By 2019, when it became clear that he was either averse to washing his back or shooting his movie on a record-breakingly long schedule, Affleck came clean to Ellen DeGeneres.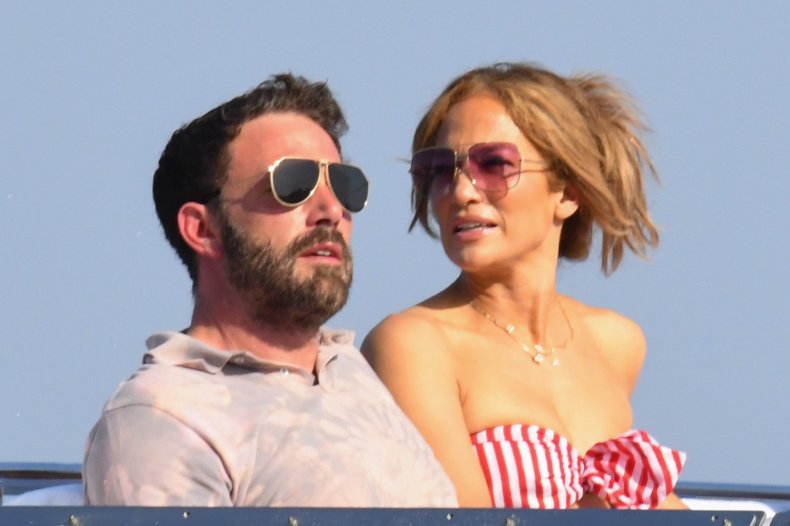 Sitting down with the comedian on her eponymous talk show, the Oscar winner admitted that the tattoo was very much real, saying it "represents something important to me."
"It's meaningful to me, I like it," he explained. "I love my tattoo. I'm very happy with it. Luckily, I'm the one who has it."
Whether he still feels "lucky" has yet to be confirmed, but the Good Will Hunting star has been seen sporting a shirt on every excursion with his on-again partner Lopez—even when they recently soaked up the sunshine aboard a luxury yacht.
He has strolled the shores of France and Italy with Lopez at the height of summer in recent weeks, but his torso has remained tucked away under a selection shirts.
For what it's worth, the tattoo also did little to please Affleck's ex-wife Garner, with whom he shares three children.
"You know what we would say in my hometown about that? 'Bless his heart,'" Garner told Vanity Fair in an interview published in February 2016.
She added of the choice of design: "A phoenix rising from the ashes. Am I the ashes in this scenario? I take umbrage. I refuse to be the ashes."
Affleck, who was engaged to Lopez from the end of 2002 until the start of 2004, recently made things Instagram official, when he was seen enjoying a kiss with his on-again partner as she celebrated her 52nd birthday late last month.
Affleck also made his debut on Lopez's Instagram account, when the singer and actress shared a photo of the couple kissing during her birthday celebrations aboard a yacht on the French Riviera. Their Mediterranean adventures later took them to Italy.
Earlier in July, Lopez's friend, The King of Queens star Leah Remini, posted an image of the pair embracing at her birthday party.
While Lopez may nor may not be embracing Affleck's tattoo, she appears delighted with his moniker, as she was photographed sported a dazzling necklace emblazoned with the name "BEN" during their luxury getaway.
Hustlers star Lopez, who shares two children with ex-husband Marc Anthony, announced her split from fiancé Alex Rodriguez in April.