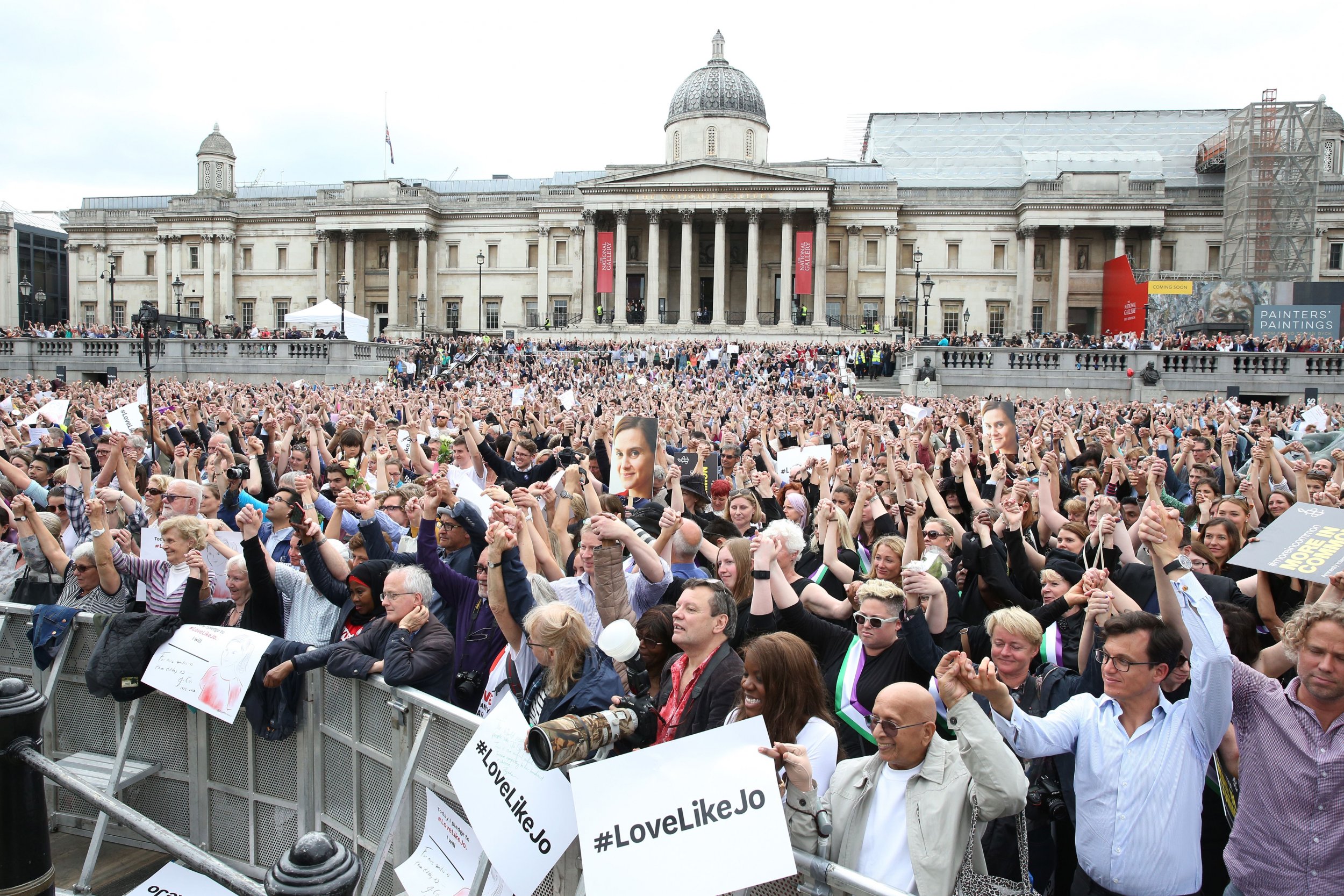 Today, at the rally in Trafalgar Square in memory of Jo Cox, the Labour MP who was murdered in Birstall, West Yorkshire on Thursday, two planes, one of which carried a banner displaying the slogan "Take Control #VoteLeave" were visible in the sky.
Many took to Twitter to express their outrage at the pro-Brexit planes, describing them as "disgusting," "tasteless" and "disrespectful." The planes were seen by thousands who attended the tribute in London, as Brendan Cox, the murdered MP's former husband told the crowd how the Labour politician "lived for her beliefs." Cox would have been 42 years old today.
"Flying your plane over the memorial tribute to Jo Cox in Trafalgar Square is beyond low. Have some self respect and disappear!" Stella Creasy, the Labour MP for Walthamstow, wrote in a tweet to the official Vote Leave campaign.
Vote Leave has denied any responsibility for the planes or the banner, The Mirror reported.
'This wasn't our plane so we had no idea it would fly over the memorial service. Had we known that these people were planning to do it we would have asked them not to. We can only apologise on their behalf for any offence caused. We do not think they realised that the service was taking place," a Vote Leave spokesman told Newsweek.
British aircraft manufacturer, Britten-Norman, which supplied the planes, confirmed that they had nothing to do with the Leave campaign.
"We understand that, during a pre planned photo opportunity over Westminster today, we were visible from Trafalgar Square and that our flight coincided with an important memorial service. The timing of our flight was determined by weather, air traffic control and the prior approval of the the Diplomatic Protection Group and required the consent of the Metropolitan Police," a spokeswoman said in a statement issued to Newsweek. "We are clearly very disappointed that the timing of the service and our flight have overlapped but there was no NOTAM (Notice to Airmen) requesting the avoidance and the coincidence of timing could not have been known by the crew flying the sortie. Our sincere apologies to anyone present who has been offended by the overflight. We would also like to take the opportunity to advise that the flight was a private one and was not sanctioned by the official Vote Leave campaign."
This article has been updated to include a comment from British aircraft manufacturer, Britten-Norman.