Lawyer Cleared Over Response to Meghan, Harry 'Georgina Floydina' Gibe
A lawyer says she has been cleared by a regulator after suggesting Meghan Markle should have honored her mother in picking her daughter's name, writing: "Don't Black names matter?"
In 2021, Joanna Toch replied to a post by journalist Julie Burchill, who suggested on Twitter that the Sussexes should have called their second child "Georgina Floydina."
Toch, a family law attorney, replied: "No Doria? Don't Black names matter?" in apparent reference to Doria Ragland, Meghan's mother.
Lilibet Diana Mountbatten-Windsor was named in tribute to Queen Elizabeth II's family nickname and Princess Diana, Harry's mother.
Toch was initially suspended by her own law firm Family Law Cafe and was subject to 83 complaints to the Bar Standards Board (BSB).
However, she was subsequently reinstated by her company and has now said the BSB also dismissed the allegations against her.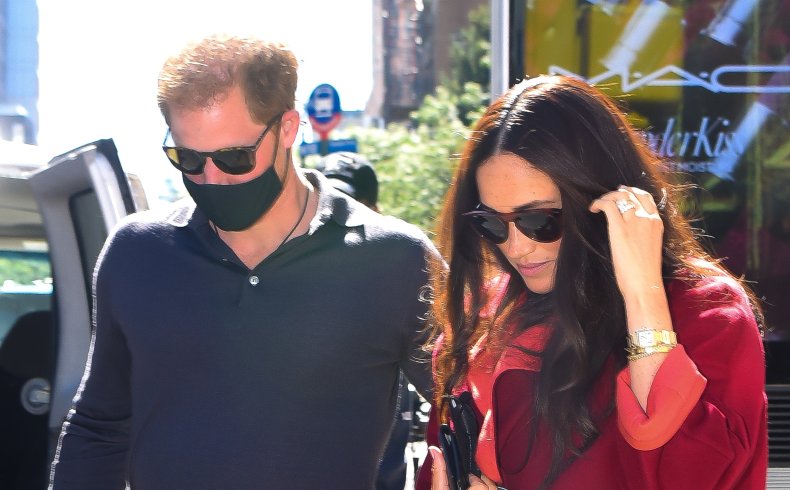 Toch said in a statement seen by Newsweek: "My tweets were misinterpreted, perhaps deliberately by some, and I was publicly vilified with threats made about me and my family.
"The furor was whipped up by those who should have known better in my view. The Family Law Bar Association and the Bar Council put out rash comments without speaking with me to see what my side of events was.
"This whole episode shows how a few people can decide what they think something means and bypass any attempt to clarify or use due process.
"I am sorry that those working with me had to also stand up to some nasty bullying behavior. I continue to support British tolerance and the rule of law and I always will. I knew that all the nonsense put out about me had no truth in it and I didn't read it at the time."
Burchill stated that she had been fired by British broadsheet The Daily Telegraph following the incident, though a source at the newspaper disputed this.
The columnist's original Twitter post on June 6, 2021, minutes after the announcement of the birth, read: "What a missed opportunity. They could have called it Georgina Floydina!"
Two days later, she posted on Facebook: "I've been sacked by the Telegraph—it's been a lovely five years, and I'll always be grateful to them for ending my Wilderness Years.
"However, I'd be lying if I said that I hadn't often moaned to my husband recently about them always rejecting my *edgy* column ideas and giving me more pedestrian ones—which I've done splendidly anyway. I hope you can see my archive here. Onwards and upwards!"
However, a Telegraph source at the time told Newsweek she was neither staff nor on a freelance contract.
They said: "It would be wrong to infer we won't use her as a contributor again."
For more royal news and commentary check out Newsweek's The Royal Report podcast: