One of Joaquin Castro's Own Donors Was Included On Tweeted List of Top Trump Contributors
Democratic Representative Joaquin Castro's controversial tweet with the names of 44 people from San Antonio, who had made the maximum possible contribution to Trump's reelection campaign this year, included the name of at least one individual who had also donated to the Texas congressman in the past.
Fox News was the first to report that Wayne Harwell, the owner of a real estate development company in Texas who was on the list, had previously donated to Castro and other Democrats. In an interview with the news channel, Harwell explained that he identifies as an independent, saying that many others in the San Antonio area do so as well.
"I was also on a list of people that gave to Castro and if he dislikes me enough that he wants to put my name out there against Trump, I'm not going to give money to him," Harwell told Fox News. "Obviously, Castro feels pretty strongly against me."
Harwell's $1,000 contribution to Castro was made back in 2011, according to Federal Election Commission records. The real estate developer explained that he identifies as "pretty independent" but supports Trump. Harwell has donated $2,800 to the Trump campaign and $5,600 to the Trump Victory committee.
Castro's original tweet, which only contained publicly available donor information, said: "Their contributions are fueling a campaign of hate that labels Hispanic immigrants as 'invaders'" and included the list of top Trump donors. The post drew swift backlash, particularly from Republicans and conservatives, who argued that the Texas congressman was targeting private citizens for political purposes and being divisive.
Early on Wednesday, the hashtag #ImpeachJoaquinCastro began trending on Twitter as Trump supporters lashed out at the representative for tweeting the donor list.
Republican Senator John Cornyn of Texas tweeted that Castro's decision was "grossly inappropriate" He argued that "this win-at-all-costs mentality, publicly targeting an opponent's supporters, and encouraging retaliation is dangerous and not what Texans have a right to expect from their members of Congress."
The president's son, Donald Trump Jr., appeared on Fox News' Fox & Friends on Wednesday to slam the Texas representative as well.
"When a radical left-wing politician who's polling at around zero percent does this for either attention or a call to action, it's pretty scary," Trump Jr. said, apparently confusing Castro with his twin brother Julian Castro who is running for the Democratic party's 2020 presidential nomination. "That was the same thing that the Dayton, Ohio, shooter did," he added, "and people should be fed up of this nonsense."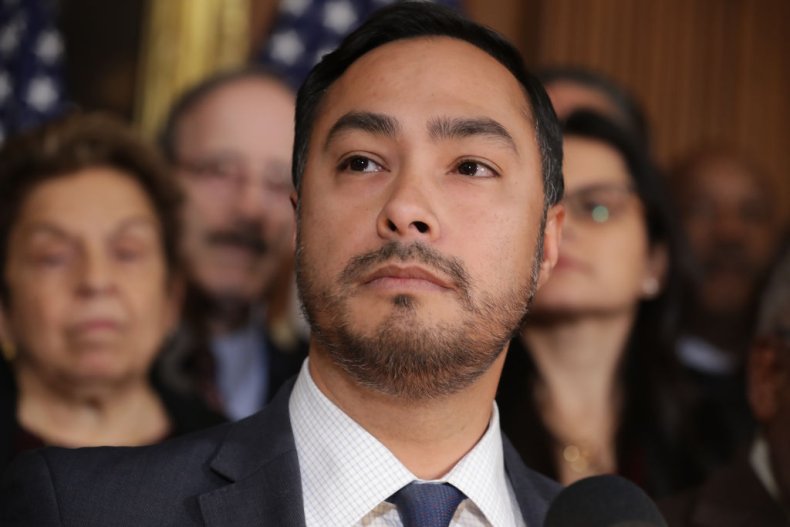 For his part, Castro has doubled down on the tweet. Posting to Twitter on Tuesday, he argued that "No one was targeted or harassed in my post. You know that. All that info is routinely published." Continuing, he suggested that critics were "trying to distract from the racism that has overtaken the GOP and the fact that President Trump spends donor money on thousands of ads about Hispanics 'invading' America."
Whether or not there will be serious political fallout for Castro remains to be seen, but for the time being, he has lost the support of at least one former donor.
"I think the San Antonio community needs to take a real deep look at what Castro is doing," Harwell told Fox News. "Why is he doing this?" He argued that the congressman was drawing "hardlines" that are "not helpful," saying: "I hope his constituents remember this."