Joaquin Castro Doubles Down on Trump Donors List Controversy: 'No One Was Targeted or Harassed in My Post'
In the wake of two mass shootings, a Texas Democratic congressman is defending his choice to publicly tweet out the names and businesses of President Donald Trump's largest donors in San Antonio.
Joaquin Castro, the representative whose district includes parts of San Antonio and surrounding suburbs, continued to double down Wednesday, denying the suggestion by Republicans that he was potentially endangering the lives of political donors in the days following mass shootings—one of which law enforcement officials consider a hate crime and domestic terrorism—that have killed at least 31 people.
"My post was a lament—that so many people in my overwhelmingly Hispanic hometown would give large money to a President who is using it to target Hispanics as 'invaders,'" Castro wrote in a tweet. "No one was doxxed — no private address or phone #s were shared. I've never engaged in that."
Castro's original post included the names and occupations of 44 San Antonio residents who've made the maximum donation of $2,800 this year to Trump's re-election campaign, a move that has spawned the hashtag #ImpeachJoaquinCastro to trend on Twitter. Critics argued that such a post by a sitting member of Congress in the wake of mass shootings and hyper partisan tensions could persuade people to commit politically-motivated acts of violence, despite the information posted by Castro being publicly available online via the Federal Elections Commission.
Doxxing is when the private or identifying information of individuals, groups or businesses is posted online, typically as a form of retribution. Castro said on MSNBC's Morning Joe Wednesday that he obtained the list from a local Indivisible group, a progressive activist organization with local chapters across the country, and his intent was for local residents to be made aware of the Trump-supporting businesses they may be patronizing.
"No one was targeted or harassed in my post. You know that. All that info is routinely published," Castro tweeted Tuesday evening, responding to criticism from House Minority Leader Kevin McCarthy, a California Republican. "You're trying to distract from the racism that has overtaken the GOP and the fact that President Trump spends donor money on thousands of ads about Hispanics 'invading' America."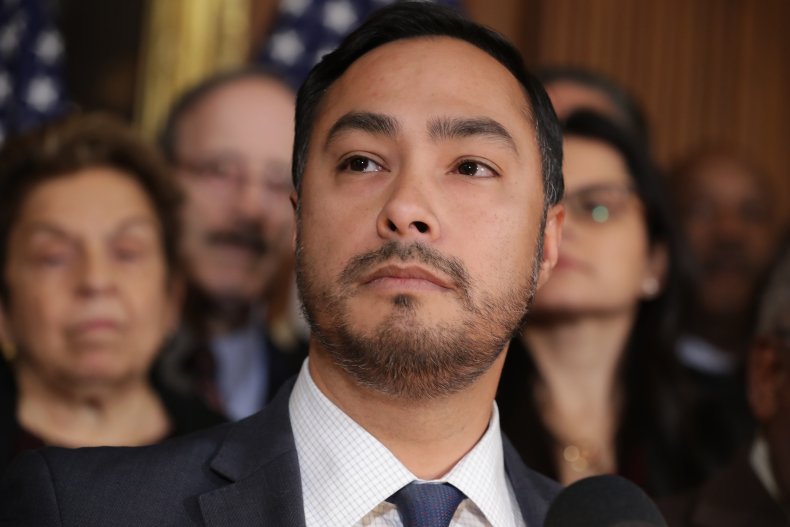 The El Paso gunman's racist manifesto used anti-immigrant rhetoric—similar to that of Trump's—and appeared to target Latinos during his attack, causing police to classify the massacre as a hate crime and domestic terrorism. The Dayton, Ohio, gunman is said by police to have supported pro-Elizabeth Warren and pro-Bernie Sanders social media posts, although that attack has not been said to be politically motivated.
"Targeting and harassing Americans because of their political beliefs is shameful and dangerous," McCarthy wrote on Twitter. "What happened to 'when they go low, we go high?' Or does that no longer matter when your brother is polling at 1%? Americans deserve better."
Castro's twin brother, Julian, is former Obama-era Housing and Urban Development secretary, former San Antonio mayor and is one of the record number of Democratic presidential candidates seeking to unseat Trump in 2020. Joaquin serves as Julian's campaign chair.
"This is grossly inappropriate, especially in the wake of recent tragic shootings," Texas GOP Senator John Cornyn wrote on Twitter. "This win-at-all-costs mentality, publicly targeting an opponent's supporters, and encouraging retaliation is dangerous and not what Texans have a right to expect from their members of Congress."
Republican Senator Ted Cruz of Texas, in response to Castro's post, said "EVERYONE needs to tone the hateful partisan rhetoric way down."
"This is WRONG & Castro should retract it," he wrote in a tweet. "In our constitutional Republic, the People rightly hold their representatives accountable; elected representatives should not be vilifying & doxxing their own constituents."
Representative Doug Collins, a Georgia Republican and ranking member of the House Judiciary Committee, classified Castro's donor list as "dangerous, reckless, and has to stop."
On Fox & Friends Wednesday morning, Donald Trump Jr., the president's eldest son, compared Castro's donor list to that of the Dayton gunman's kill list that he reportedly had in high school.
"When a radical left-wing politician who's polling at around zero percent does this for either attention or a call to action, it's pretty scary," Trump Jr. said. "That was the same thing that the Dayton, Ohio, shooter did and people should be fed up of this nonsense."
Castro further defended his posting of the Trump donor list, accusing the president of using rhetoric that "has put a target on the back of millions." Since the shootings, critics have said Trump's past policies and remarks about immigration, such as laughing when a Trump rally-goer in the Florida panhandle suggested migrants crossing the border be shot, have emboldened white nationalists.
"Donald Trump has put a target on the back of millions. And you're too cowardly or agreeable to say anything about it," Castro said in response to McCarthy's criticism. "How about I stop mentioning Trump's public campaign donors and he stops using their money for ads that fuel hate?"
Trump denied the notion his rhetoric has fueled any violence or that he needs to tone it down. He also urged Congress to act on legislation that would address mental illnesses and strengthen background checks for firearm purchases.
"My critics are political people. They're trying to make points," Trump told reporters before embarking from the White House to visit Dayton and then El Paso. "I think we have toned it down... I think my rhetoric is a very—it brings people together. Our country is doing incredibly well."