Joaquin Castro Smuggles Device Into Migrant Detention Facility, Captures Photos Of 'Prison-Like' Cell
Texas Rep. Joaquin Castro broke the rules on Monday by smuggling a device into the El Paso Border Patrol Station in order to photograph the conditions inside.
Castro was one of several members of the House of Representatives who made the trip to Texas Monday. The 38-member Hispanic Caucus led the trip for congressmen and women such as Castro, New York Rep. Alexandria Ocasio-Cortez, California Rep. Judy Chu, Massachusetts Rep. Joe Kennedy and others.
"Our border patrol system is broken. And part of the reason it stays broken is because it's kept secret. The American people must see what is being carried out in their name," Castro said to begin a lengthy Twitter thread where he documented what he and other delegates had seen during their visit.
Castro's report also included a photo of seven women sitting in a cinder-block cell, some on the floor and others on a bench. However, it was unclear from the photo how big the cell is or if there are other women being detained inside.
Castro said that the women were "crammed in a prison-like cell" that had one toilet, but no running water in order to drink or wash their hands.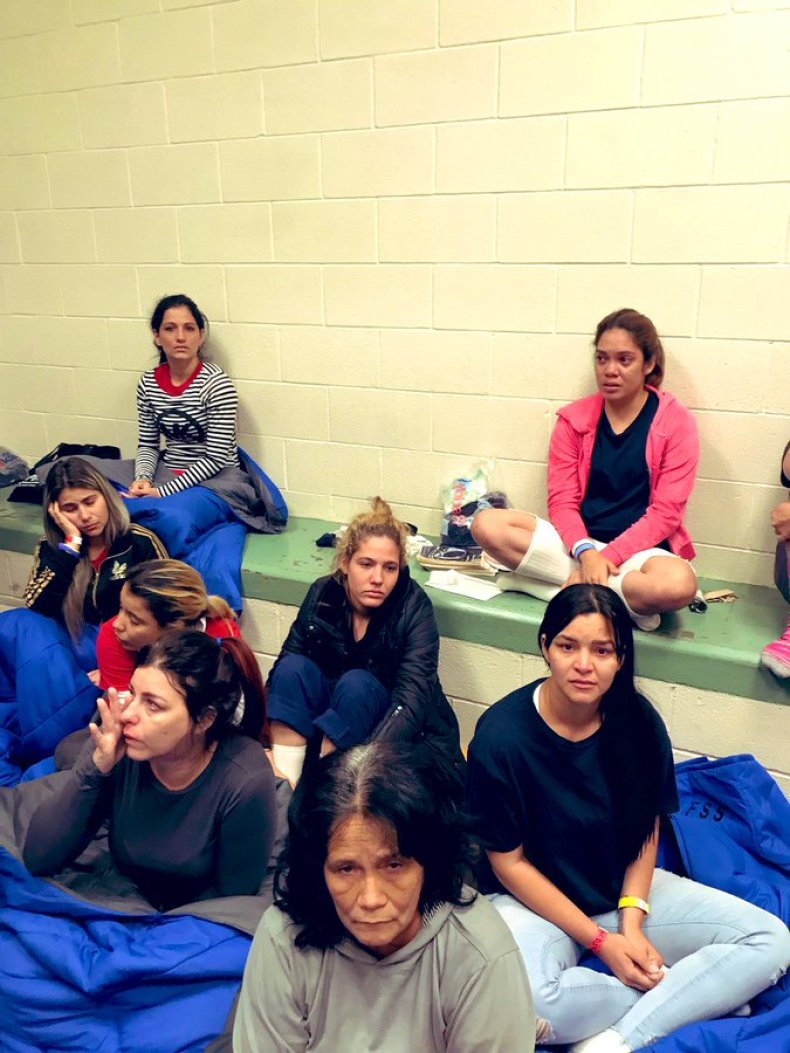 "Many said they had not bathed for 15 days. Some had been separated from children, some had been held for more than 50 days. Several complained they had not received their medications, including one for epilepsy. Members of Congress comforted them when the women broke down," he said.
Ocasio-Cortez shared a second photo, which she said Castro took, of a migrant woman hugging her as she cried about her children who, she said, were taken away from her.
"She doesn't know where they've taken them," Ocasio-Cortez said.
According to Castro, the delegates also visited the Clint Border Patrol Station which recently made headlines for the purported treatment of the children that were being held in the facility.
"The tents outside, used during the surge recently, were dark and surrounded by chain link fences. The showers — mobile units — were dank, dirty and only too small in number for the hundreds of people there just a few weeks ago," Castro said, before detailing a three-year-old boy smiling out at him from a cell and praising the Border Patrol agents who are trying to do their job in difficult circumstances.
"There are many good agents — men and women working earnestly to care for the people in their custody. But they are overwhelmed in a system that is morally bankrupt and challenged by rogue agents whose culture was on full display in the Facebook group revealed by ProPublica today," Castro added in another tweet.
Other Democrats who made the trip also tweeted about their experiences, including Kennedy who called the reaction from CBP agents "very resistant to Congressional oversight" in a tweet.
"Facilities are wholly inadequate. Cells maxed to capacity, concrete floors...It felt jail-like. No way to keep a child or innocent human being. Group of 13 women from Cuba were in tears when we spoke with them," he added. "The entire system is broken, rotten and rife with abuse. And [President Donald] Trump doubles down on it despite the growing horror -- child detention, metering, Remain in Mexico, threatened ICE raids. Every action he takes exacerbates and entrenches the humanitarian crisis at our nation's feet."
"I know that what we saw, as members of Congress on a scheduled visit planned in advance, must be far from the worst conditions faced by migrants in Border Patrol custody," Rep. Marc Veasey said. "Nevertheless, we found children barely older than toddlers in cells; families that had been separated from one another; holding centers that were little more than animal sheds, with chainlink fences and pad-locks used to lock up men, women, and children."
"The problems here go beyond a lack of resources. Treating others with respect is free. After today I am more determined than ever to ensure that Congress exercise it's oversight responsibilities and to see that America create an immigration system worthy of our values," Veasey added in a separate tweet.
Among other allegations were that some being held in cells were forced to drink toilet water, a statement originally tweeted by Ocasio-Cortez, but backed up by Chu in a social media post that also included a video where Chu discussed her experience touring the patrol stations.
"'If you want water, just drink from a toilet.' That's what border patrol told one thirsty woman we met on today's #DemsAtTheBorder trip. These are the same CBP personnel who threatened to throw burritos at members of Congress. Changes must be made," Chu said.
The statement from Chu and Ocasio-Cortez drew national attention, prompting CBP to release a statement explaining the allegation.
"'No one is drinking toilet water. They're drinking potable water from the sink attached to the toilet. It's what you would find in every municipal jail in the United States," CBP said.
However, Ocasio-Cortez returned to Twitter to say that in the cell they visited, the sink was not working.
The graphic below, provided by Statista, illustrates that border apprehensions are hitting historic highs.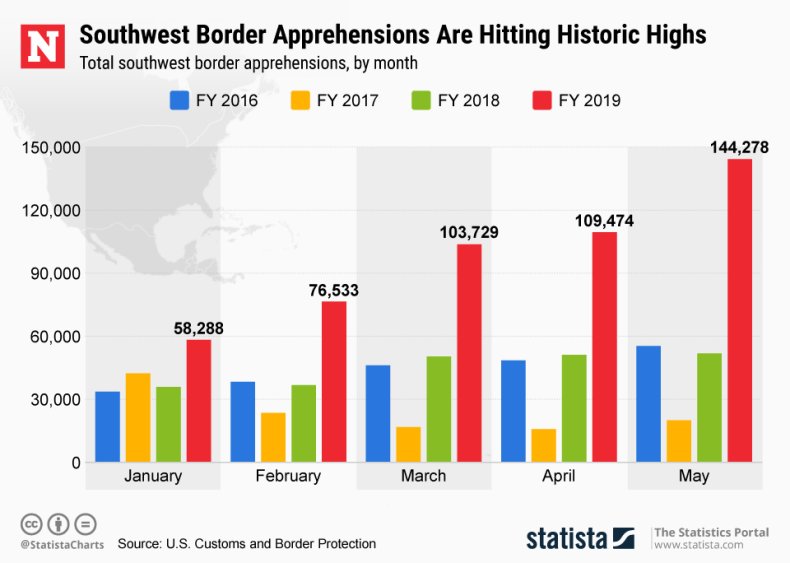 This article was updated to include an infographic.