#ImpeachJoaquinCastro Trends on Twitter Amid Trump Donors List Controversy
The hashtag #ImpeachJoaquinCastro was trending on Twitter early Wednesday morning as supporters of President Donald Trump jumped on a controversy over a donors list tweeted out by the congressman.
Rep. Joaquin Castro, a Texas Democrat, posted to his campaign's Twitter account a list of 44 people from San Antonio who had made the maximum donation possible to Trump's re-election campaign this year. The list is from publicly-available donor data.
Republicans and other critics accused Castro of targeting private citizens for their political beliefs, inciting potential violence in a febrile and deeply-divided society that is still reeling from the suspected white nationalist terror attack in El Paso on Saturday, which killed 22 people.
The alleged shooter Patrick Crusius, 21, is thought to be the author of a hate-filled manifesto posted online before the attack which ranted against Hispanic migrants and echoed the "invasion" rhetoric used by Trump. The shooting's victims were largely Hispanic.
"Their contributions are fueling a campaign of hate that labels Hispanic immigrants as 'invaders,'" the @Castro4Congress account tweeted, along with the list of donors to Trump.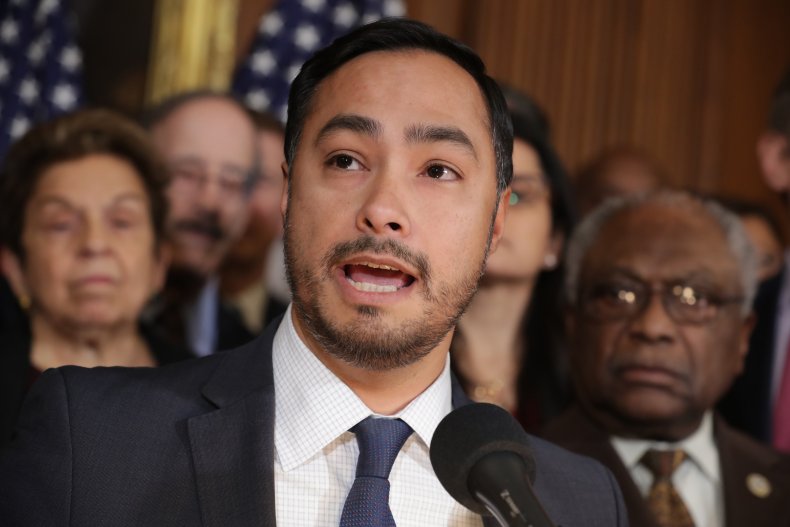 Senator John Cornyn, a Republican of Texas, tweeted: "This is grossly inappropriate, especially in the wake of recent tragic shootings. This win-at-all-costs mentality, publicly targeting an opponent's supporters, and encouraging retaliation is dangerous and not what Texans have a right to expect from their members of Congress."
Following criticism, Castro refused to back down and insisted he'd done nothing wrong, writing on Twitter that President Trump "spends donor money on thousands of ads about Hispanics 'invading' America."
Castro added: "Donald Trump has put a target on the back of millions...How about I stop mentioning Trump's public campaign donors and he stops using their money for ads that fuel hate?"
The #ImpeachJoaquinCastro hashtag began with Trump-supporting comedian Terrence K. Williams, who urged his 518,000 followers on Twitter to get it trending.
"DOWNRIGHT DIRTY & WRONG!" tweeted Williams. "Democratic Rep. Joaquin Castro Tweeted Personal Information of Private Citizens who donated to Trump! I'M CALLING FOR HIS IMPEACHMENT! Who's with me? Let's Get this to the Top! They want to bury it!"
The graphic below, provided by Statista, illustrates which states ban assault rifles and high capacity magazines.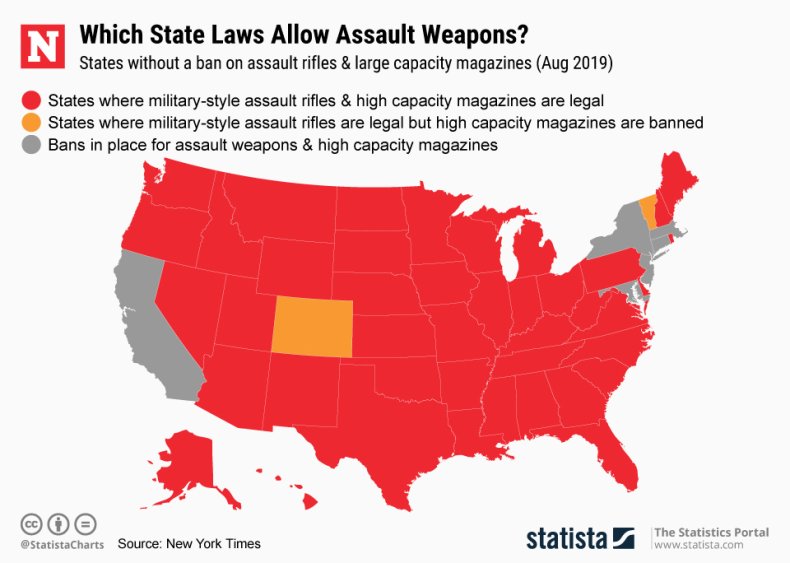 Not all people using the hashtag agreed with Williams. Jonathan McCarty tweeted: "You folks using the #ImpeachJoaquinCastro thing do know that according to elections laws, donors who give over specific amounts are publicly listed, right? I mean, it's not like you can't go online and look them up yourself. Please learn election laws before tweeting things."
Castro is chairman of his brother Julian Castro's 2020 campaign for the presidency. Julian Castro, who was HUD secretary in the Obama administration and is a former mayor of San Antonio, is running in the Demcoratic Party primary.