Joaquin Phoenix Said He'd Play the Joker Different From Heath Ledger Did in 'The Dark Knight'
Before footage of acclaimed actor Joaquin Phoenix surfaced Tuesday of him playing the villainous lead in Joker, he addressed how he would tackle the role differently from the late Heath Ledger.
Ledger gave an electrifying performance as the Joker in 2008's The Dark Knight. The Australian actor died in January 2008, which was months before the Christopher Nolan-directed feature hit the big screen in July 2008. Ledger, who died of an accidental overdose ahead of The Dark Knight's release, was awarded a posthumous Oscar for his efforts in the Best Supporting Actor category in 2009.
Ledger has often been regarded as one of the best actor's to portray the dark character to date, but Phoenix aims to bring something different to the role. In speaking to IndieWire in April 2018, the Academy Award winner said he'd be interested in tackling the Joker because he believed the character would be different from the one Ledger depicted in Nolan's 2008 feature.
"I was thinking about it's interesting with comics there's different writers and artists that come on. It's different than this character from literature being uniquely that," Phoenix explained to IndieWire. "There are different interpretations. It's so interesting; I was just thinking about it today, it seems so unique in some ways to comic books. I think there's probably room for that."
"Maybe it's like doing a play, like you always hear about people doing something, 'You should have seen this actor in this performance,' but then other actors do it and it's a different kind of film. I think that genre, comic books, kind of lends itself to having different people play the same character and interpret it in a different way. It's kind of built into the source material in some ways. I think it's cool when people do that," he added.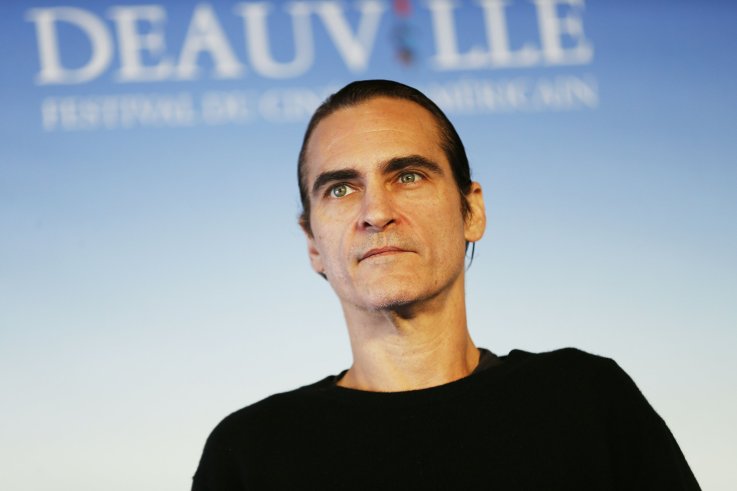 Warner Bros. unveiled the first Joker trailer during a panel at CinemaCon on Tuesday. Director Todd Phillips, the man behind The Hangover franchise, described the film as a "tragedy" that will depict an "origin story about a beloved character with no definitive origin." The feature follows Arthur Fleck (Phoenix), a man who struggles to find success as a stand-up comedian, as he ventures down a murderous path to becoming the dark villain.
Ledger gave a more in-depth look into his The Dark Knight preparation process during an interview with Empire in 2007. When he donned the clown makeup to play Joker, Ledger kept a diary to help get in character.
"It's a combination of reading all the comic books I could that were relevant to the script and then just closing my eyes and meditating on it," Ledger said. "I sat around in a hotel room in London for about a month, locked myself away, formed a little diary and experimented with voices—it was important to try to find a somewhat iconic voice and laugh."
"I ended up landing more in the realm of a psychopath—someone with very little to no conscience towards his acts. He's just an absolute sociopath, a cold-blooded, mass-murdering clown," he added.
Joker is slated to hit theaters October 4.
Joaquin Phoenix Said He'd Play the Joker Different From Heath Ledger Did in 'The Dark Knight' | Culture