Watch Joaquin Phoenix Rescue Cow and Her Calf From Slaughterhouse a Day After His Oscar Win
Oscar-winning actor Joaquin Phoenix appeared in a video for Los Angeles–based animal rights nonprofit Farm Sanctuary with help from Los Angeles Animal Save, rescuing a calf and her mother from a California slaughterhouse.
The day after the actor accepted the Academy Award for his role in Joker, he paid a visit to Manning Beef, a slaughterhouse in Pico Rivera, California, and met with its CEO and President Anthony Di Maria.
"I don't need really any science to see with my own eyes and hear how an animal responds to pain, right? That's undeniable," Phoenix told Di Maria. Despite Di Maria telling Phoenix that he harvests cattle humanely with the animals perishing in less than a minute, Phoenix said more contributes to the inhumanity.
"You are the only one that you know of that has a process that you have. So, that means the majority of them don't have that, and it's not only just the death; it's the process leading up to that death: raising it, the transportation, the separation from the family," he said. Di Maria said that he does not separate calves born on his farm from their mothers.
When Phoenix and Gene Baur, Farm Sanctuary co-founder and president, went to see the mother and baby whom Phoenix later named Liberty and Indigo, they decided to take the pair with them. Baur and Phoenix transported the cattle to the Farm Sanctuary facility.
"All the cows at Farm Sanctuary are rescued," a message flashes before the end of the video. "The difference in energy between the animals at the slaughterhouse and those at the sanctuary is undeniable."
Baur told Newsweek that Phoenix's star power helps to shed light on animal rights issues. "Joaquin has quite a platform because of his career and especially the awards he's been receiving," Baur told Newsweek. "I have been amazed and very grateful at how he has used that platform to raise awareness about what happens to animals in the factory farming system and also other systems of oppression that are too often invisible. He is trying to make visible the cruelty around us and trying to draw attention to what each of us can do to make a difference."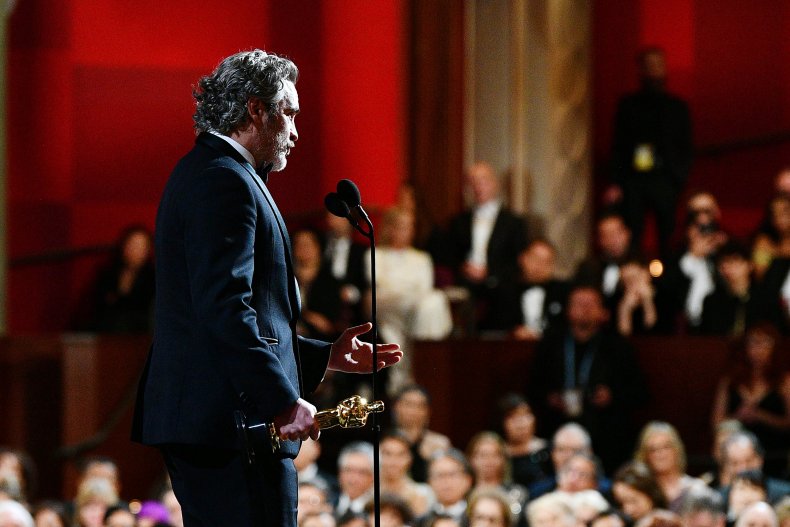 In a statement released with the video, Phoenix said that while he would continue to fight for animal rights, he was happy that Di Maria helped him and Farm Sanctuary rescue the two cows. "I never thought I'd find friendship in a slaughterhouse, but meeting Anthony and opening my heart to his, I realize we might have more in common than we do differences," he said. "Although we will continue to fight for the liberation of all animals who suffer in these oppressive systems, we must take pause to acknowledge and celebrate the victories, and the people who helped achieve them."
Phoenix added that he hopes Liberty and Indigo can serve as a reminder that friendship can be found even among people who may disagree. "My hope is, as we watch baby Indigo grow up with her mom Liberty at Farm Sanctuary, that we'll always remember that friendships can emerge in the most unexpected places; and no matter our differences, kindness and compassion should rule everything around us," he said.
"[Liberty and Indigo's] example, hopefully, will inspire other people to see these animals as living, feeling creatures, not just commodities," Baur said.
During the actor's Oscar acceptance speech, he also called on people to be more aware of animal rights. "We go into the natural world, and we plunder it for its resources. We feel entitled to artificially inseminate a cow and steal her baby, even though her cries of anguish are unmistakable," he said. "Then we take her milk that's intended for her calf, and we put it in our coffee and our cereal."