More Than Half of Voters Under 45 Say They've Lost Their Job, Had Hours Reduced, Or Gotten Furloughed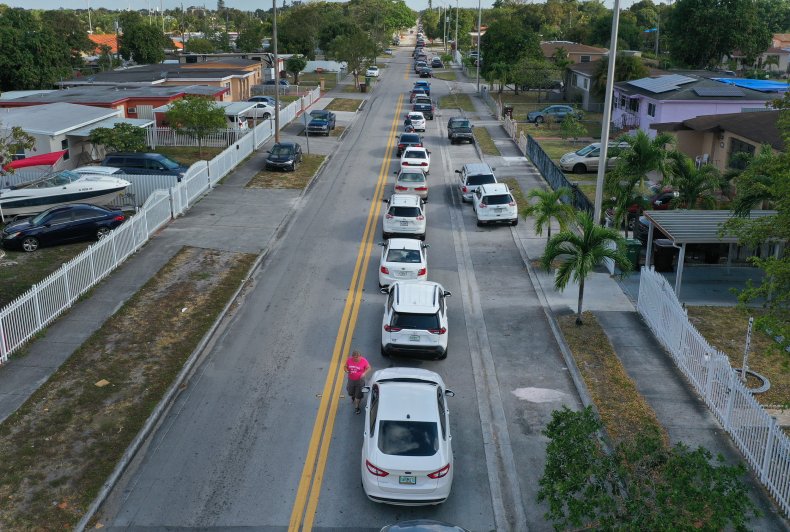 Because of the economic deceleration that has accompanied the COVID-19 pandemic, 20 percent of U.S. voters under 45 have lost their jobs, 19 percent have had their hours reduced and an additional 13 percent have been placed on temporary leave, according to a new poll.
The findings, reported in a poll Thursday that was commissioned by Data For Progress, a progressive advocacy group, illustrate just how grave the employment situation is for many Americans in the midst of an unprecedented global health crisis.
New statistics from the Department of Labor further clarified the picture on Thursday, when it was disclosed that 6.6 million Americans filed new claims for unemployment insurance last week, the second-highest number on record. Over 10 percent of the U.S. labor force has now filed unemployment insurance claims over the last three weeks for which data is available.
The fiscal toll of the COVID-19 outbreak has also had a disproportionate impact on black Americans. Thursday's poll shows that nearly half—45 percent—of black American voters have endured job losses, reduced hours or furloughs. This compares with 31 percent of their white counterparts.
An outright majority of Americans receive health insurance coverage through their employers. According to 2018 census data, 55 percent of Americans were covered by employer-sponsored insurance. This dependency can be exacerbated during an economic downturn, when reduced income from widespread layoffs is compounded by terminated health plans.
Again, those hit hardest by insurance-related setbacks were under 45. In the poll, 16 percent of voters in this age range reported losing their health insurance due to the coronavirus pandemic, more than any other cohort. About one-in-five under-45 respondents and black Americans across all age brackets said they have not lost their health insurance because they did not have coverage to begin with.
Fiscal stimulus payments being distributed by the Internal Revenue Service—up to $1,200 for qualifying individuals and stipends of up to $500 for each qualifying child—will likely not be enough to sustain households suffering from job losses for extended periods of time, according to polling data.
In the survey, 37 percent of respondents said that these one-time payments would cover, at most, one to two weeks' worth of expenses. It is important to note, however, that stimulus beneficiaries are still eligible to file jobless claims. Although Americans in states with surging unemployment have reported clogged phone lines and frustration having their initial claims processed.
The stimulus payments would only last two months or more in 23 percent of households, polling results indicated.
Among those who have recently lost their jobs, the consequences have already been severe. Forty-one percent of laid-off voters reported having immediate trouble covering basic expenses such as food and housing. An additional 26 percent anticipated these problems will arise in the next two weeks.
While the IRS is expected to begin delivering stimulus payments through direct deposit as soon as next week, mailed checks could take months longer to arrive while backlogged unemployment systems add further strain on households enduring job losses.
The Data For Progress survey was conducted from April 5 to April 6 with U.S. voters and has a margin of error of 1.9 percentage points.