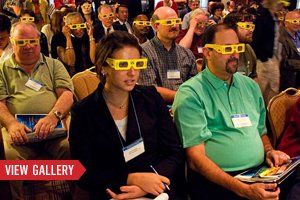 After the endowment of Centenary College in Shreveport, La., fell by 20 percent from 2007 to 2009, the private school decided to eliminate half of its 44 majors. Over the next three to four years, classic humanities specialities like Latin, German studies, and performing arts will be phased out. It's quite a change from 2007, when NEWSWEEK labeled Centenary the "hottest liberal-arts school you never heard of," extolling its wide range of academics. In their place, the school is considering adding several graduate programs, such as master's degrees in teaching and international business. Such professional programs have proven increasingly popular and profitable at other universities and colleges, especially during economic downturns, a point that the college president tries to downplay. "We're not intentionally trying to chase markets," says David Rowe. "We think the students need to have a grounding in the arts and sciences, but they also probably need some training in a specific area."
But there's no denying that the fight between the cerebral B.A. vs. the practical B.S. is heating up. For now, practicality is the frontrunner, especially as the recession continues to hack into the budgets of both students and the schools they attend. "Students want something they can sell," says Anthony P. Carnevale, director of the Georgetown University Center on Education and the Workforce. According to a new study published by Roger Baldwin, an education professor at Michigan State University, the number of liberal-arts colleges dwindled from 212 in 1990 to 136 in 2009. The humanities are taking the hardest hit at schools with small endowments. Wisconsin Lutheran College, for example, said last March it would stop teaching political science after facing a $3 million budget shortfall. At elite research universities and colleges, there's increasing pressure to beef up their pre-professional offerings. For instance, Claremont McKenna College in California is plugging a new undergraduate minor in financial economics, while Duke University's Fuqua School of Business recently added a one-year master's program geared to liberal arts graduates who may be looking to ride out the recession.
It's easy to understand the concerns. Just 41 percent of people ages 18 to 29 are working full time compared with 50 percent in 2006, according to a recent study by the Pew Research Center. A 2009 survey of 220,000 incoming freshman showed that 56.5 percent of students said it was "very important" to pick a college whose graduates found good jobs. "It's a huge investment, and people are more insecure about their financial opportunities after school," says Anne Colby, a senior scholar at the Carnegie Foundation for the Advancement of Teaching.
Apart from the tough economics surrounding college choices, the move to offer more practical classes may have gone too far. Although many students now want to major in something that sounds like a job, the economy is shifting so rapidly that it's hard to predict the landscape of the labor market in the next 10, 20, or 30 years. Not long ago, green tech, renewable energy, and health care were not the burgeoning fields they are today. While the number of students majoring in business has steeply risen this decade, there's no guarantee that business training will offer students the best preparation for the future.
Among liberal-arts proponents, the concern is that students who specialize in specific careers will lack critical thinking skills and the ability to write, analyze, and synthesize information. While business education tends to prepare students to work well in teams or give presentations, it often falls short in teaching students to do in-depth research or to write critically outside of the traditional business communiqués of memos or PowerPoints. "I think you need to have both liberal-arts and pre-professional classes at the four-year level," says José Luis Santos, assistant professor in the Higher Education and Organizational Change division at UCLA. "People need to graduate with critical thinking skills because most workplaces retrain individuals for the needs of the industry."
Many well-paying fields still prefer to hire students from these liberal-arts schools or universities, says Caroline Ceniza-Levine, a former Time Inc. recruiter and a career coach at SixFigureStart. But regardless of where students chose to go to school, they still need to get good grades, network, and complete goal-specific internships. "If you don't know that in advance and you major in philosophy, you're in major trouble," says Ceniza-Levine. "You can be Harvard philosophy major, but you'd better have worked at a bank during the summer."
While the tradition of the liberal-arts education may be on the wane nationwide, the most elite schools, such as Harvard, Swarthmore, Middlebury, and Williams, remain committed to its ideal. These top schools are not tweaking their curriculums to add any pre-professional undergraduate programs. Thanks to their hefty endowments, they don't have to. As the economy rebounds, their students, ironically, may be in the best spot. While studying the humanities has become unfashionable and seemingly impractical, the liberal arts also teaches students to think big thoughts—big enough to see beyond specific college majors and adapt to the broader job market.