Jobs: Where Will You Work in the Future?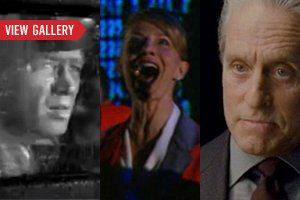 The year 2030 sounds far off. In a way, the number itself conjures images of silver unitards and hovercrafts, just as 2010 probably did to people back in 1990. A lot's changed since then, but more has stayed exactly the same, which is part of the problem.
For the last half century, by and large, Americans have driven to work by themselves in a car. Chances are that your commute takes longer than your parents' did, and theirs took longer than their parents'. As we've spread from city centers into farther-flung suburbs, we've created a work-life paradigm plagued by snarled traffic and longer commute times. That's not exactly sustainable. So what comes next?
We've heard a lot about the future of the mobile workforce, about how a generation of Dilberts are soon to be freed from their cubicles by telecom innovations that allow us to work from home, or from anywhere, for that matter, even if we're not all bloggers. It sounds good, but that vision's been around for years, and meanwhile, corporations are spending billions on new environmentally friendly office buildings. Since 2000, 430 million square feet of Leadership in Energy and Environmental Design-certified commercial office space has been built in the U.S. That's more than 5,000 completed projects, with another 24,000 in the pipeline, according to the Washington, D.C.-based U.S. Green Building Council.
It's no surprise that most of those projects are in cities: San Francisco, Chicago, D.C., and New York have the most LEED-certified buildings. As how and where we work evolve, it's become the general consensus that cities will grow and suburbs will shrink. "All signs point to the fact that many more people will be living in cities in 20 years," says IBM's Florence Hudson, a vice president of energy and environment and IBM's resident expert on buildings and office space. But that's not necessarily because there are going to be so many more 100-story skyscrapers, she says. Rather it will simply be more economical for employers and employees to be clustered around centers of commerce that emphasize mixed-use space and public transportation. After plummeting during the 1980s and then remaining fairly flat during the 1990s, the cost of energy spiked over the last 10 years. The recession pulled it back down, but most energy analysts agree that that lull is temporary and that, fueled by increasing demand from emerging markets (China, India, Brazil), energy is very likely to get more expensive over the next 20 years,. It's not hard to envision a future where McMansions in an exurb with two SUVs in the driveway look like a relic of the 20th century.
Reliance on public transportation is already on the rise. Ridership surged during the recession. According to the American Automobile Association's 2010 annual report, the cost of owning and operating a vehicle has increased 4.8 percent since last year. The leading factor was the rise in higher fuel prices. AAA estimates that transit riders now save approximately $762 in commuting costs annually.
As public transportation takes on a greater role and more transportation hubs have to be built closer to places of work, the density of our office environments will likely increase. Renny Logan, associate partner at Richard Meier architects in New York, estimates that in the next 25 to 30 years, as much as three-quarters of all the buildings in the U.S. will be new or substantially renovated as we face a wave of retrofitting and redesign measures. And that's good, because most Americans find their work spaces fairly lacking, at least in terms of energy efficiency. Last month, IBM released the results of its Smarter Buildings Index, a survey of 6,500 office workers across 16 cities, designed to better understand consumer thinking about urban infrastructure as climate and economic concerns reach critical level. Only 33 percent rated their office buildings as environmentally responsible, and 65 percent say they want to participate in the redesign of their workspace. This will create new challenges for architects.
In a lot of ways, the shift to greater green building has already begun. Greg Mella, an architect with the SmithGroup and a member of the American Institute of Architects committee on the environment, says that five years ago, it was common to see an environmental group or a nonprofit ask for a LEED-certified office space. "But now, it's basically everybody," says Mella. "We're very excited. The green movement is going to usher in a whole new era for architecture."
When asked to envision American cities in 2030, architects and urban planners tend to cluster around a few central ideas: reconfiguring our transportation grid, with more and faster trains and improved traffic patterns; more public green space both on the ground and on rooftops; and new buildings that reuse water and generate a portion of their electricity through on-site wind turbines and solar panels. Not quite hovercrafts and silver unitards, but a vision of the future that's different enough.