Donald Trump Called for My Execution, Michigan Election Official Alleges
Jocelyn Benson, Michigan's top election official, has said Donald Trump suggested she should be arrested and executed for treason in the wake of the 2020 election.
Benson, who stood against the former president's false claims that the results were rigged via voter fraud, claimed a source told her that Trump made the remark in a White House meeting.
"It was surreal and I felt sad," Benson told NBC News.
"It certainly amplified the heightened sense of anxiety, stress and uncertainty of that time—which I still feel in many ways—because it showed there was no bottom to how far he [Trump] and his supporters were willing to stoop to overturn or discredit a legitimate election."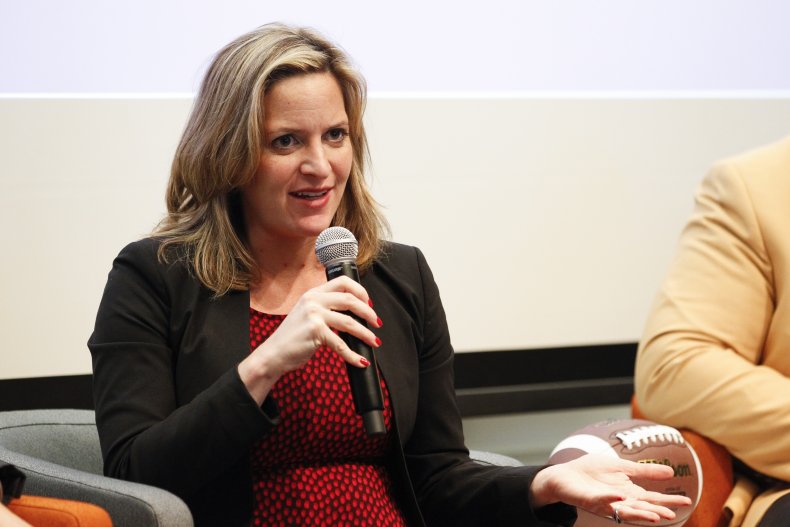 Taylor Budowich, a spokesperson for Trump, denied the suggestion the former president called for the elected official to be executed.
"I have it on good authority that Secretary Benson knowingly lied throughout her interview with NBC News," Budowich said.
Benson is one of several election officials who were on the receiving end of attacks from Trump and his supporters before and after the 2020 Election.
Benson, a Democrat, is now up for reelection as secretary of state.
Her Republican challenger in November's midterm is the Trump-endorsed Kristina Karamo, a community college professor who also frequently pushes the false claim the last presidential election was rigged in favor of Joe Biden due to widespread voter fraud, and has called for Benson to be arrested.
In an April statement congratulating Karamo and Matthew DePerno, another Trump-backed candidate who won the primary to become the Republican candidate for Michigan attorney general, the former president called the state of Michigan "one of the worst on Election Fraud and corruption" and suggested the pair would "put an end to it."
Speaking to NBC News, Benson said the fact there are still so many people who believe the last election was rigged despite no evidence proving so nearly 18 months since the vote took place shows that "the Big Lie is not just spreading, but it's deepening its hold on the American people."
Benson added despite the threats she and her family has received from Trump, his supporters and now Karamo, she will not be intimidated during the upcoming election campaign.
"I think that's my job as a leader in Michigan right now, as a leader in this moment," Benson said.
"To demonstrate the importance of standing up to hate, standing up to hateful threats and violent threats. And saying, 'Nope, not today, not against me, not against our democracy and marching forward.'"
Trump's office has been contacted for further comment.