GOP Rep Accuses Alexandria Ocasio-Cortez of 'Deliberately' Misleading Americans About Border Conditions by Showing Off Working Toilet
A Republican representative from Georgia has sought to dispel his Democratic colleagues' accounts of the conditions they observed at migrant detention facilities near the U.S.-Mexico border—by showing off what the facilities are like nearly a month later.
In a series of tweets, GOP Representative Jody Hice accused New York Representative Alexandria Ocasio-Cortez "and the Squad" of having "deliberately misled the American people by claiming that detainees are 'drinking from toilets'."
In one of his posts, Hice shared video of his visit to a detention center in El Paso, Texas, where he noted that, in at least one cell, a "potable water" drinking tap above a toilet appeared to be functional.
"Migrants have potable water, have shelter, and are being fed," he said, adding: "The constant attacks against our brave border patrol agents must stop!"
Hice was, of course, referring to the accounts of multiple Democratic congressmembers, including Ocasio-Cortez, who, earlier this month, described being told by at least one migrant woman that she had been told by a border official to drink out of a toilet bowl after complaining of thirst.
While Hice took the opportunity in his video to demonstrate how a potable water drinking fountain fixed to a toilet bowl works, Ocasio-Cortez had already made clear the day after her July 1 visit to El Paso detention facilities that the drinking tap she was referring to had not been working on the day of her visit.
"There was just one" potable drinking fountain located in the cell, Ocasio-Cortez said in a tweet on July 2. "And the sink portion was not functioning."
Representative Ayanna Pressley, Ocasio-Cortez had noted at the time, "smartly tried to open the faucet and nothing came out."
"So, the women were told they could drink out of the bowl," the New York representative summarized.
Despite that, Hice, who visited El Paso detention facilities almost exactly a month after Ocasio-Cortez's own visit, accused the 29-year-old of "deliberately" misleading the public.
In a second video, Hice continued to try to dismantle his Democratic colleagues' accounts, this time taking aim at their reports of migrants describing insufficient access to sanitation, food and water—conditions that had already been flagged days before by a group of attorneys who heard similar accounts upon a visit to detention sites.
In his video, Hice shows off a well-stocked supply room, writing in the accompanying tweet: "The falsehoods from @HouseDemocrats that migrants don't have access to basic supplies like toothpaste and soap are flat out wrong."
"Today, I stood in a warehouse full of these items," he said, adding: "The lies about the #BorderCrisis coming from the other side of the aisle are just shameful."
Despite Hice's findings nearly a month after Democrats and attorneys reported poor conditions at migrant detention facilities, a number of high-profile organizations have condemned the treatment of migrants at the U.S. border, including the United Nations High Commissioner for Human Rights.
In a statement released earlier this month, Michelle Bachelet said she was appalled by the "undignified and damaging" conditions that migrants detained in the U.S. were being held in.
Bachelet's statement further came just days after an internal U.S. government report warned of the dangerous overcrowding migrants were being forced to endure in the country's detention facilities.
In a statement sent to Newsweek, a spokesperson for Hice said the Congressman "stands by what he said because it is the truth. No one is being forced to drink from toilets."
"The detainment doors are unlocked, water jugs and snacks are readily available, and migrants are able to access various areas of these facilities if they so choose," the spokesperson said.
They also said that while Hice was at the facility "border agents said time and again that Rep. Ocasio-Cortez misrepresented what happened, yelled at agents without cause, slammed walls, and made numerous fallacious claims."
"Demonizing our border patrol agents, who are simply trying to do their jobs with the limited resources they have, helps no one," the spokesperson asserted.
Ocasio-Cortez has previously responded to claims that she yelled at border personnel, with the New York representative tweeting: "To these CBP officers saying they felt 'threatened' by me—they were literally discussing making a GoFundMe for an officer who attacked [me] on my tour."
"They confiscated my phone, and they were all armed," she said. "I'm 5-foot-4. They're just upset I exposed their inhumane behavior."
This article has been updated with a statement from Rep. Jody Hice's office.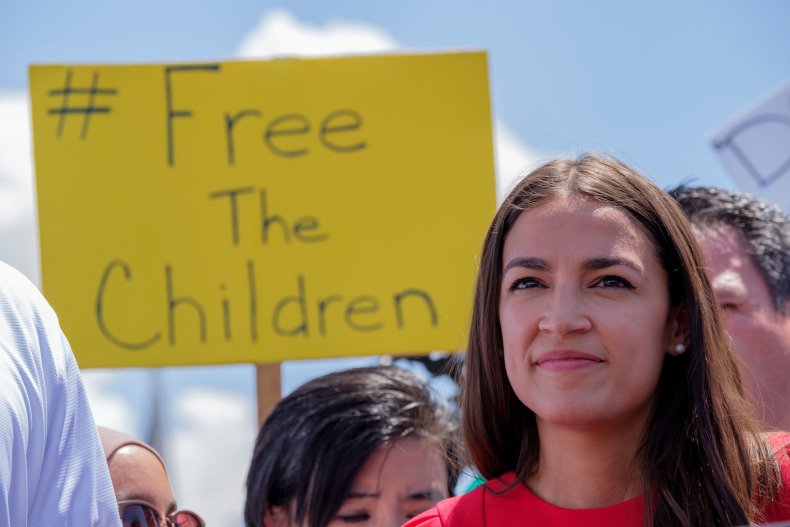 GOP Rep Accuses Alexandria Ocasio-Cortez of 'Deliberately' Misleading Americans About Border Conditions by Showing Off Working Toilet | U.S.