Taylor Swift's fans seem to love the pop star's boyfriend as much as she does. Swifties took to Twitter on Friday to praise the British actor for giving Swift a seemingly normal relationship, as seen in Swift's new documentary Miss Americana.
The film, which was released on Netflix Friday, spotlights Swift's career in the public eye and her recent political reformation, which she started after years of feeling silenced by label executives. Some have considered the documentary a way for Swift to take control of her own voice and opinions after a career that painted her as America's sweetheart.
Alwyn isn't in much of the documentary, which isn't surprising. Swift has kept her private life under lock and key since the couple began dating in late 2016, according to the documentary. Still, the documentary shows a sweet moment where Swift rushes off stage and into Alwyn's arms.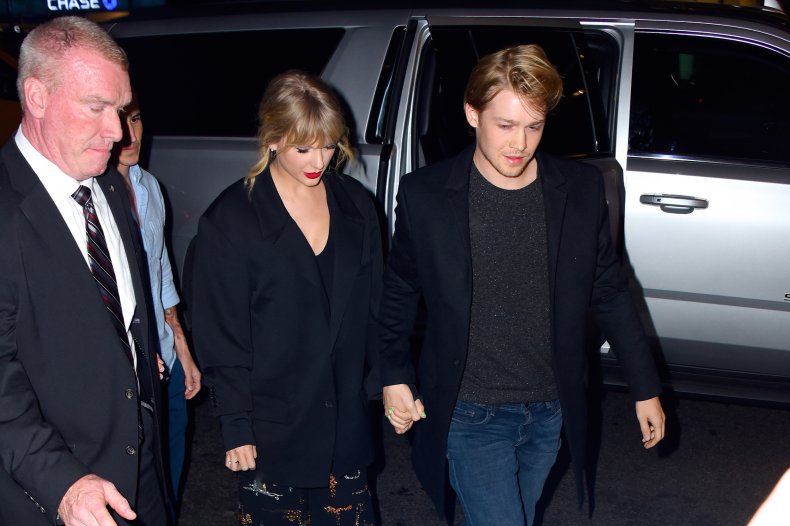 Fans were quick to thank the actor for supporting their favorite artist, even in her worst times.
The love for Swift has extended to Alwyn, with some commenters on Twitter even said they wouldn't support any negative talk about the actor.
Swift comments on her relationship with Alwyn in Miss Americana, during a conversation about Swift's online battle with Kanye West and Kim Kardashian West.
In 2016, Kardashian West released a video of a phone call between Swift and West in which she seemingly approved a provocative lyric in one of West's songs. Swift later bashed the line publicly and claimed she didn't know West would call her a b**** in the song.
Kardashian West's fans hounded the singer with snake emojis and claimed to have canceled her success.
"I felt alone, I felt really bitter," she said. "I felt sort of like a wounded animal lashing out. I figured I had to reset everything. I had to reconstruct an entire belief system for my own personal sanity. I also was falling in love with someone who had a wonderfully normal, balanced life."
She also stated the relationship kept her authentically happy, even in the heat of the drama. "We decided together we wanted our relationship to be private," Swift noted. "Even though it was really horrible, I was happy. But I wasn't happy in the way I was trained to be happy. It was happiness without anyone else's input. We were just happy."