The Fall of Joe Arpaio, America's Most Controversial Sheriff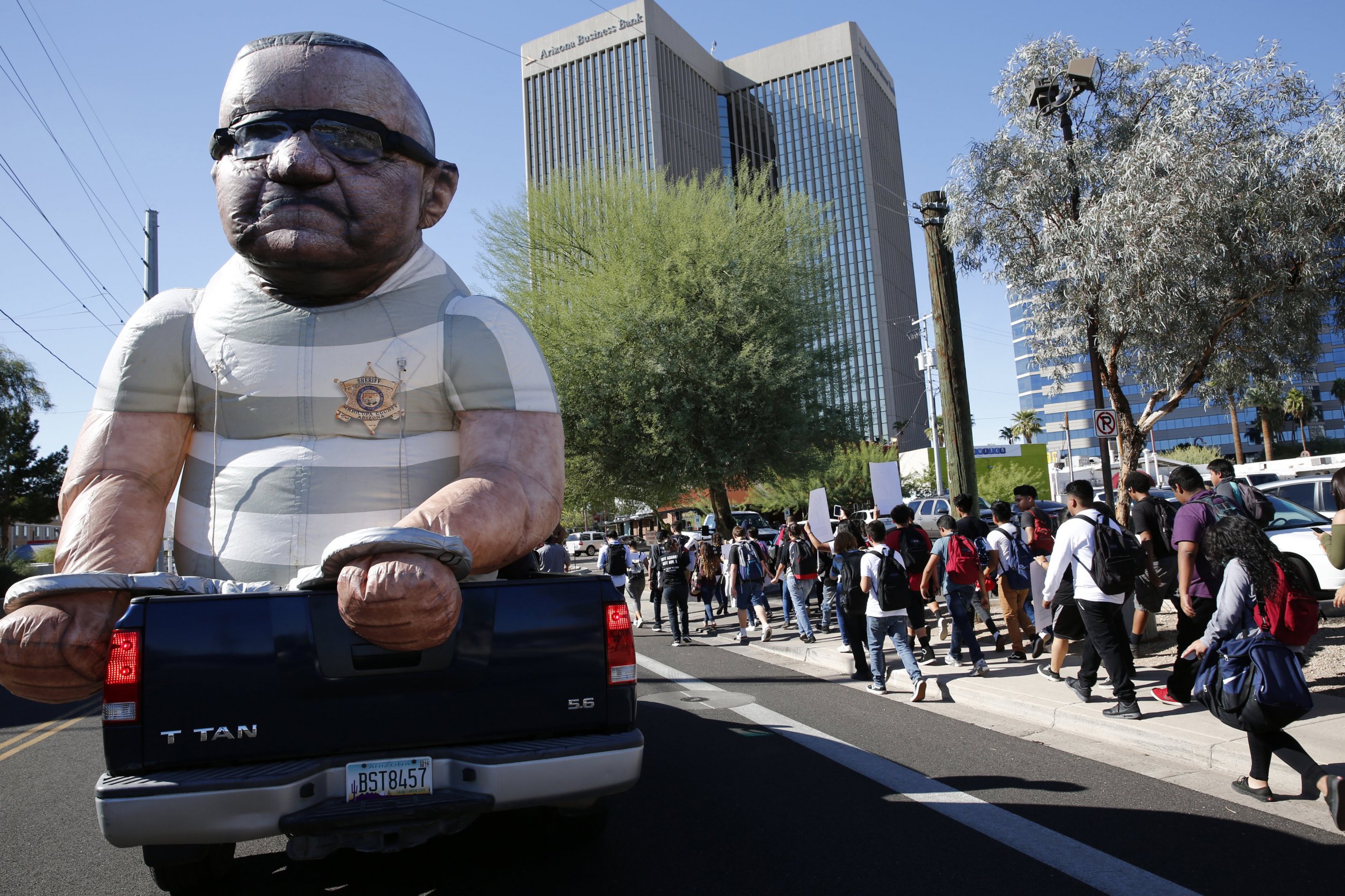 Updated | At a park in Central Phoenix, about 150 Latino activists danced, cheered and wept when they learned that Maricopa County Sheriff Joe Arpaio had lost a bid for a seventh term as Arizona's top lawman on Tuesday night. A band blasted Mexican country music, kids smashed a Donald Trump piñata and people marched a few blocks to the sheriff's office to deliver an "eviction notice" to the 84-year-old. But the exuberance in the Phoenix park was tempered by Donald Trump's presidential victory, since many Latinos in Arizona see Trump as Arpaio writ large.
Known to supporters as "America's toughest sheriff," Arpaio received national and international attention for controversial measures, such as rounding up undocumented immigrants and forcing inmates to wear pink underwear. He had a strong base of donors but also a number of ardent critics. For months, organizers for a network of Latino-led nonprofits canvassed the streets of Arizona's most populous county, hoping outrage over Arpaio and Trump, widely viewed as anti-immigrant, would trigger more Latinos to register to vote.
The state's most widely watched down-ballot race became an electoral battle between older, conservative whites who approved of Arpaio's hardline immigration tactics and younger Latinos who felt their sting. To some, Trump's anti-Mexican campaign rhetoric, and his repeated vows to build a border wall and deport the nation's 11 million undocumented immigrants, meant the New York-born mogul would be just as threatening to Arizona Latinos as Arpaio had been. "What Trump talks about now, Arpaio has been doing to us for years," says Carlos Garcia, a human-rights activist who has organized against Arpaio since 2007. "For many years Arpaio has been hunting down our communities destroying and separating our families and has used us as a political ploy."
When Arizonans woke up on Wednesday morning, the state was still red, but Arpaio had been ousted, thanks in part to an unprecedented early Latino voting surge. That latter left many exuberant. "It's been a long time coming," says Alfredo Gutierrez, a longtime Latino activist, and the current president of the Maricopa County Community College District Board. He notes that while the sheriff "lost overwhelmingly" among Latinos, he also "lost his base."
Newsweek subscription offers >
For several years, many Arizona Republicans have become fatigued by Arpaio's mounting legal expenses and publicity stunts. In 2013, a federal judge in Phoenix ruled that the sheriff and his department had engaged in unconstitutional policing—rampant racial profiling of Latino drivers and their passengers. "It's almost as if you have to justify that you're documented and have a birth certificate," explains Joe Garcia, director of the Latino Public Policy Center at the Morrison Center for Public Policy in Phoenix.
Beyond the grief it caused Latinos, the racial profiling case alone is expected to cost Arizona taxpayers $72 million, the Associated Press recently reported. Other costs over separate wrongful death, civil rights and abuse of power lawsuits have cost county taxpayers tens of millions more since Arpaio took office in 1993. Some among his Republican base also disapproved of his hardline immigration tactics and support of a border wall.
But a Trump presidency may bode well for Arpaio. He recently pleaded not guilty to criminal contempt of court, a charge that stems from "willfully" disobeying a federal judge's orders to stop enforcing immigration in 2011. The U.S. Department of Justice is also weighing a separate felony charge for obstruction of justice. But a Trump administration could use "prosecutorial discretion" to not pursue further charges, some Latinos fear.
In an interview with Newsweek, Arpaio blamed his loss on what he calls the corrupt Justice Department. He also pointed to a "not very nice" media coverage and a last-minute infusion of cash by billionaire George Soros into a committee that funded ads for his Democratic opponent, Paul Penzone.
Newsweek subscription offers >
A devout Catholic who wears a rosary around his neck, Penzone, 49, is a former Phoenix Police sergeant. He did not endorse Hillary Clinton, the Democratic presidential nominee, a wise strategy for a moderate Democrat in red state Arizona. Now he'll get to work evaluating the practicality of pink underwear, chain gangs, inmate tents and Arpaio's ongoing investigation into Barack Obama's birth certificate.
At the Arizona Republican Party election-night gala I visited on Tuesday night, Arpaio's loss was overshadowed by Trump's victory. In fact, Arpaio didn't even show up at the party. Later, I called Shirley Armenta, a 65-year-old fourth generation Mexican-American I'd met at a Trump rally. Other Latinos had called her a "traitor" for supporting Arpaio and Trump, she says, and their hardline immigration policies. But she has "no regrets" that the sheriff will be stepping down because "Trump will take care of immigration anyway."
Apprehension about Trump's deportation vows has activists, and undocumented immigrants apprehensive. Three days before the election, Alina Sanchez and Carlos Yanez and about 30 others walked through a predominantly Latino neighborhood in west Phoenix, knocking on doors of eligible voters, checking to see if they had mailed in ballots or had confusion about where to vote. Both Sanchez, who is 24 and a college student, and Yanez, who is 17 and studies at a bioscience high school, are undocumented immigrants who received temporary relief from deportation by an executive order signed by President Barack Obama.
Their joy at Arpaio's ouster was dampened Tuesday night by the fact that Trump had promised to rescind all of Obama's executive orders, which would make them vulnerable to deportation. "I want to cry but I feel kind of numb and I can't comprehend how this happened," says Yanez, who watched the returns at his Phoenix home.
He's proud to have played a small part in Arpaio's historic demise, but fears for his long term safety under the Trump administration. "We have worked so hard, immigrant rights have progressed so much, it's really heartbreaking," he says. "I am so tired of being scared of losing what other people take for granted. I don't know what my future is now."
Arpaio feels the same way. "I don't know what the future holds for me," he says in a phone interiew. "Don't forget. I retired once before."
With Garret Schwartz in Phoenix
Terry Greene Sterling is Phoenix-based journalist. She's written one book on immigration in Arizona, and is co-authoring a book about Arpaio and the Latinos who stood up to him with public radio reporter Jude Joffe-Block.
Correction: An earlier version of this story mistakenly said that "When Arizonans woke up on Tuesday morning, the state was still red." It was Wednesday morning.
The Fall of Joe Arpaio, America's Most Controversial Sheriff | U.S.