America's 'Toughest Sheriff' Should Face Jail Time, Judge Says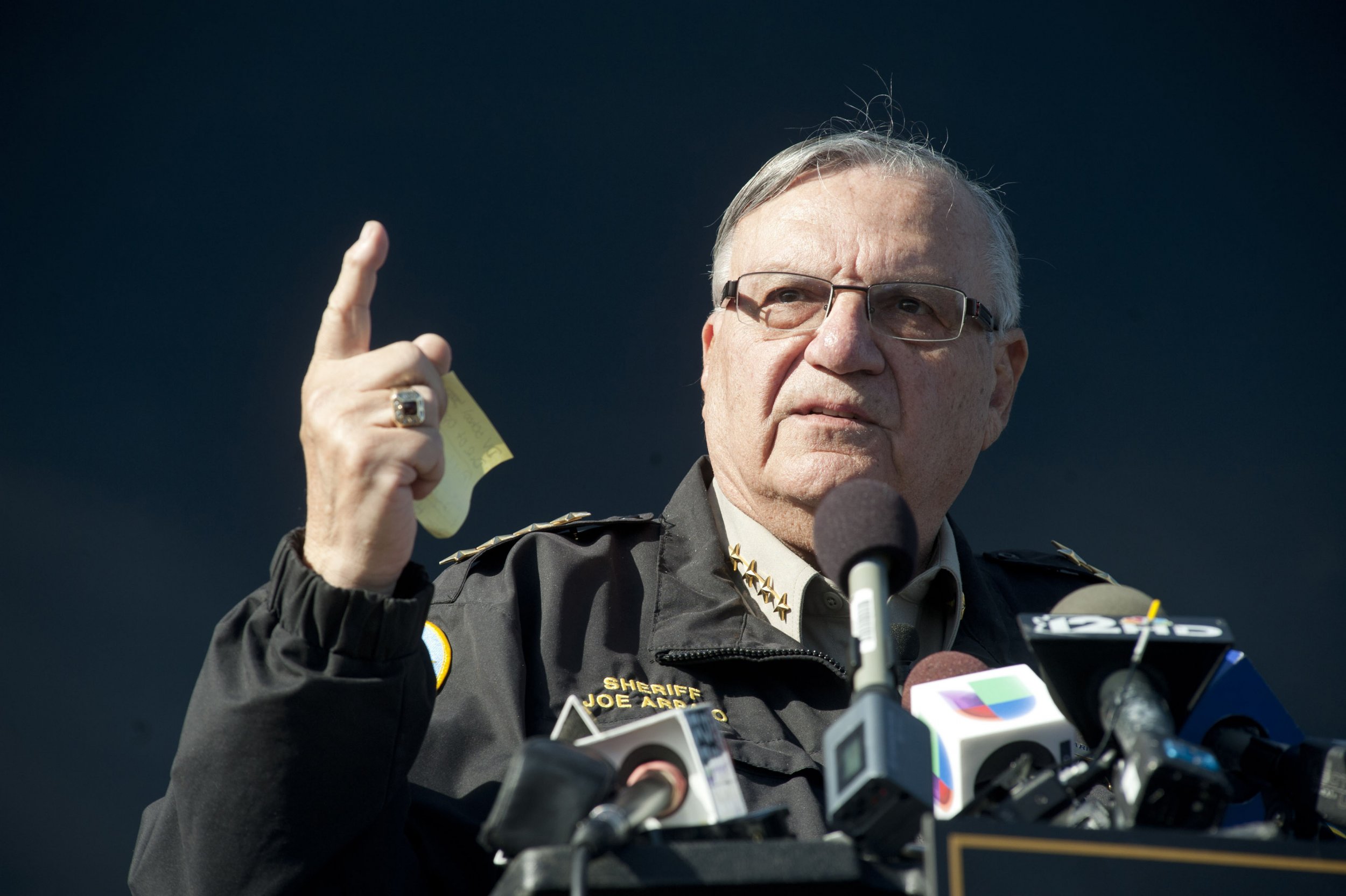 A sheriff who has courted media attention for his draconian treatment of inmates may face prosecution stemming from his treatment of the local Latino community and disregard of court orders.
Maricopa County (Arizona) Sheriff Joe Arpaio may face criminal contempt charges after the federal judge in a racial profiling case asked the U.S. Attorney's Office to prosecute, saying Arpaio and some of his subordinates ignored orders to stop profiling Latinos solely on the assumption that they're in the country illegally and lied under oath. If Arpaio was convicted of criminal contempt, he could face jail time, and if the U.S. Attorney's Office declines to prosecute, the federal judge could appoint a special prosecutor, CNN reports.
Friday's request from Judge G. Murray Snow of United States District Court in Phoenix represents a stunning fall for a sheriff who has become a darling in some conservative circles for his more than 20-year tenure as Maricopa County's chief law officer. An Obama "birther" who has endorsed Donald Trump for president, Arpaio has received national attention for his aggressive pursuit of immigrants, legal or otherwise, as well as for jailing methods that include chain gangs, tent cities in the blistering Arizona heat and the use of pink underwear intended to humiliate male prisoners.
While his so-called innovations have sparked numerous lawsuits within the past two decades, Arpaio's treatment of his county's Latino population lead Snow to rule in May that the sheriff "intentionally failed" to implement the court's order in Ortega Melendres v. Arpaio (a class-action suit alleging widespread racial profiling against Latinos); "failed to disclose thousands of relevant items of requested discovery they were legally obligated to disclose;" and "deliberately violated court orders.
"The Court finds that the defendants have engaged in multiple acts of misconduct, dishonesty and bad faith...They have demonstrated a persistent disregard for the orders of this court, as well as an intention to violate and manipulate the laws and policies regulating their conduct," Snow wrote in May. The judge expanded on his prior statements, writing Friday that Arpaio's "history of obfuscation and subversion of this court's orders...is as old as this case," and that he and a deputy "intentionally made a number of false statements under oath. There is also probable cause to believe that many if not all of the statements were made in an attempt to obstruct any inquiry into their further wrongdoing and negligence," the judge wrote.
"A criminal prosecution of Sheriff Arpaio is the right next step for justice to be done," Cecillia Wang, director of the American Civil Liberties Union's Immigrants' Rights Project, told the New York Times. "When a federal court finds that a law enforcement official has lied to the court in an effort to cover up misconduct, and willfully flouted court orders, that official must be held to account."
The federal court had ruled that Arpaio's office was systematically targeting and detaining Latinos without just cause. Snow had ordered changes at the sheriff's office, including training and the use of body cameras, but found in May that the sheriff's office "had no system or formalized instructions on how to track, collect, review or store the videos taken by the cameras." The judge also wrote that video that could have shown sheriff's officers continued disregard for his orders were destroyed, "both intentionally and otherwise."
Arpaio is seeking re-election, with the Republican primary scheduled for Aug. 30. His primary opponent, Dan Saban, once successfully sued Arpaio for defamation, Politico reports, after the sheriff investigated his opponent for allegedly raping his own adoptive mother. Should Arpaio get through the primary, he'd face Democrat Paul Penzone, who lost to Arpaio in 2012 by six percentage points. Arpaio would have to step down from office if he's ever convicted of a felony.