Joe Arpaio Found Out He Admitted Guilt With Trump Pardon On Live TV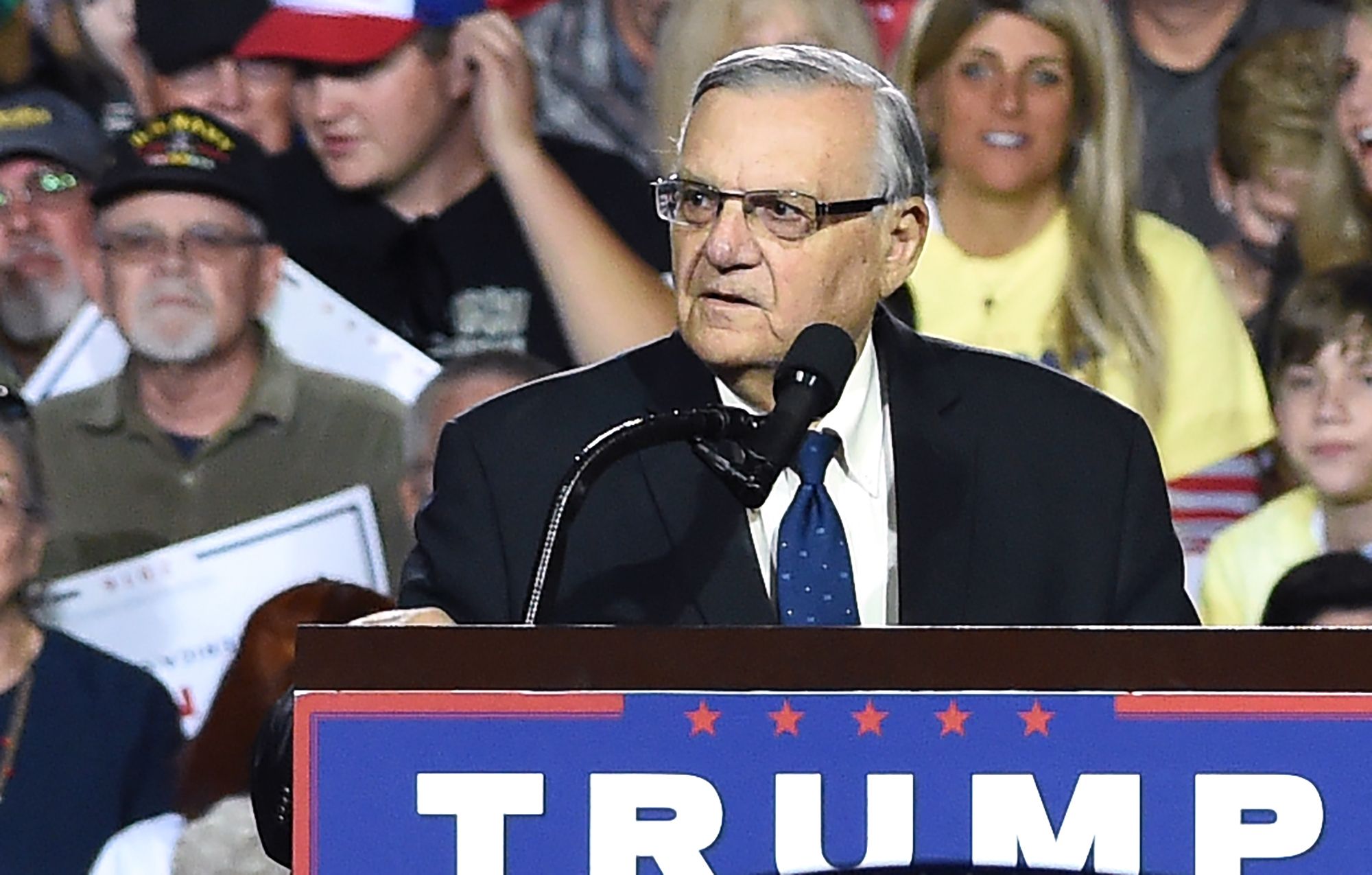 A segment on MSNBC Friday turned awkward for Joe Arpaio, the controversial former sheriff running for Senate in Arizona. The 85-year-old accepted an August pardon from President Donald Trump after being convicted of criminal contempt for ignoring a court order and continuing to racially profile.
Arpaio appeared on MSNBC's The Beat, hosted by Ari Melber, and discussed the pardon. "The president—I never asked for the pardon—pardoned me because he knew that this decision was wrong," Arpaio said, before claiming he had some sort of appeal in the works.
Melber then seized on the facts surrounding Arpaio's case, reminding viewers (and Arpaio) about the tent-city jail the sheriff once called "concentration camps" and an apparent $48 million legal bill run up by Arpaio. The former sheriff responded by saying that the folks in his jails violated the law, and that if they didn't like the conditions, they shouldn't have engaged in crimes.
"You said they violated the law," Melber responded. "You're seeking a promotion, and a judge found you violated the law. That raises the question: Why do you want to go to the Senate and write laws if you wouldn't follow a judge's order to uphold them?"
"A judge found me guilty of a misdemeanor, and I'm not going to go into the politics of that," Arpaio said.
"Let me ask you another important question because you brought up this unusual but lawful pardon that you received from the president," Melber responded. "As you know, when you take a pardon you're admitting guilt. Why did you take that pardon and admit guilt?"
From there, it seemed pretty clear Arpaio did not know everything that accompanied his pardon. "I didn't admit guilt. I said I was not guilty, and I say it today," Arpaio responded, causing Melber to raise his eyebrows in response.
"But you accepted the pardon, and you know under the law that is an admission of guilt," Melber said.
"No, I don't know about that," Arpaio said. "I'd have to talk to the legal scholars."
Melber then walked the sheriff through a Supreme Court case, Burdick v. United States, that makes clear a pardon "carries an imputation of guilt and acceptance of a confession of it."
"Do you understand that's the legal implication of what you did, by accepting that pardon?" Melber asked. Arpaio didn't really answer the question.
"I'm not a lawyer, thank God," he said. "But the president can make any decision he wants on a pardon. And I'm not going to argue about what your decision is. I'm sure his lawyers have reviewed it."
The Trump ally and former Maricopa County sheriff has already had a tumultuous campaign in his effort to take over the Arizona seat set to be vacated by Senator Jeff Flake.
When he appeared on Fox News to discuss the false ballistic-missile warning sent to Hawaii residents over the weekend, Arpaio decided it was a good time to revisit the "birther" conspiracy theory, which critics call a racist dog whistle. It falsely maintains that former President Barack Obama was not born in the Aloha State, or anywhere else in the U.S.
"I don't want to get into it," Arpaio said. "But I know doing a certain investigation on a fake, fraudulent government document. They can't even solve that case. They don't even want to look at it. So either they're incompetent or there's something behind it."