Joe Arpaio Won't Say if John McCain is a 'Hero' Because Donald Trump Is His Only Hero
Former Arizona Sheriff Joe Arpaio, who faces an uphill battle in the state's Republican Senate primary on Tuesday, said it was "hard" for him to answer whether late Senator John McCain is a hero—because his hero is Donald Trump. The president has attacked and feuded with McCain from the start of his campaign right up until the former prisoner-of-war's death Saturday.
"Do you think John McCain is a patriot?" NBC News Capitol Hill correspondent Kasie Hunt asked Arpaio in a clip aired on MSNBC Tuesday.
"Yes," Arpaio answered.
Hunt followed up: "A hero?"
"That's hard for me to answer," Arpaio said, "Because I never had a hero in my life until several months ago when I woke up after 75 years and I found my hero.
"You know who that person is?" Arpaio continued. "Donald Trump."
Arpaio was pardoned by Trump last summer after being found guilty of being in contempt of a court order barring him from detaining immigrants without reasonable suspicion of committing a crime and on the basis of racial profiling. Trump faced criticism for pardoning his staunch supporter. The former Maricopa County sheriff was slammed for funneling law enforcement resources to investigate immigration offenses rather than focusing on hundreds of sex crimes and harsh prisoner treatment.
Additionally, Arpaio was one of the first public figures to push the so-called "birther" conspiracy theory, which falsely alleged that Barack Obama was not eligible to be president because he was not a natural-born U.S. citizen—and which Trump also propagated as he prepared to run for office.
Arpaio endorsed Trump in the 2016 presidential election and stood by him at campaign rallies. He has been seeking the Senate seat being vacated by Republican Jeff Flake, a Trump critic.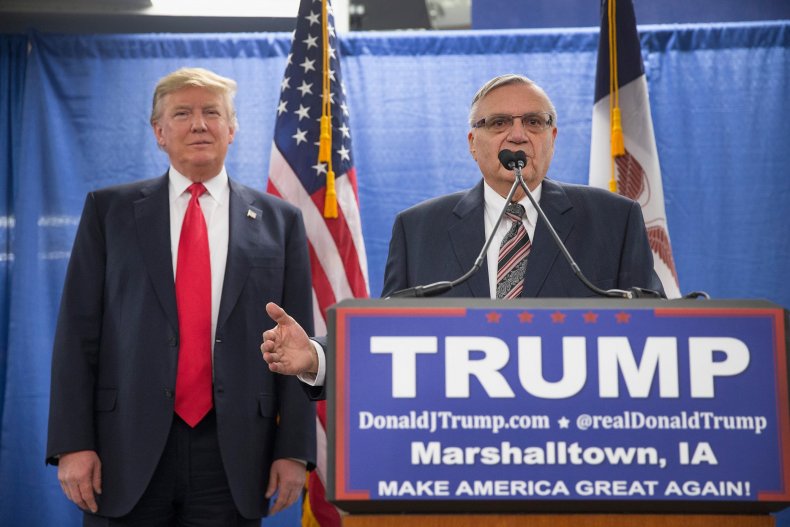 In refusing to call McCain a hero, Arpaio is further aligning himself with the president.
Trump while campaigning in 2015 said McCain, who was tortured as a prisoner of war in Vietnam, was not a war hero "because he was captured," and, "I like people that weren't captured." Trump made the remark after McCain denounced him for calling Mexican immigrants "rapists." The president later tried to clarify his comment.
After McCain died of brain cancer, Trump acknowledged his passing on Twitter and expressed his condolences to the family, but did not pay a tribute to the senator.
"My deepest sympathies and respect go out to the family of Senator John McCain. Our hearts and prayers are with you!" Trump tweeted.
After mounting pressure, Trump released a lengthier statement on Monday evening.
Polls leading up to Tuesday showed Arpaio in last place among GOP candidates in the primary. Trump has not weighed in with an endorsement for any candidate in the race.