Joe Arpaio Pardon: Donald Trump's Pal From Arizona Has a Long History of Scandals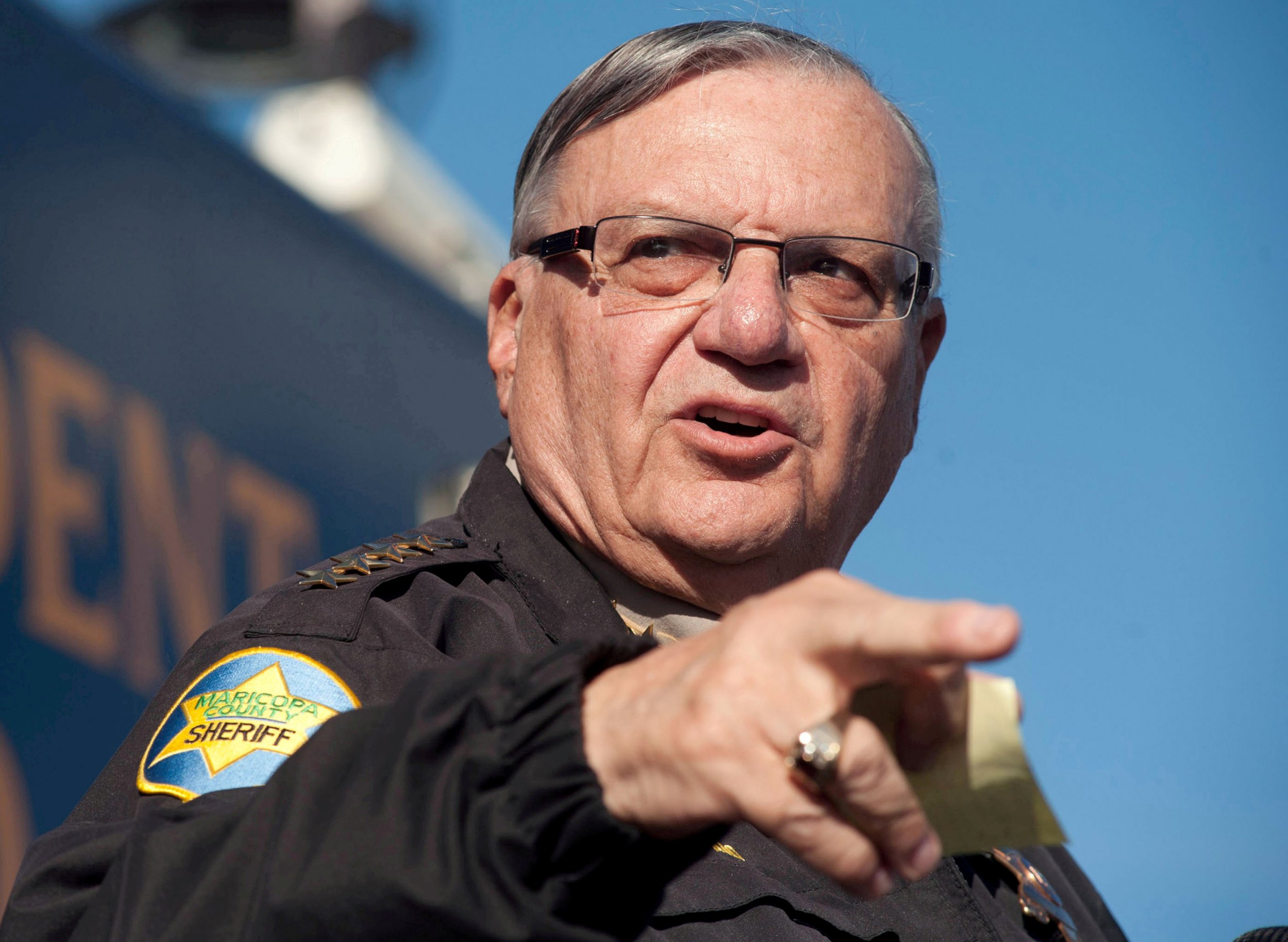 President Trump pardoned Joe Arpaio Friday, sparing the controversial former Arizona sheriff a spell in jail.
The move has drawn an outcry from civil rights groups, given that Arpaio's conviction was for defying a court order to stop traffic patrols targeting suspected immigrants. But others, including the president, have praised Arpaio's stance on law enforcement and immigration.
The sheriff who branded himself America's toughest lawman has long attracted controversy. As news of the pardon breaks, Newsweek reviews five of his biggest scandals.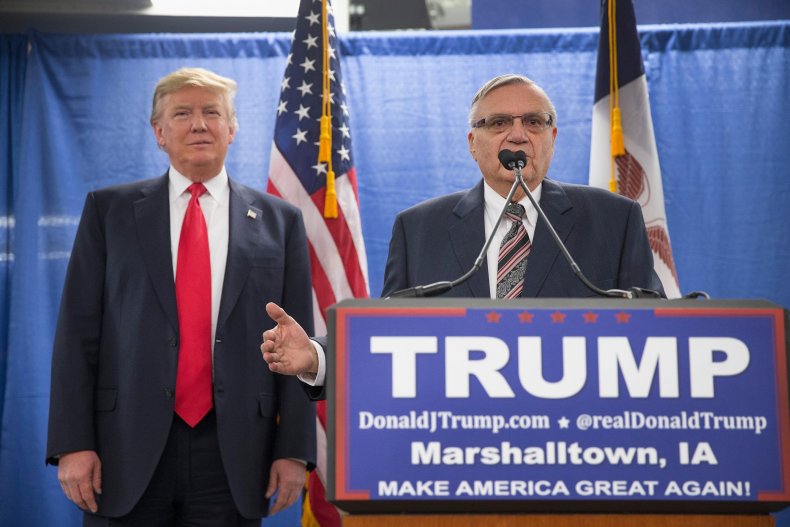 "Concentration camp"
As newly elected Sheriff of Maricopa County in the early 1990s, Arpaio pushed the construction of an open-air jail called 'Tent City,' which he claimed was a solution not only to prison overcrowding but to "soft" incarceration policies.
Inmates were made to wear pink underwear and handcuffs, meals were cut down to two a day with salt and pepper removed to cut costs and Arpaio pushed for mugshots of inmates to be posted online.
He also reintroduced the use of chain gangs—including for women and juvenile inmates.
Responding to an audience member in 2008 at the Arizona American Italian Club in Phoenix, Arpaio allegedly boasted of the camp's toughness, comparing it to a Nazi death camp.
"I already have a concentration camp," Arpaio said during the 2008 appearance. "It's called Tent City."
Spiralling suicide rate
A 2015 investigation by the Phoenix New Times showed suicide rates of prisoners during Arpaio's tenure dwarfed those in other country jails, with 24 percent of the 157 who died in his jail were logged by the coroner as having taken their own lives.
The second highest rate was 14 percent in Philadelphia jails over a comparable period.
In another 73 cases the cause of death was recorded as unknown by county authorities. The lawsuits over the deaths cost Maricopa County $140 million.
Failure to investigate sex crimes
During a three year period ending in 2007, more than 400 sex crimes reported to Arpaio's office, most from El Mirage, a suburb of Phoenix with a large immigrant population, were inadequately investigated or not investigated at all, it was claimed. Among them were 32 reported offenses against children.
In 2015 officials settled a multi-million dollar lawsuit out of court after the sheriff's office failed to properly investigate the rape of a 13-year-old girl.
Racial profiling
Then in May, 2013, the Justice Department announced that it was investigating longstanding allegations of discrimination against Latino citizens by Arpaio's office.
That suit alleged the Maricopa County Sheriff's Office had targeted Hispanic immigrants during patrols and traffic stops and had violated their right to privacy under Arpaio's leadership. The case was eventually settled in 2015, with the Sheriff's office agreeing to establish policies that prevented retaliation against officials who wouldn't comply with Arpaio's targeting of immigrant communities.
Then in early summer 2017, Arpaio went on trial accused of disobeying a court order to stop patrols targeting immigrants. In July he was convicted, and ahead of the presidential pardon had been scheduled to be sentenced in October. Arpaio could have faced up to six months in jail.
"Birther" investigation posse
Arpaio's relationship with Trump began earlier this decade, as the property magnate geared up his political career by spreading the birther conspiracy theory about President Barack Obama.
Arpaio was one of the few public figures who also touted the theory, and in 2011 even announced he was forming a five man "cold case posse" to investigate the theory. In a letter to Arpaio, Trump praised the move.
The officials traveled to Hawaii to investigate Obama's birth certificate and claimed to have found evidence that it was a forgery. Critics denounced the move as a political stunt by Arpaio, who has continued to declare his belief in the theory. Trump regularly boasted that he would offer evidence, but as of this reporting, he has yet to do so.
Hawaii officials have repeatedly confirmed Obama's citizenship, and the courts have rebuffed a series of lawsuits.
In 2016 he endorsed Trump, spoke at the Republican National Convention that summer, and was even mentioned as a possible contender to head up the Department of Homeland Security.