Joe Biden's $2,000 Stimulus Check Push Might Not Satisfy Calls for Relief
President-elect Joe Biden's push for stimulus checks to be boosted from $600 to $2,000 may satisfy some of those urging more relief, though it coincides with further calls for support to come in the form of recurring monthly payments.
Economic Impact Payments of up to $600 are making their way to those eligible, having been signed off in further COVID-19 relief spending in December, but Biden has suggested this amount is "simply not enough."
"$600 is simply not enough when you have to choose between paying rent or putting food on the table," he tweeted on Sunday evening. "We need $2,000 stimulus checks."
Biden is due to unveil a raft of relief measures this week, in a package worth trillions of dollars, with $2,000 checks to be included.
Amid the plans for a $2,000 check boost, others continue to urge legislation beyond this with monthly payments to people as the COVID-19 pandemic continues to pose economic problems across the nation.
In polling conducted December 30 by Data for Progress, 65 percent of respondents said they would back $2,000 per month direct cash payments being made to every person for the duration of the pandemic.
Around two in five, 41 percent, said they would strongly support this and another 24 percent said they would somewhat support it. There were 1,166 respondents, who were surveyed through a web portal.
On Friday, a letter signed by more than 100 organizations, made up of progressive, advocacy and labor groups, was sent to Biden and Vice President-elect Kamala Harris urging more relief—which also pushed for repeat payments.
"To truly build back better, we need fully expanded unemployment insurance and recurring direct stimulus payments that include immigrant families and adult dependents, both lasting until the economy recovers," said the letter, shared online by the Economic Security Project.
"We need to expedite aid to our states, cities, towns and tribal lands to protect essential jobs and services and prevent another massive wave of layoffs."
Vice President-elect Harris herself has previously called for $2,000 recurring payments, alongside Senators Bernie Sanders (I-VT) and Ed Markey (D-MA).
"We need bold policies if we're going to get through this crisis," she said in June last year. "That's why I'm proposing $2,000 monthly payments for the duration of the pandemic."
While there are calls for support beyond the $2,000 check boost, even that may struggle to get through Congress.
Despite Democrats being set to imminently control the White House, Senate and the House, further relief checks may still rest on GOP support.
Democratic Senator Joe Manchin of West Virginia has suggested he will not back this push, which would mean the Democrats would need at least one GOP Senator—potentially Sen. Josh Hawley (R-MO)—to pass it through Congress.
Newsweek has contacted the Biden transition team for comment.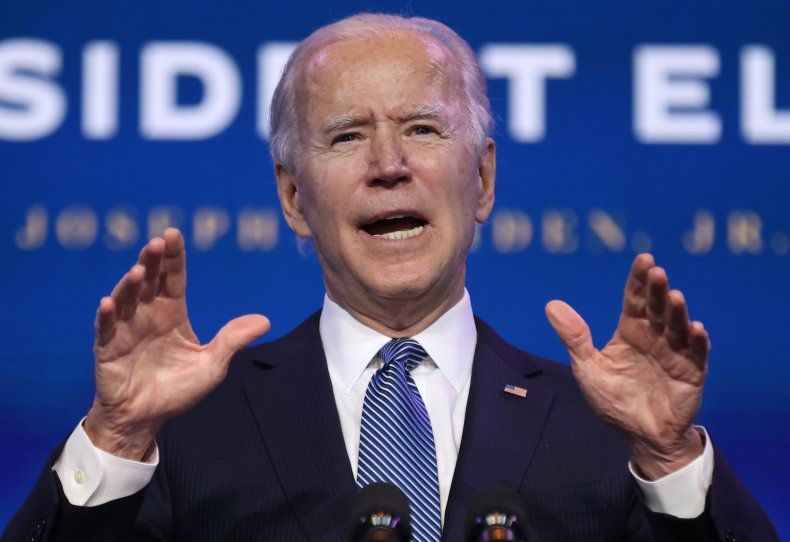 Correction 01/12/2021: This page was amended to correct the attribution of the letter to the Economic Security Project.