Joe Biden vs. Donald Trump in 2020? Former VP Will Have to Overcome His Past Presidential Primary Failures First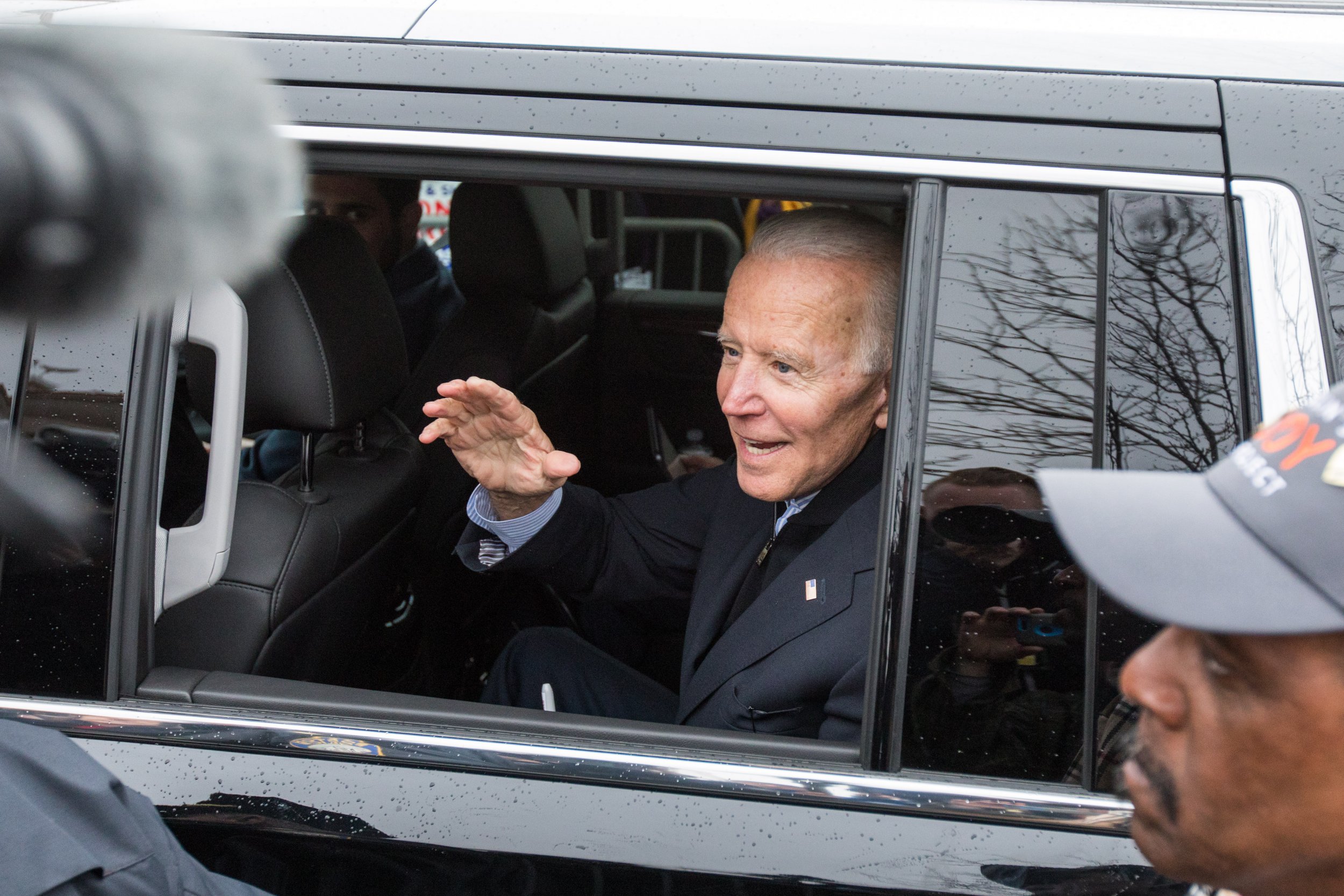 Former Vice President Joe Biden announced Thursday morning that he would take up his third bid to become president, more than 30 years after his first.
This election is considerably different than his previous two. Biden enters the race as the top contender, consistently polling at the top of the field of candidates. And having served as vice president for eight years, he has some of the highest name recognition out there.
But what went wrong in Biden's quickly extinguished two previous campaigns, and how will he avoid the same pitfalls? Biden ran for and lost the Democratic nomination in 1988 and 2008, and he considered running again in 2016 but decided against it after his son, Beau, died of brain cancer one year before the election.
The Republican Party quickly jumped on Biden's history of losing. "Joe Biden has been running for president and losing since the '80s, 2020 won't be any different," wrote Republican National Committee Communications Director Michael Ahrens in a statement.
Plagiarism Sinks '88 Bid
In 1988, Biden, at the age of 45, was a well-respected senator from Delaware, who was often compared to Senator Ted Kennedy. He had considered running for president four years earlier, as Ronald Reagan was completing his first White House term but decided to bide his time before entering the presidential fray for the first time. By 1987, Biden had gained a reputation as a candidate with widespread appeal among moderates—he chaired the Senate Judiciary Committee, appealed to baby boomers and could raise money. He decided to run.
"For too long in this society, we have celebrated unrestrained individualism over common community," he said in his speech announcing his candidacy. "For too long as a nation, we have been lulled by the anthem of self-interest. For a decade, led by Ronald Reagan, self-aggrandizement has been the full-throated cry of this society: 'I've got mine, so why don't you get yours' and 'What's in it for me?'... We must rekindle the fire of idealism in our society, for nothing suffocates the promise of America more than unbounded cynicism and indifference."
But Biden's campaign quickly fell apart. Despite having more funding than any candidate bar Michael Dukakis, his poll numbers began to lag.
That summer, Biden was accused of and later admitted to having plagiarized parts of a speech from British Labour Party leader Neil Kinnock, putting an effective end to his candidacy. It was later discovered that he had exaggerated about how well he had done in law school.
He dropped out of the race in September 1987, before the primaries and just four months after he had announced his candidacy.
But it wasn't just the plagiarism accusation that sunk him. In a September 1987 Washington Post postmortem of his campaign, Rowl Evans and Robert Novak wrote that Biden's staff "blame their own candidate, because of his managerial deficiencies and, more important, because they began to believe that he was at heart a synthetic candidate with nothing to say."
Biden's fate, they said, was "sealed by an inability to reconcile demands of liberal special-interest groups with the necessity of appealing to a broader base."
2008, Iraq and Gaffes
It was another 20 years before the senator, then in his 60s, decided to run again. Much as in 1988, Biden took years to weigh his decision to enter the race, first considering it publicly in 2004 on the Don Imus show. Also as in 1988, Biden intended to run as a moderate Democrat, right in the center of the field.
This time, Biden made sure to focus on substance, particularly on strategy in the Iraq War, which he had controversially voted in favor of in 2003.
"I'm running for president because I think that, with a lot of help, I can stem the tide of this slide and restore America's leadership in the world and change our priorities," Biden said in a conference call on the day of his launch. "I will argue that my experience and my track record—both on the foreign and domestic side—put me in a position to be able to do that."
But Biden lacked the name recognition of candidates like Hillary Clinton and rising-star Barack Obama. His decision to overcorrect for a lack of policy in 1988 put too much focus on Iraq strategy in 2008and made him appear as a one-issue candidate. Biden wanted to "federalize" Iraq and give the warring factions of Kurds, Shiites and Sunnis "breathing room."
His campaign was also filled with a number of gaffes. Biden called Barack Obama "the first mainstream African American who is articulate and bright and clean and a nice-looking guy."
In the summer of 2008, Biden touted his relationship with Indian Americans on C-SPAN. "I've had a great relationship. In Delaware, the largest growth in population is Indian Americans—moving from India. You cannot go to a 7-Eleven or a Dunkin' Donuts unless you have a slight Indian accent. I'm not joking," he said.
By January 2008, Biden's poll numbers were low, many people still didn't know who he was and he had placed fifth in the Iowa Caucus, gaining only 1 percent of the vote. He left the race.
Will 2020 Be Different?
In 2020, Biden will not struggle with name recognition: He's starting the race as the front-runner, which will help him bring in large donations. He's also the candidate polling best against President Donald Trump, which brings him credibility. At a time when the chief motivation for many is simply to defeat Trump at all costs, electability is an important factor for voters.
The idea is that Biden will appeal to the same voters who elected Donald Trump in 2016. Biden is expected to officially kick off his campaign this Monday with a rally at a union hall in Pittsburgh, and he has worked to play up his ties to organized labor.
"There were three reasons Barack Obama chose Biden as a running mate: his foreign policy chops, his debating skills and the third was his appeal to working-class voters, particularly in the Midwest," Larry Rasky, a consultant who worked on both of Biden's previous presidential campaigns, told Politico. "He delivered on all three of those accounts. Those ethnic, blue-collar voters, what we refer to as 'Reagan Democrats,' they are the people we need to turn the Electoral College on Trump."
Nowhere in his announcement video did Biden mention other candidates, policy ideas, strategy or any details from his own biography. Instead, he framed his run as a race against Trump.
"I believe history will look back on four years of this president and all he embraces as an aberrant moment in time," Biden said in a video message that marked the official launch of his campaign Thursday morning. "But if we give Donald Trump eight years in the White House, he will forever and fundamentally alter the character of this nation—who we are—and I cannot stand by and watch that happen."
But to get to his showdown with Trump, Biden will have to win the Democratic primary and beat what has become a crowded and diverse field of candidates. His centrist appeal might work in a general election, but it failed him in his two previous presidential primaries.
Still, about half of voters in the Democratic Party self-identify as moderate or conservative, and in a field where the majority of candidates are playing to progressives with proposed policies such as the Green New Deal and Medicare for all, Biden could stick out as the clear alternative. Vice presidents, historically, also tend to win their party's nominations when they run for president.
But Biden comes with some liabilities. The man who is known for his inability to hold back his tongue could struggle in a race where he is likely to be asked to account for previous insensitive comments and for his handling of the Anita Hill hearings.
Biden has been accused by several women of touching them inappropriately and making them feel uncomfortable. While a number of women co-workers have jumped to Biden's defense over the issue, he could turn off women voters in the era of #MeToo.
There's also the question of substance, something Biden struggled with in previous campaigns. He may be appealing and he may be electable. But what is he fighting for? This was one of the main criticisms of Hillary Clinton during the 2016 presidential election.
"Energetic, smart Joe Biden kickoff video," wrote David Axelrod, former adviser to President Barack Obama. "Essentially bypasses the primaries and goes right to the main event, assailing Donald Trump, putting Charlottesville front and center, framing the fight as a titanic struggle for American values."
But Biden's past failures should make him more aware than others that he can't simply bypass the primaries. He has a long year of campaigning ahead of him to best at least 19 other Democrats before he can go head-to-head against the president.