Joe Biden Laughs When Asked How He Didn't See Omicron Coming
In an interview with ABC News, President Joe Biden has denied his administration had failed in its response to the COVID-19 omicron variant, and laughed when challenged about not predicting emerging strains of the disease.
World News Tonight anchor David Muir asked Biden about comments made by Vice President Kamala Harris that "you didn't see Delta coming, you didn't see omicron coming. How did you get it wrong?"
Biden paused and laughed before replying, "How did we get it wrong? Nobody saw it coming. Nobody in the whole world. Who saw it coming?"
Muir was referring to an interview Harris gave to The Los Angeles Times last week suggesting that her administration had been caught off guard by the latest strains of the disease.
"We didn't see Delta coming. I think most scientists did not," Harris told the paper, "we didn't see omicron coming."
However, the country's top infectious diseases expert, Dr. Anthony Fauci, told CNN that variants had been predicted, but what was surprising was that they had so many mutations.
Muir challenged the president on how scientists had warned there were going to be COVID-19 mutations over time and asked whether the administration did not expect "there would be moments ... where you would have a highly transmissible variant."
Biden replied, "Sure, it's possible there could be other variants that come along, but what do you plan for?
"You plan for what you think is available, that is, the most likely threat that exists at the time, and you respond to it. And I think that that's exactly what we've done."
The highly transmissible omicron variant has become the dominant COVID strain and threatens to ruin the holiday period for Americans.
Biden announced this week plans to tackle the variant, included purchasing 500 million at-home test kits, which he reiterated during the interview.
He also announced this week there would be more federal testing sites and said 1,000 military doctors and nurses would be sent to help with hospitals.
But Muir asked Biden that with Christmas looming and long waits for people to be tested, whether the lack of testing kits was a "failure."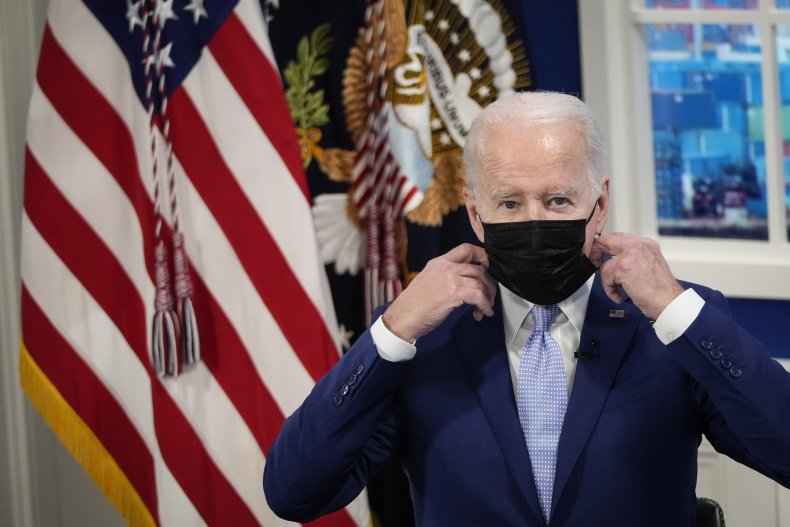 "I don't think it's a failure," Biden replied, "you could argue that we should have known a year ago, six months ago, two months ago, a month ago." He did admit he wished he had ordered the at-home tests "two months ago."
Biden also said he had recommended that "it's not necessary" for requiring air passengers to be vaccinated to get on planes.
In the wide-ranging interview, Biden also avoided directly criticizing Senator Joe Manchin (D-WV) who said he would not support the Build Back Better Act which requires the backing of all 50 senators voting with Democrats to pass via the reconciliation process.
Referring to the $1.75 trillion social package being kicked into 2022, Biden told ABC News, "I haven't given up on this."