Joe Biden Accepts Democratic Nomination: 'I Will Be An Ally of the Light'
It's official. During the closing moments of the 2020 Democratic National Convention (DNC) on Thursday, Joe Biden formally accepted the nomination to become the Democratic Party's presidential candidate.
Biden emerged as the top candidate out of a field of contenders that at one time numbered 27 Democrats, many of whom suspended their campaigns early in the race. After receiving 3,558 delegates from U.S. states and territories, Biden earned the presidential nomination on Tuesday.
Vermont Senator Bernie Sanders, the last Democratic presidential candidate to suspend his campaign, was allocated 1,151 delegates. Senator Kamala Harris of California accepted the party's vice-presidential nomination on Wednesday.
In his acceptance speech, Biden referred to this time in history as "a season of darkness in America" which he said his presidency could eradicate.
"Here and now, I give you my word," Biden said. "If you entrust me with the presidency, I will draw on the best of us, not the worst. I'll be an ally of the light, not the darkness. It's time for us—for we, the people—to come together. And make no mistake. United we can and will overcome."
Pointing to the Trump administration's response to the coronavirus pandemic, Biden said that President Donald Trump "has failed in his most basic duty to the nation. He's failed to protect us. He's failed to protect America and, my fellow Americans, that is unforgivable."
Although Biden emphasized that he is a "proud Democrat," he said that his nomination was not bound by party lines. "This is not a partisan moment," Biden said. "This is an American moment."
"As president, I will make you this promise: I will protect America," Biden said. "I will defend us from every attack. Seen. And unseen. Always. Without exception. Every time."
President Trump reacted to Biden's speech with a Thursday tweet.
"In 47 years, Joe did none of the things of which he now speaks," Trump wrote. "He will never change, just words!"
Biden is slated to compete against incumbent President Donald Trump in the November presidential election. Trump is expected to accept the Republican Party's presidential nomination at the Republican National Convention in August.
Trump has attempted to discourage people from voting for Biden by questioning his mental acuity. In tweets and during campaign events, Trump has referred to Biden as "Sleepy Joe." Trump has challenged Biden to take an acuity test to prove that he can handle the stress of being president.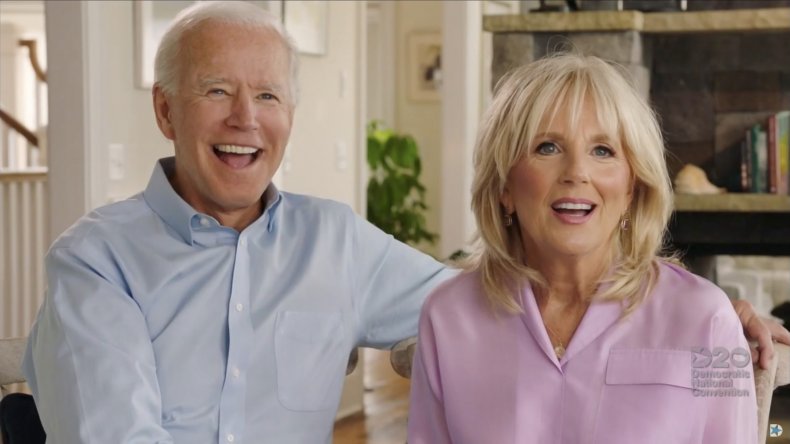 "I'd say he's not competent to be president," Trump said of Biden during a July interview on Fox News. "To be president, you have to be sharp and tough and so many other things."
"Joe doesn't know he's alive, okay?" Trump added. "He doesn't know he's alive."
Biden has been a vocal critic of the Trump administration's handling of the coronavirus pandemic. While both campaigns placed in-person events on hold because of the potential of spreading the virus, Biden often participated in virtual town hall meetings and fundraisers. President Trump was not seen wearing a face mask in public until July.
"The president talks about, you know, manhood and, you know, and being strong, and you don't need the mask," Biden said in a July speech. "I think we have to start appealing to the better side of human nature by pointing out that that mask is not so much to protect me."
Biden has also connected the coronavirus with allegations that Trump has exhibited racist tendencies. Trump has often referred to COVID-19 as the "China virus" or the "Wuhan Flu." Biden said during a virtual meeting in July that the way Trump speaks about individuals "based on the color of their skin, their national origin, where they're from, is absolutely sickening."
"No Republican president has done this," Biden added. "No Democratic president. We've had racists, and they've existed, they've tried to get elected president. He's the first one that has."