Joe Biden Accidentally Calls Sanders 'President' During Dem Debate Before Attacking Him For Being a Bad Socialist
Presidential candidate Vice President Joe Biden accidentally called Senator Bernie Sanders "the president" during the third Democratic primary debate in Houston, Texas on Thursday evening. He then followed up the gaffe by accusing Sanders of being a bad socialist.
Biden made the comment while touting his healthcare policy, an optional government-run health insurance plan, on stage while sandwiched between Sanders and Sen. Elizabeth Warren, his two main rivals that both advocate for the full-scale Medicare for All.
"Everybody says we want an option. The option I'm proposing is Medicare for choice," Biden said. "If you want Medicare, if you lost the job from your employer you automatically can buy into this. You don't have... No preexisting condition can stop you from buying in, you get covered, period. And if you notice nobody's yet said how much it's going to cost the taxpayer. I hear there's large savings."
"The president thinks...," Biden continued, gesturing to Sanders on his right, before he quickly corrected himself.
"My friend from Vermont thinks...," he said with a chuckle, "that the employer's going to give you back if you negotiate."
"They're going to give back all that money to the employee?" Biden said as he turned to Sanders.
"Matter of fact, they will," Sanders snapped back.
"Let me tell you something, for a socialist you got a lot more confidence in corporate America than I do," Biden responded.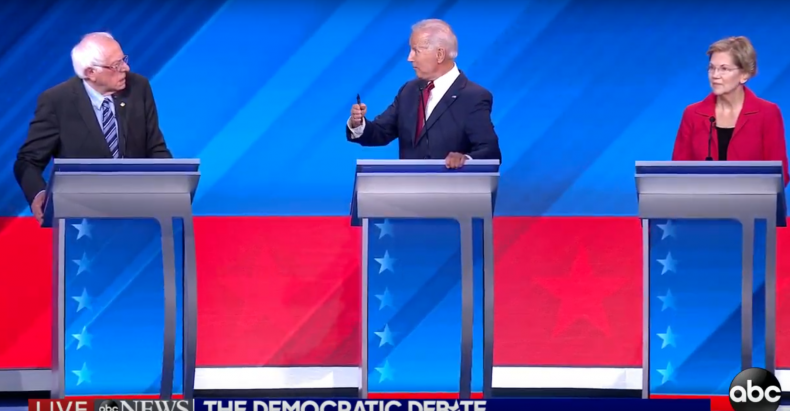 Ten qualifying Democratic candidates took the stage together on Thursday evening for the third primary debate, which saw Biden and Warren on debate stage for the first time since announcing their presidential bids. The last time the pair faced off was in 2015, when they disagreed in a Senate hearing room.
Sanders, Sens. Kamala Harris, Cory Booker, Amy Klobuchar joined the candidates on state, as well as former entrepreneur Andrew Yang, South Bend Mayor Pete Buttigieg, former Texas congressman Beto O'Rourke and former housing secretary Julián Castro.
Later in the evening, Castro attacked Biden's health care plan and said he has failed in fulfilling former President Barack Obama's legacy. Both candidates served under the Obama administration.
"The problem with your plan is that it leave 10 million people uncovered," Castro said to the former vice president. "The difference between what I support and what you support, Vice President Biden, is that you require them to opt in, and I would not require them to opt in. They would automatically be enrolled."
"If you lose your job for instance, his health care plan would not automatically enrol you. You would have to opt in. My health care plan would," Castro added. "I'm fulfilling the legacy of Barack Obama, and you're not."