Joe Biden Acted Like Donald Trump to Stab France in the Back, Official Says
A French cabinet official has compared President Joe Biden to Donald Trump and accused the United States of stabbing France in the back for leading Australia's decision to abandon a multibillion-dollar submarine program with a French shipbuilder.
In an interview with radio station franceinfo on Thursday, French Foreign Minister Jean-Yves Le Drian channeled prevailing national sentiment and went on to describe Canberra's reneging on a diesel submarine agreement with France's Naval Group as a betrayal of trust.
"It's a real stab in the back. We created a relationship of trust with Australia, and that trust has been betrayed," said Le Drian.
"I am very angry and bitter today. This is not something allies do to each other," the official added. "This brutal, unilateral and unpredictable decision reminds me a lot of what Mr. Trump used to do."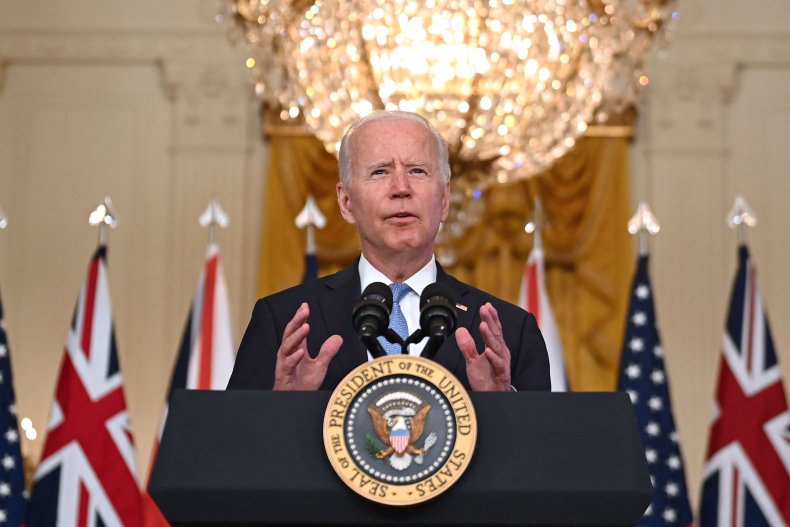 The U.S. appears to have born the brunt of French disappointment and anger after Biden announced a new trilateral security pact—called AUKUS—on Wednesday, together with Australia's Scott Morrison and British Prime Minister Boris Johnson.
The leaders announced plans for the U.S. and U.K. to export sensitive technologies and jointly deliver Canberra's first fleet of nuclear-powered submarines, which have the potential to create some parity between Australian maritime forces and China's rapidly expanding blue-water navy.
But the decision comes at the immediate cost of Australia's contract with Naval Group, which was told the 90 billion Australian dollar ($65 billion) deal—signed in 2016—would not continue.
Absent from all official AUKUS announcements was the urgency surrounding China's growing military presence across the Indo-Pacific region. The Chinese navy already has nuclear-powered and nuclear-capable attack submarines. Analysts believe Beijing's opaque ambitions were among the main drivers that ultimately changed Australia's calculus.
At a press conference on Thursday, Morrison acknowledged French frustrations but emphasized the strategic nature of the decision to opt into American submarine technology, which was not an option five years ago.
"Of course, they're disappointed," the prime minister said. "They have been good partners. This is about our strategic interest, our strategic capability requirements and a changed strategic environment. And we've had to take that decision."
"I want to stress that France remains an incredibly important partner in the Pacific," he said, adding that he understands and respects the disappointment in Paris.
He continued: "But as a prime minister I must make decisions that are in Australia's national security interests. I know that France would do the same. And I know, ultimately, that will be understood, and we'll be able to continue to work together for our many shared goals and aims, because fundamentally we share the same values, we share the same vision."
According to observers in France, officials are justified in their displeasure. Just two weeks earlier, the Foreign and Defense Ministers of France and Australia reaffirmed commitments to deepen defense industry cooperation and also referenced the now scrapped submarine program.
Australian commentators say the deal was plagued by delays and inflated costs. In France, Canberra's challenging requirements—changes in specifications as well as a demand for local materials and production—are being blamed for the issues.
Following the announcement of AUKUS, former French envoy to Washington, Gérard Araud, tweeted: "The world is a jungle. France has just been reminded this bitter truth by the way the US and the UK have stabbed her in the back in Australia. C'est la vie."
On Thursday, Araud added: "What is striking is that the Biden administration didn't do anything to cushion the blow it was deliberately delivering to France. No consultation, no association, no compensation."
Morrison was asked but did not reply to a query about the sum of compensation Australia would have to pay Naval Group for its apparently abrupt decision.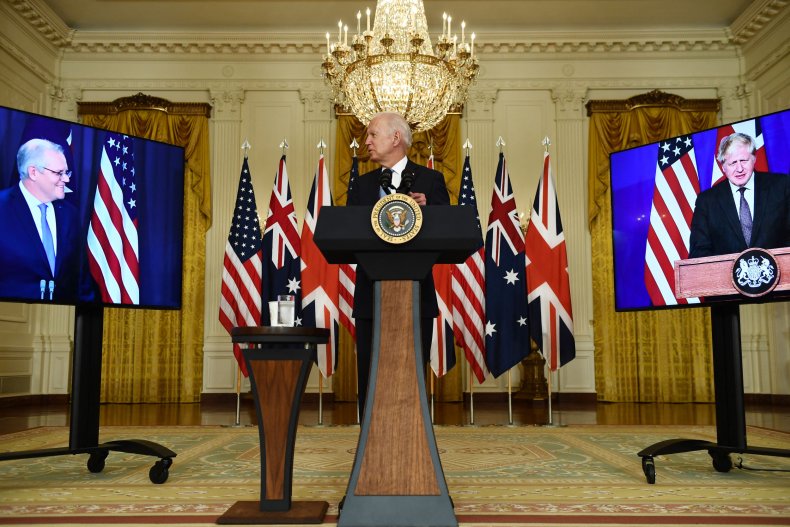 Beijing, meanwhile, has interpreted AUKUS in general and Australia's future submarine fleet in particular as pointed moves that target China.
China's Foreign Ministry spokesperson Zhao Lijian said the trilateral cooperation on nuclear submarines "intensifies the arms race" in the region. Zhao suggested the countries were creating bloc confrontation and questioned Australia's commitments to nonproliferation, despite Canberra's insistence that it is not seeking nuclear weapons or a civil nuclear capacity.
Morrison told reporters that he had not spoken to the Chinese leadership about Australia's plans but offered an "open invitation" to Xi Jinping to discuss the subject.
Asked about the prime minister's statement, Zhao said the difficult situation facing bilateral relations between Beijing and Canberra was "entirely the responsibility of the Australia side."