'Joe Biden Adopted The White House's First Rescue Dog From Us'
In 2013 I had just started a new relationship when my partner mentioned he had a black labrador—well, I was sold. We got a little more serious and after a few months I moved in with him. I was looking for a summer job but I'm originally from New Jersey and I didn't really know anything about Delaware, so I asked my boyfriend where I should look for work. He suggested the place he adopted his dog from, the Delaware Humane Association (DHA) and here I am seven years later as their shelter projects manager.
For the most part, my role is keeping a good inventory of the animals in the facility, along with a variety of other tasks. Not just knowing who they are and where they are, but really trying to get to know them. At DHA we have anything from 40 to 50 dogs and 50 to 100 cats in-house at any given time, and we have a lot of animals in foster care, normally between 10 to 30 dogs or puppies and 50 to 100 cats or kittens.
In early 2018 we had six German Shepherd puppies come into the shelter. Shelters don't get a lot of "known" purebreds but when we do there's mayhem! People flock to get these purebred animals, because often people would prefer a certain breed but they're trying to opt to adopt.
These six puppies presented as healthy initially, but we soon realized they were not in great shape at all. We knew that we might need to emergency hospitalize them and we were worried about the finances involved in doing that. Typically we highlight the feelgood stories with animals available for adoption, but the reality of our work is that we see really tragic situations and urgent cases and we need to let people know about that side, too.
So we let go of our fear and we posted about the German Shepherd puppies and the concerns about their health, anticipating a lot of attention and people wanting them.
I believe President-elect Joe Biden's daughter Ashley saw the post by chance and let her dad know about it. Joe Biden then reached out to his dog trainer (who we knew), who then called us to say Biden was interested and wanted to adopt one of the puppies. I remember there being a bit of a panic at the shelter and I recall someone saying: "Oh My God, Joe Biden wants to adopt one of our puppies!" We really didn't believe it at first, but he does live in Delaware so it was plausible.
We generally do adoptions on a first come, first served as long as it is a good match. At that point none of them were spoken for and then former vice-president Joe Biden did what any prospective adopter would. For our part, we treated him like any other adopter and wanted to make sure it was a good match. I think people think we just adopted Major to the Bidens because of who they are, but we really treated him like anyone else.
I don't know what the Bidens' timeline was for adopting a puppy, but I saw a video that had been shared of Joe Biden saying that he'd been told that getting another dog could help his other German Shepherd, Champ—who was getting older—to be more mobile and keep him young. I can personally attest to that because my partner and I did the same with our older labrador—once we got a second dog she was like a one-year-old again! The Bidens were actually really lucky, because a lot of times with purebred puppies, people are banging on the door for them. Joe Biden was really one of the first people to say he wanted to adopt one of the German Shepherds.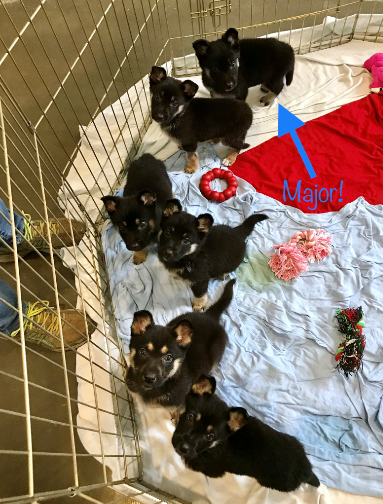 Major Biden at Delaware Humane Association, with his five siblings, when he was a puppy.
Stephanie Gomez Carter
We were able to get the puppies healthy, get them onto the right foot, and send them to be socialized them with their siblings in foster care. During that time, Joe Biden actually came to the shelter to see them. But we're actually closed on certain holidays and on the day he came, on Easter in 2018 we only had a couple of staff in.
I wasn't there that day, but other animal care staff told us he was at the door with his two grandchildren. Initially, the staff wondered who the older guy at the door was and what he wanted. They were a little hesitant because we try really hard to stick to staying closed on the days we're shut. I think someone had gone to the door to see who it was and realized it was Joe Biden. He was looking for the puppies, but they were in foster care at that point, so the staff showed him around and took a quick picture before he headed out. They were so thrown off!
Eventually Major was transferred into foster-to-adopt with the Bidens and over time he got neutered and we were able to look at when they could adopt Major.
The day Joe Biden adopted Major we were actually setting up our building for a Harry Potter event. It was November 18, 2018 and we were all dressed up in our Harry Potter outfits—when you walked in the front door that day you could see the letters cascading from the ceiling, we'd put a fake brick wall up and had floating candles everywhere. Then we were told that Joe Biden was going to come into the shelter in an hour to adopt Major. It was pretty hilarious.
His team had let us know that he wouldn't be able to hang out too long and we'd probably be able to get one group shot. He's a busy guy! But he wound up hanging out with us for well over an hour and we affectionately refer to it now as "Story Time with Joe". We all hung out on the bench where I took the well-known photo of Joe Biden and Major, and Biden had individual conversations with just about everybody there. It was a very humbling experience overall.
I was taking most of the pictures, but I do remember right after I took that photo of Joe Biden and Major on the bench, he looked at Major and said: "Hey, she speaks your language!" I think it was because I make these weird high pitched noises to get the animal's attention—that's how I got that head tilt from Major in the photo. Ever since then our other staff have taken to making similar weird noises—you hear it a lot walking around the facility.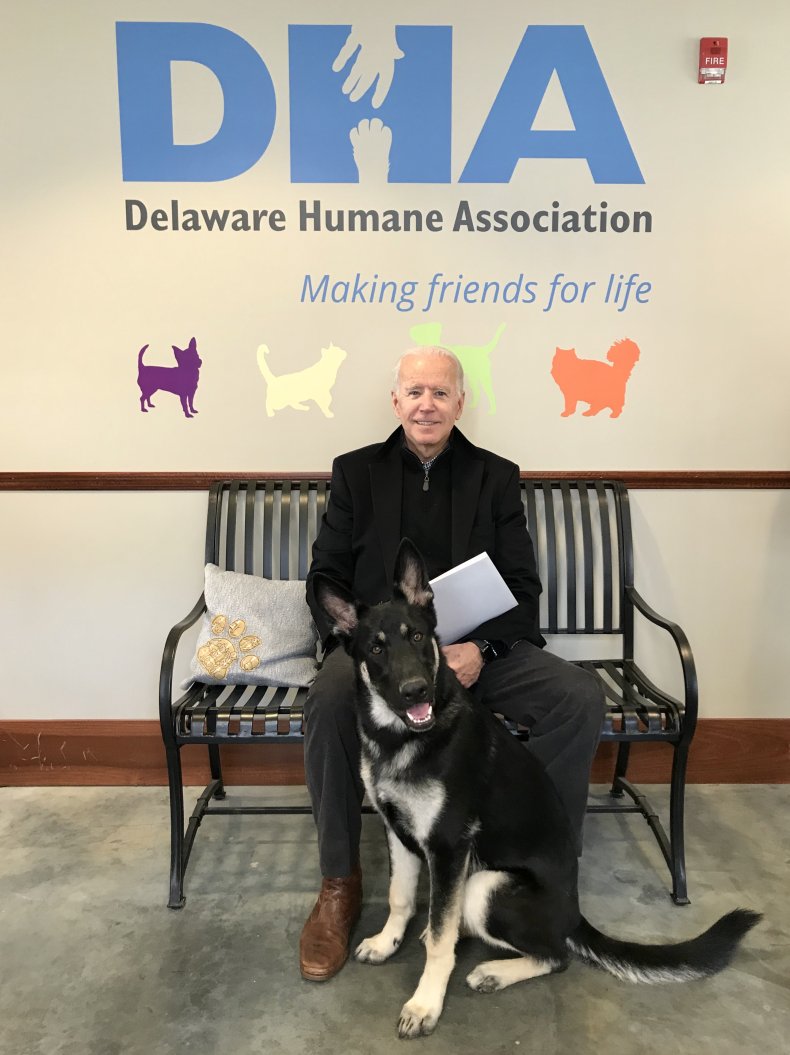 Now Joe Biden is President-elect we're all a little thrown off again. It's unbelievable that Major is going to be the first rescue dog in the White House. But the best part is how it's highlighting shelter animals again—that is the greatest thing. The fact that Joe Biden himself came to the shelter to even look at puppies is huge. It shows others that adoption is something people really do now. There has been a stigma in the past about getting an animal from the pound, perhaps seeing those dogs as damaged goods. But now, people are proud to go to a shelter and adopt an animal.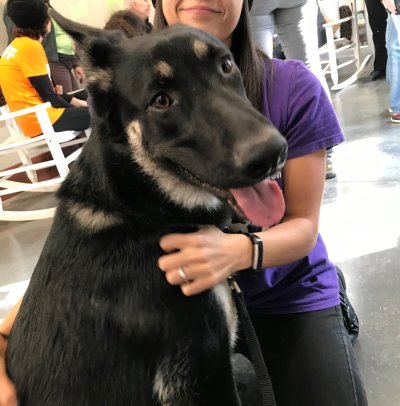 Once we do see Major in the White House with the Bidens in January, I think we're all going to be crying hysterically. I can just feel it. We all joke about whether we're going to get invited to the White House, and that we can't wait to go and visit Major over there.
It's not just a piece of history in general, it's a piece of DHA history. We're so excited to have such a strong light shone on adoption. When people submit applications to adopt or foster, we have a reference section and people now write "Joe Biden." It's probably not a direct referral from him, but it's been awesome to see people learn about us through his story. We've already seen an uptick in in-person adoptions and people asking about ways to help out.
In the end we're just really excited. We're a relatively humble organization and it fits well because Joe Biden was really humble when he came and adopted Major. We're obviously in the spotlight now, but we're more excited about shelter animals being in the spotlight. Hopefully even more animals can be saved and adopted.
Stephanie Carter is shelter projects manager at Delaware Humane Association in Wilmington, Delaware. She lives in Delaware with her partner and their dog and cat. You can find out more about fostering and adoption from Delaware Humane Association here.
All views expressed in this article are the author's own.
As told to Jenny Haward.