In his final campaign event of his 2020 campaign, President Donald Trump told a rally crowd in Grand Rapids, Michigan that Democratic presidential nominee Joe Biden's views on energy, the Second Amendment and religion would preclude Biden from winning Texas in Tuesday's election.
Texas has traditionally voted for Republican presidential candidates since 1980. During the 2016 election between Trump and Hillary Clinton, Trump carried Texas by 9 percentage points. However, Biden's campaign has made strong inroads into the state, particularly with Latino voters. Trump said that he knew "for a fact" that his campaign was going well in Texas.
In his speech, which began around 12:00 a.m. EST, Trump said that some of Biden's policies would not be beneficial to Texas.
"You know they're saying Texas may be—well, even, you know, then you think Sleepy Joe Biden is against guns," Trump said. "That's not good for Texas. He's against oil. Oil isn't good. If you're against oil, that's not good politics. And he's against God. When you have guns, oil and God and he's doing well in Texas? I don't think so."
Newsweek reached out to the Biden campaign for comment.
Trump held the lead in Texas polling averages on Tuesday, according to Real Clear Politics. Trump held 47.7 percent of voter support while Biden held 46.5 percent for a difference of 1.2 percentage points. Although election day in the U.S. is slated for Tuesday, many voters in Texas have already made their choice between the presidential candidates. According to information from the U.S. Elections Project, which tracked early voting, 9,719,101 Texas voters have either voted early in-person or returned mail-in ballots.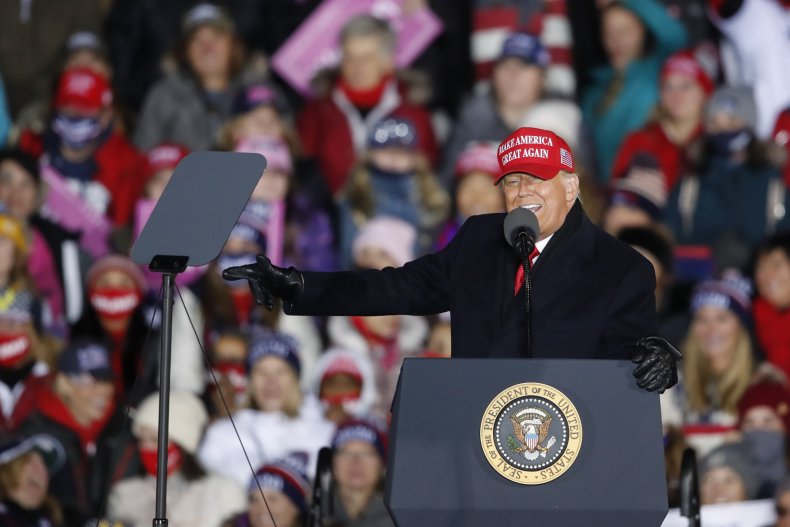 In 2019, Texas was the number one producer of natural gas and crude oil in the U.S. according to information from the U.S. Energy Information Administration. Trump has claimed that Biden will abolish the fossil fuel industry by banning fracking. During the final presidential debate in October, Biden said that he would "transition" away from the oil industry towards renewable energy sources. Trump encouraged voters in Texas to remember Biden's statement when they cast their ballots.
After the debate, Biden clarified his stance by telling reporters that his administration would get rid of subsidies on fossil fuels without completely getting rid of the industry. Biden's stated energy policy does not explicitly ban fracking but would prohibit new fracking projects to begin on federally-owned land.
Trump has repeated claims that Biden would act to take away the rights of Americans to own firearms. If Biden wins the election, Trump tweeted in August, "your guns will be taken away, immediately and without notice." Biden's published gun control policies do not mention getting rid of the Second Amendment.
In a Sunday tweet, Biden wrote that it was "long past time that we take action to end the scourge of gun violence in America." Biden added that he would ban assault weapons and high-capacity magazines while instituting background checks for all gun sales.
Trump, who has made his pro-life stance a major talking point of his campaign, has decried Biden's pro-choice viewpoint by saying Biden would "hurt God."
Biden, a practicing Catholic, called Trump's comments "shameful" in an August statement. Biden said his faith "kept me grounded and humbled in times of triumph and joy."