Joe Biden: Alexandria Ocasio-Cortez Is 'Brilliant, Bright Woman,' but Mainstream Democrat Will Win 2020
Former Vice President Joe Biden is banking on his more moderate political stance to bring it home in 2020.
The Democratic presidential candidate believes that someone who is more moderate—such as himself—will prove victorious up against President Donald Trump as compared to some of his more liberal opponents. And in fending off some criticism he's received from progressives in Congress, he says the party needs someone moderate to take on Trump.
"Look, who won last time out? And by the way, I think [Alexandria] Ocasio-Cortez is a brilliant, bright woman, but she won a primary. In general election fights, who won?" Biden said in a wide-ranging CNN interview. "Mainstream Democrats who are very progressive on social issues and very strong on education, health care. Look, my North Star is the middle class. When the middle class does well, everybody does well."
Biden further argued that Representative Ocasio-Cortez, a freshman liberal from New York, held a political stance that was too far to the left for a presidential candidate to maintain and defeat Trump. He said Medicare for All was an irrational policy to support, and he argued that most Democrats are "center-left" and not "way left."
Facing fresh criticism for once opposing court-ordered busing to help desegregate schools in the 1970s as a senator, Biden has seen his sizeable lead in the polls slightly shrink. Once around 32 percent, the Democrat now averages around 27 percent, according to a Real Clear Politics average of the most recent polls.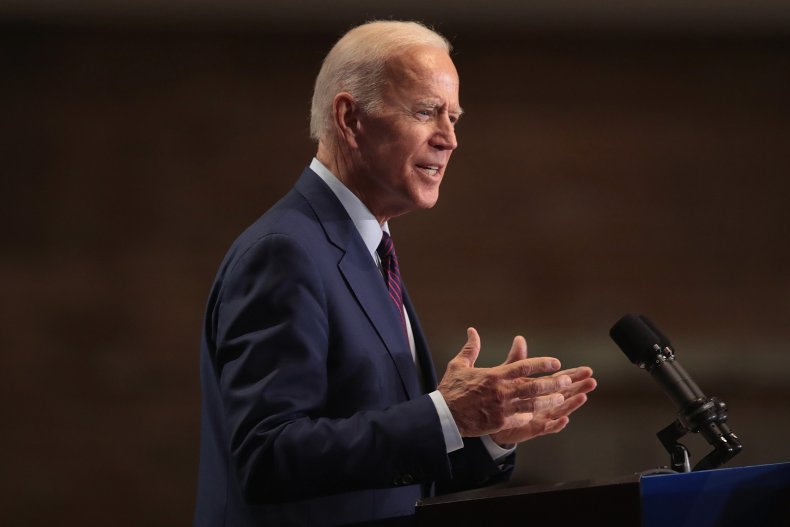 Senator Kamala Harris, a California Democrat, saw her popularity spike after the first presidential debate, where the issue of busing resulted in a passionate debate between her and Biden. Her average poll numbers are now nearly 15 percent—the same as independent Vermont Senator Bernie Sanders.
"Growing up, my sister and I had to deal with the neighbor whose parents told her she couldn't play with us because we were black," Harris said at the debate.
During a fundraising event last month, Biden rekindled a racial issue when he said "at least there was some civility" in the Senate when he worked with two southern Democrats who were segregationists and opposed civil rights: James O. Eastland and Herman Talmadge.
"It was hurtful to hear you talk about the reputations of two United States senators who built their reputations and career in the segregation of race in this country," Harris continued. "It was not only that, you also worked with them to oppose busing, and there was a little girl in California who was part of the second class to integrate her public schools. And she was bused to school every day. And that little girl was me."
In his CNN interview, Biden said he "wasn't prepared" for the attacks from Harris.
"I was prepared for them to come after me, but I wasn't prepared for the person who came at me the way she came at me," Biden said. "She knows Beau, she knows me."
Beau was Biden's son who died from brain cancer in 2015. He was involved in Delaware politics, serving as the state's attorney general—the same position that Harris once held in California.
"If the court ruled or there was a law passed or a circumstance that a county a city or a state did that prevented black folks from being somewhere, then that is wrong and you should bus," Biden said to CNN. "I even went so far, in the middle of that busing controversy, as saying use helicopters if that was necessary to make the point."