What Joe Biden's Approval Rating Means for His Chances vs. Donald Trump
President Joe Biden has not yet made a formal announcement about whether he'll run for a second term and his approval rating has remained below 50 percent for months.
But Biden has said it's his intention to seek reelection and a recent Emerson College poll suggests that his chances of victory in 2024 are good despite the low approval rating.
The Emerson poll conducted from November 18 to 19 found that the president had an approval rating of just 39 percent, while 52 percent of registered voters surveyed disapproved of the job he's doing.
Poll tracker FiveThirtyEight found that Biden had an average approval rating of 41.5 percent as of November 22, while 53.5 percent of Americans disapproved of him.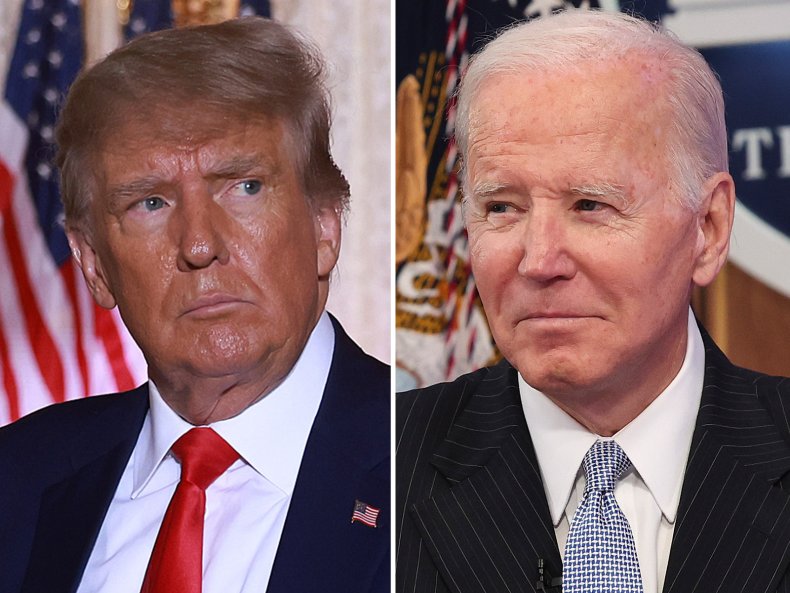 Nonetheless, the Emerson College poll found that Biden would defeat both former President Donald Trump and Florida Governor Ron DeSantis in a hypothetical 2024 match-up. DeSantis has not yet announced that he'll be running for president.
Biden led Trump with 45 percent support to the Republican's 41 percent, while 9 percent of respondents said they would rather it be somebody else.
Trump formally announced his intention to mount another run at the White House but could be facing a stiff challenge from DeSantis, whose standing appears to have improved since the midterm elections.
The Emerson College poll also found that Biden leads DeSantis with 43 percent support to the Republican governor's 39 percent, while 11 percent of respondents said they wanted somebody else.
The polling was conducted among 1,380 registered voters and had a margin of error of plus or minus 2.5 percent.
Biden also appears to be in a position to see off any potential Democratic primary challenge, with Emerson College finding he would have 42 percent support in a hypothetical primary, followed by Vice President Kamala Harris and Vermont Senator Bernie Sanders at 12 percent.
Trump enjoyed a substantial lead in a hypothetical Republican primary, garnering 55 percent support to DeSantis' 25 percent support.
Other recent 2024 polling has been less positive for President Biden, though. An Echelon Insights poll conducted from November 17 to 19 among 1,036 registered voters showed Trump with 45 percent support to Biden's 43 percent.
The same poll found DeSantis leading Biden among registered voters with 44 percent to the president's 42 percent.
DeSantis has long been considered a leading contender for the 2024 Republican nomination and a potential rival to Trump, particularly since the GOP suffered disappointing results in the November midterm elections.
A Quinnipiac University poll conducted from November 16 to 20 found DeSantis and Trump with equal levels of support among Republicans at 44 percent each, while 11 percent of respondents did not offer an opinion.
That poll surveyed 1,402 registered voters, 28 percent of whom were Republicans.
The formal process of selecting a presidential nominee will not begin until early 2024 and Biden may not be in any hurry to confirm his candidacy.
Newsweek reached out to the White House for comment.