Joe Biden's Approval Rating Falls Further as GOP Opens Up Huge Lead: Poll
President Joe Biden's approval rating has continued to fall as Republicans have opened up a huge lead over Democrats in the upcoming midterm elections, according to a new poll.
A poll from The Federalist that was conducted by Susquehanna Polling and Research, Inc. found that the president's approval rating now stands at just 39 percent.
A total of 54 percent of respondents said they disapproved of Biden. The same poll in February showed the president's approval at 42 percent and disapproval at 52 percent.
The new poll also showed Republicans with a 10-point lead over Democrats in the generic congressional ballot ahead of crucial 2022 midterm elections that could see the GOP retake the House of Representatives and the Senate.
Republicans enjoyed support from 49 percent of respondents compared to 39 percent who said they would back Democrats. In the February poll from The Federalist/Susquehanna Polling and Research, Republicans had a lead of 47 percent to 41 over Democrats on the generic ballot.
The poll was conducted from April 19 to 27 among 800 registered/likely voters in the continental U.S. and had a margin of error of +/-3.46 percent.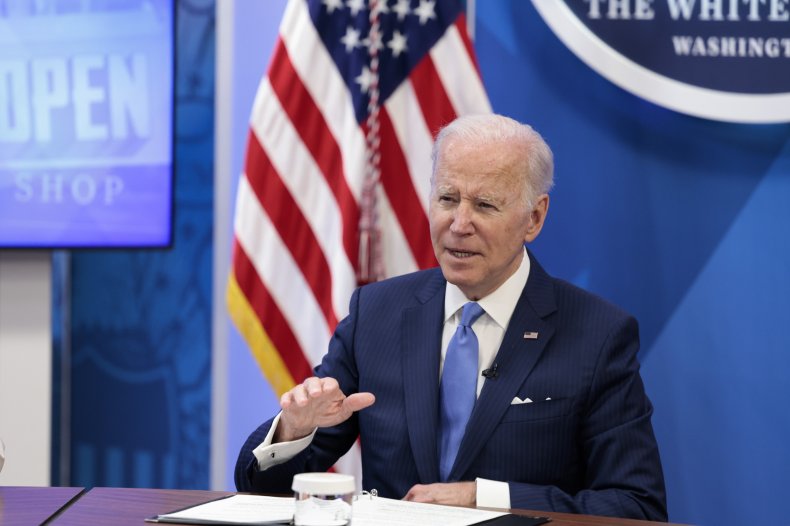 Poll tracker FiveThirtyEight tracks Biden's approval rating and the generic congressional ballot by analyzing a wide variety of polls and using its own system of pollster ratings.
FiveThirtyEight's latest figures take into account the new Susquehanna Polling and Research poll and it gives the company a B+ rating for accuracy and methodology.
Biden enjoyed an approval rating of 41.7 percent as of April 28, according to FiveThirtyEight's analysis, while 52.5 percent of voters disapproved of the president.
In terms of the generic congressional ballot, the poll tracker found that Republicans led Democrats with 45.2 percent to 42.6 percent. The GOP has been steadily increasing their lead over Democrats in the generic congressional ballot in recent weeks.
Respondents in The Federalist/Susquehanna Polling and Research survey were also asked if they had a favorable opinion of the president, with 52 percent saying they viewed him unfavorably. A further 43 percent had a favorable view of Biden.
By contrast, 45 percent of poll respondents said they viewed former President Donald Trump favorably and 46 percent said they had an unfavorable view of him.
Trump has a presence in the upcoming midterm elections through a slate of endorsements across the country, though it remains to be seen how successful his chosen candidates will be.
The former president will speak at a GOP campaign event in Nebraska on Friday in support of Republican gubernatorial candidate Charles Herbster, whom he endorsed in October. It will be Trump's first visit to the state since 2020.