How Joe Biden's Approval Rating Has Changed Since Ohio Train Derailment
President Joe Biden's approval rating is essentially unchanged since the Ohio train derailment earlier this month, according to daily surveys conducted by the Rasmussen Reports polling company.
On February 3, a Norfolk Southern Railway freight train carrying hazardous material derailed in the town of East Palestine, near the state's border with Pennsylvania.
Days later, authorities blew holes in five of the train's 150 cars, which contained toxic chemical vinyl chloride, to allow for a controlled burn. During this time around 5,000 people were ordered to evacuate by the governors of Ohio and Pennsylvania.
Biden has yet to visit East Palestine, with the town's mayor Trent Conaway describing his decision to prioritize a trip to Kyiv on Monday as "the biggest slap in the face."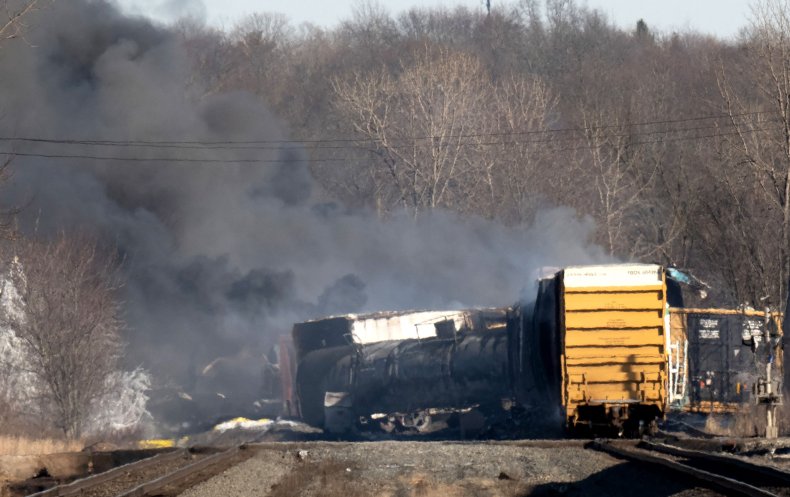 However, there is little evidence this has damaged Biden's approval rating, which has marginally improved from -12 to -11 between February 3 and 20, according to Rasmussen Reports.
The same day as the crash, its daily presidential tracking poll gave Biden an approval rating of 43 percent, versus 55 percent disapproval.
This increased to 44 percent approval on February 20, though the disapproval figure remained unchanged.
To calculate its daily tracking poll, Rasmussen Reports polls 300 people each night, then reveals the figure each day on a five-day rolling basis. The surveys are primarily conducted by telephone, but the pollster also uses an online survey tool to "reach those who have abandoned traditional landline telephones."
In a statement released Friday, the White House said the Biden administration had "mobilized a robust, multi-agency effort to support the people of East Palestine."
It noted a number of federal agencies, including the Environmental Protection Agency and Centers for Disease Control and Prevention, have been working on the response along with the departments for transportation and health and human services.
Appearing on the Fox News show Jesse Watters Primetime on Monday, Conaway argued the response had been insufficient.
"He can send every agency he wants to, but I found out this morning that he was in Ukraine giving millions of dollars away to people over there and not to us...on Presidents Day in our country, so I'm furious," Conaway said.
President Biden visited Kyiv on Monday on a surprise trip, reiterating U.S. support for Ukraine days before the one-year anniversary of Russia's invasion of the country.
Speaking on Saturday, Conaway said East Palestine residents with wells should instead drink bottled water due to the danger from toxic chemicals. He insisted the town's municipal water system is "100 percent" safe to drink, following testing.
Newsweek reached out to the White House for comment.