Joe Biden's Approval Rating Remains Stubbornly Low Going into Thanksgiving
As Americans gather for Thanksgiving, many families may try to avoid discussing politics in the hopes of avoiding a potential argument but President Joe Biden's family may find the subject harder to ignore.
A number of polls conducted in the days before the annual holiday have seen a poor showing for the president, who's been in office just 10 months, amid record levels of inflation.
Biden will have Thanksgiving dinner with his family on Nantucket Island, Massachusetts, where he's staying at the home of former Carter White House official and private equity billionaire David Rubenstein.
Publisher FiveThirtyEight tracks the president's approval based on analysis of a wide range of polls and its own system of pollster ratings.
It found that Biden's approval rating stood at 42.9 percent as of November 24, while disapproval of the president was 51.8 percent.
That figure takes into account individual polls conducted this week.
A Rasmussen Reports/Pulse Opinion Research poll conducted from November 22 to 23 found Biden's approval at just 41 percent and disapproval at 58 percent.
The poll also found that former President Donald Trump would defeat Biden in a hypothetical rematch by a significant margin of 45 percent to 32 percent.
A YouGov poll conducted from November 20 to 23 found Biden's approval at 41 percent and disapproval at 49 percent, while a Morning Consult poll from November 20 to 22 showed the president with 44 percent approval to 52 percent disapproval.
Biden's approval rating entered negative territory on August 30 — the day before the final withdrawal of U.S. forces from Afghanistan — and has remained underwater in the months since.
While the most recent polling is bad news for the president, another topic of discussion over Thanksgiving dinner is likely to be the cost of essential goods such as food and fuel.
Americans' Thanksgiving meal will cost an estimated 14 percent more than last year, with the price of turkeys alone up 21 percent since 2020. And the cost of traveling for the holiday also costs more this year.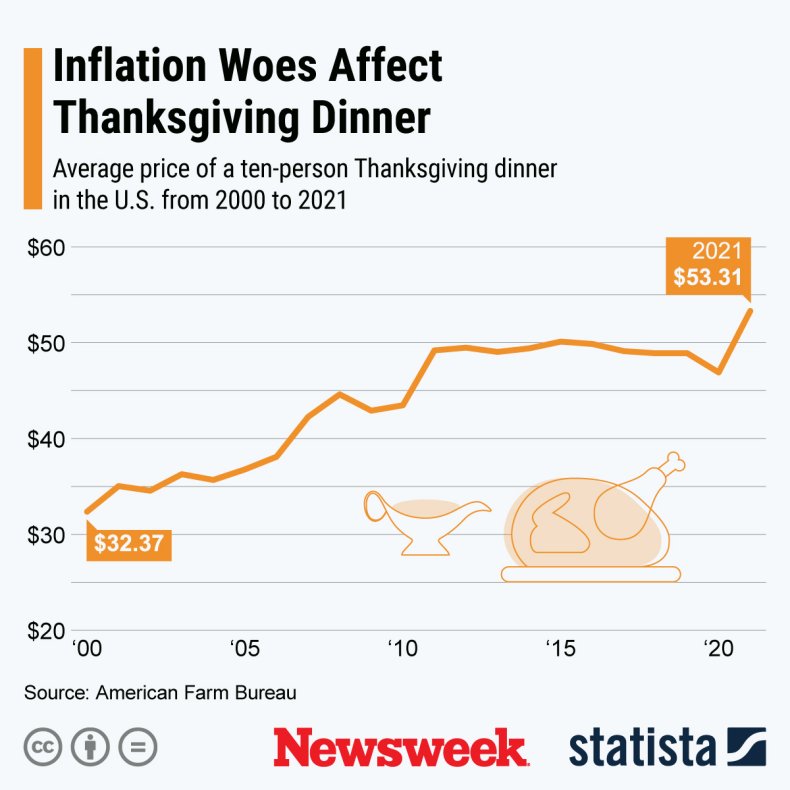 Biden has sought to ease gas prices by authorizing the release of 50 million barrels of crude oil from the Strategic Petroleum Reserve (SPR) but there are serious doubts about whether this will lower prices consumers pay at the pump.
The president has also had mixed success in terms of his legislative agenda. The $1.2 trillion bipartisan infrastructure bill passed both the House and Senate and Biden signed it into law.
The separate $1.75 trillion Build Back Better Act has exposed major divisions within the Democratic Party and though it has passed the House, there will still be a struggle to pass it in the Senate where every single Democrats' vote is needed.
When the Thanksgiving holiday is over, Biden will return to Washington, D.C. in hopes of passing the Build Back Better Act, tackling inflation and gas prices, and facing persistently low approval ratings.