Joe Biden Arrives in Kyiv for Surprise Trip As Air Raid Sirens Blare
President Joe Biden made a surprise visit to Ukraine's capital on Monday ahead of the one-year anniversary of Russia's full-scale invasion of the country, and as possible Russian attacks prompted air raid sirens to be sounded across the nation.
Pictures emerged Monday morning of the president walking alongside Ukrainian counterpart Volodymyr Zelensky close to St. Michael's Golden-Domed Monastery in the center of the city, and inspecting a memorial wall dedicated to those killed fighting Russian troops since 2014.
The president confirmed the visit on his official Twitter channel, writing: "As we approach the anniversary of Russia's brutal invasion of Ukraine, I'm in Kyiv today to meet with President Zelenskyy and reaffirm our unwavering commitment to Ukraine's democracy, sovereignty, and territorial integrity."
When Putin launched his invasion nearly one year ago, he thought Ukraine was weak and the West was divided. He thought he could outlast us. But he was dead wrong."
"Over the last year, the United States has built a coalition of nations from the Atlantic to the Pacific to help defend Ukraine with unprecedented military, economic, and humanitarian support—and that support will endure."
Ukraine's Center for Strategic Communication and Information Security—which operates under the Ministry of Culture and Information Policy—published a photograph of Biden and Zelensky with the caption: "Joe Biden is in Kyiv today! On the eve of the first anniversary of large-scale aggression, it is significant for us to see not only verbal support and solidarity but also the presence of our main partners in Kyiv."
Mykhailo Podolyak, one of Zelensky's top advisers, also confirmed the visit on his official Twitter page.
He wrote: "President Joe Biden is in Kyiv. On the eve of the war's anniversary. To say bluntly: '[Russia] will surely lose. Putin & his entourage will be tried. [Ukraine] will get all the weapons it needs. No compromises.' Absolutely clear signals. A very specific scenario for the Kremlin's destruction."
Until Monday, Biden was the only prominent Western leaders not to have visited Ukraine since Russia's full-scale invasion began on February 24, 2022.
Politico had reported only hours before that White House aides were hesitant about arranging a visit to Ukraine during the president's trip to Europe, given security concerns and logistical challenges.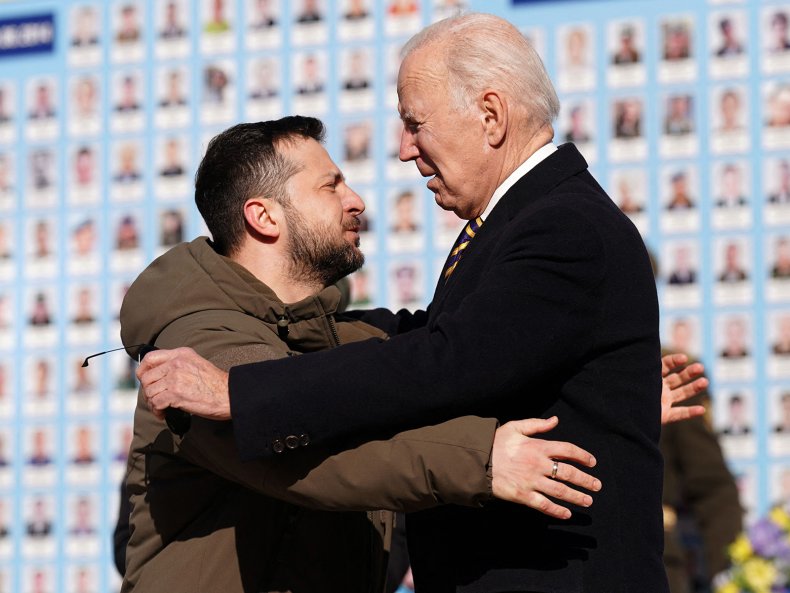 Security risks were clearly present as Biden walked Kyiv's streets, with air raid warnings sounding across Ukraine after Russian MiG-31 aircraft thought to be carrying Kinzhal hypersonic missiles took to the skies.
"You see the map of the air raid alerts, it's all red," Ukrainian air force spokesperson Colonel Yurii Ihnat told reporters at a Media Center Ukraine Ukrinform briefing on Monday. "I do not know if it is related to the leader of the American people's [visit] to Ukraine; those flights are going on on a daily basis," Ihnat said.
Update 2/20/23, 5:40 a.m. ET: This story has been updated with further details, including Joe Biden officially confirming the visit on Twitter.
Update 2/20/23, 6:20 a.m. ET: This story has been updated with comment from Ukrainian air force spokesperson Colonel Yurii Ihnat.