Joe Biden Asked About Responsibility for Slavery During Democratic Debate, Answers About Venezuela
Former vice president Joe Biden answered a question about repairing the "legacy of slavery" during the third Democratic primary debates on Thursday night with a long-winded discussion that referenced record players, before then pivoting to Venezuela.
"In a conversation about how to deal with segregation in schools back in 1975, you told a reporter, 'I don't feel responsible for the sins of my father and grandfather, I feel responsible for what the situation is today for sins of my own generation and I'll be damned if I feel responsible to pay for what happened 300 years ago,'" moderator Lindsay Davis said, before noting that the remark was made "some 40 years ago."
"But as you stand here tonight, what responsibility do you think Americans need to take to repair the legacy of slavery in our country?" she asked the candidate.
"Look, there is institutional segregation in this country and from the time I got involved, I started dealing with that," Biden responded. "When you talk about education, I propose that what we take is those very poor schools, the title one schools, triple the amount of money we spend from $15 to $45 billion a year, give every single teacher a raise to get out of the $60,000 level."
"I'm married to a teacher. My deceased wife is a teacher," he continued. "They have every problem coming to them. We gotta make sure that every single child does in fact have three, four and five year olds go to schools, not daycare, school. We bring social workers into homes to help them deal with how to raise children. It's not just that they don't want to help, they don't quite know what to do."
"Thank you," the moderator interrupted, indicating the end of his speaking time.
Undeterred, Biden said he was going to go past his speaking time like the "rest of them" do, referring to his opponents, but instead of answering the question, he segued into speaking about Venezuela, a topic that was discussed 20 minutes prior.
"Here's the deal. The deal is we've got this a little backwards and by the way, in Venezuela... we should be allowing people to come here from Venezuela," he said. "I know Madura. I confronted Madura. Number two, you talk about the need to do something in Latin America. I'm the guy that came up with $740 million to see to it those three countries in fact change their system so people don't have a chance to leave. You're all acting like we just discovered this yesterday."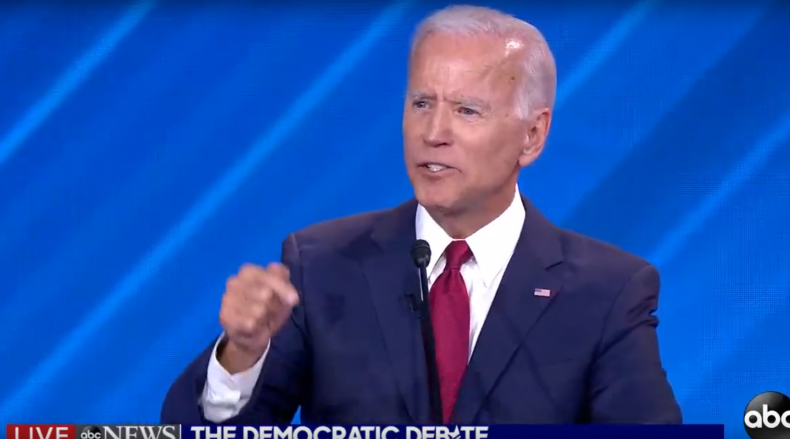 All ten qualifying candidates took the stage together in Houston, Texas on Thursday night. It was the first time Biden and Senator Elizabeth Warren shared a debate stage since announcing their presidential bids. The last time the two politicians faced off was in 2015, when they butted heads in a Senate hearing room.
Sens. Bernie Sanders, Kamala Harris, Cory Booker and Amy Klobuchar join the candidate on stage, as well as former entrepreneur Andrew Yang, South Bend Mayor Pete Buttigieg, former Texas congressman Beto O'Rourke and former housing secretary Julián Castro.
Davis, one of the three moderators of the night, also grilled Harris earlier about her criminal justice record.