Joe Biden has been attacked by conservative pundits for appearing to stumble when naming the director of the Federal Emergency Management Agency (FEMA) during a press briefing on Sunday.
Biden appeared to hesitate when addressing FEMA director Deanne Criswell during a press briefing on Tropical Storm Henri and the evacuation operation in Afghanistan. Footage has been widely shared across social media, with many criticizing the president for seemingly forgetting the name of the agency's director after speaking with her moments earlier.
It is unclear whether the pause was an attempt to suppress a stutter, a condition Biden has struggled with from an early age.
"I can't think of anyone better to lead this operation than, than ... uh, Deanne, uh, Criswell of FEMA," Biden said, referring to the agency's response to flash flooding and storm conditions battering the nation's northeast.
However, Biden had already named Criswell earlier in his speech when he spoke about flash flooding in Tennessee.
"I just was briefed by the FEMA Administrator, who is here with me today — Ms. Criswell — about the flash flooding in Waverly, Tennessee, and surrounding areas in Tennessee," he said about 20 seconds into the live conference.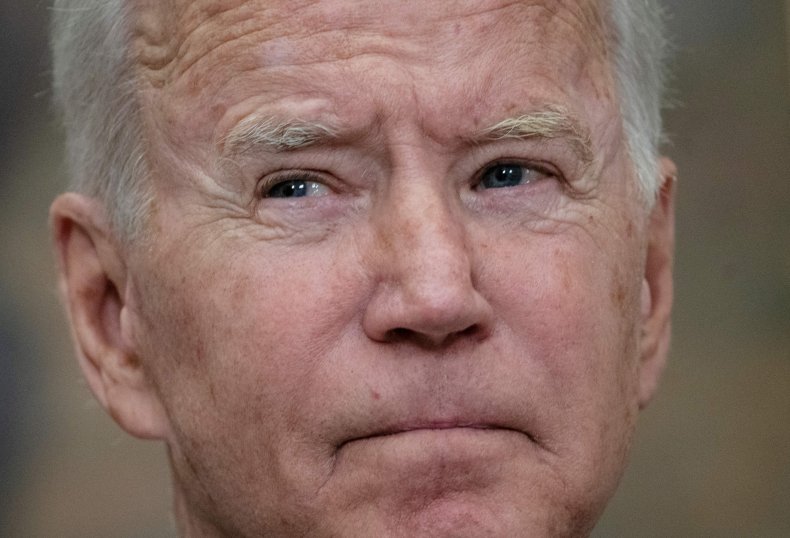 "Joe Biden appears to struggle to remember his FEMA administrator's name," RNC Research, an account managed by the Republican National Party tweeted. "Stressed and struggling," one woman replied as another man quipped: "Joementia .. cognitive test now, hearings in Congress now."
"Did Joe Biden just forget his FEMA director's name?" managing editor of conservative news site Townhall.com, Spencer Brown, tweeted.
British tabloid The Daily Express also jumped on board, calling the speech an "awkward gaffe" that added to his "long list of blunders."
"Oh no Joe! Biden stumbles through emergency briefing as he forgets name of FEMA director," the paper tweeted on Monday.
"I can't think of anyone better to lead this operation than ... " writer, political commentator and former news director at American Military News, Kate Hyde, sarcastically posted alongside a 12-second clip.
Beyond discussing Storm Henri, Biden addressed the situation in Afghanistan, noting that U.S. forces have extended the perimeter around Kabul airport as they try to accelerate the evacuation of American nationals.
The president said that ISIS terrorists may exploit the current situation by attacking U.S. troops or Afghan civilians and said there were "discussions going on" to extend the August 31 deadline for the full troop withdrawal. "Our hope is we will not have to extend, but there are going to be discussions, I suspect, on how far along we are in the process," Biden told one reporter.
"Our first priority in Kabul is getting American citizens out of the country as quickly and as safely as possible," the president said, adding that as of Sunday morning, August 22, a total of 28,000 people had been evacuated in the nine days since August 14.
"Let me be clear: The evacuation of thousands of people from Kabul is going to be hard and painful no matter when it started and when we began," Biden said. "It would have been true if we had started a month ago or a month from now. There is no way to evacuate this many people without pain and loss, of heartbreaking images you see on television. It's just a fact. My heart aches for those people you see."
The president conceded there was still "a long way to go" and "a lot could still go wrong."
Biden also addressed misconceptions about the evacuation program. "One, planes taking off from Kabul are not flying directly to the United States," he said, explaining that planes are, in fact, arriving in U.S. military bases around the world with evacuees being screened and processed there.
"Two, at these sites where they are landing we are conducting scrutiny security screening for everyone who is not a U.S. citizen or a lawful permanent resident," he continued. "Anyone arriving in the United States will have undergone a background check. Three, once screened and cleared we will welcome these Afghans we helped us in the war effort over the last 20 years."