If Trump Were a 'Gentleman' He'd Apologize to Obama For Wiretapping Claim, Joe Biden Says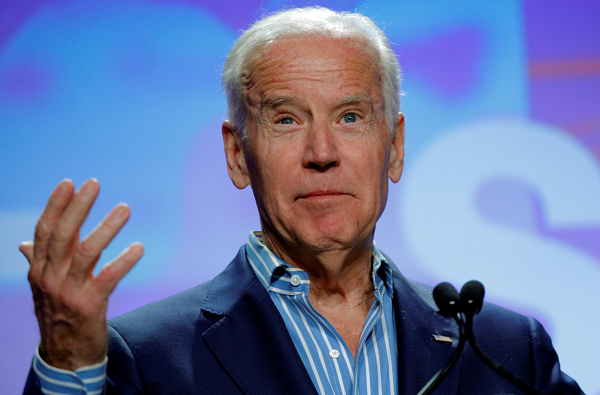 Joe Biden said former President Barack Obama deserved an apology from President Donald Trump for alleging Obama and his administration wiretapped Trump Towers during the 2016 presidential election.
Trump accused Obama of wiretapping Trump Tower in a Twitter rant in early March. Obama denied the claim via a spokesperson, and FBI Director James Comey has testified that there was no evidence linking the Obama administration to surveillance of Trump in the days leading up to the election.
After speaking at a Democratic rally celebrating the seven-year anniversary of the Affordable Care Act on Capitol Hill Wednesday, the former vice president told reporters that he thought "any gentleman would" apologize for making such inaccurate claims.
When asked if the Obama administration wiretapped Trump Tower, Biden jokingly replied Obama had ordered wiretaps "five or six times."
"Are you joking? Are you serious? Are you serious?" he continued.
Several congressional leaders have called on Trump to apologize for accusing Obama of spying on the GOP nominee, including a few Republicans.
While appearing on KTAR Arizona radio's "Mac & Gaydos," Rep. Sen. Jeff Flake, R-Az., said Trump should make a public apology to Obama.
"I think that ought to happen and we ought to move on," Flake said.
In a statement, House Democratic Leader Nancy Pelosi said Trump should apologize not only to Obama but the American people as well.
"President Trump has been desperate to distract attention from the FBI investigation into the Kremlin's grip on his administration. Director Comey's testimony put the last nail into President Trump's mendacious wiretapping claims. President Trump owes President Obama and the American people an apology for his disgraceful and incendiary fabrications." she said.
It's unlikely that Obama will receive an apology from Trump—especially after House Intelligence Committee Chairman Devin Nunes, R-Calif., revealed that information about Trump's team was "incidentally collected" during a surveillance of foreign associates staying in the Trump Tower. Nunes said there was no evidence Obama was involved in the actual surveillance of foreign targets residing in the New York City building.
Although Trump and his campaign weren't specifically targeted during the investigation, Nunes said Trump's communications could have been collected in the crossfire.
A U.S. government source told Reuters it was "logical, if not normal" that communications between Trump aides and others could have been unintentionally intercepted during the investigation on Trump's associates, especially since Trump's administration would have "an interest in talking to foreign governments" after Trump moved into the White House.