Joe Biden Beats Bernie Sanders by Double Digits in Eight Michigan Polls Ahead of Primary
Joe Biden has double-digit leads over Bernie Sanders in eight Michigan polls ahead of the state's Democratic primary on Tuesday, putting him in the frontrunner spot by an average of more than 20 points.
The former vice president's average poll rating among Michigan primary voters was at 54 percent on Tuesday morning, according to the FiveThirtyEight tracker.
His progressive rival Sen. Sanders (I-VT) was backed by just 32 percent of Michigan poll respondents on average, putting him 22 points behind Biden as Democratic voters went to the ballot box.
The huge gap between the leading primary candidates in the state is partly the result of Biden securing big wins in nine Michigan polls released in the days leading up to Tuesday's vote.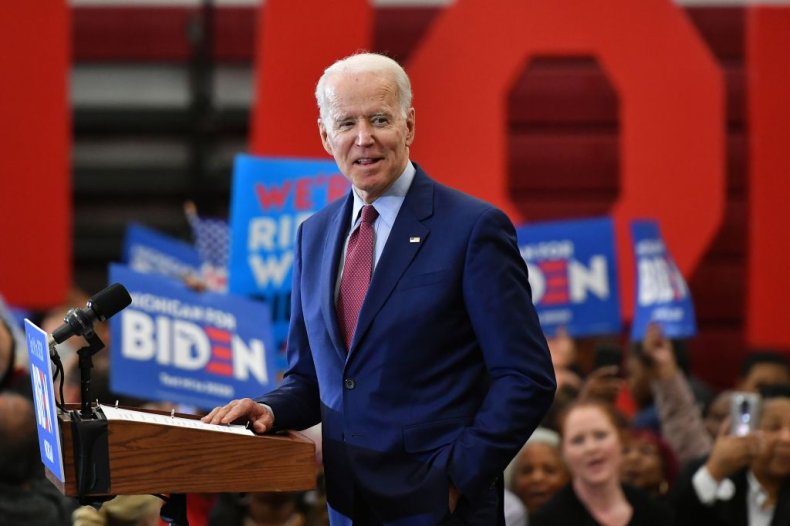 A poll conducted by Target Insyght on Sunday recorded the ex-vice president's largest lead in the state, with 65 percent of respondents saying they favored Biden. Just 24 percent backed Sanders.
His 41-point lead in the Target Insyght survey was contrasted by an AtlasIntel poll conducted between March 7 and March 9 that found Biden leading the Vermont senator by just 8 points, with 48 percent support from likely party voters in Michigan.
The former vice president's leads in the seven polls falling in the gap between those outliers all found Biden ahead, but recorded widely varying support for the frontrunner and Sanders.
A Monmouth University poll, awarded an "A+" rating by FiveThirtyEight, put Biden 15 points ahead of the senator, while a YouGov survey conducted on behalf of Yahoo! News gave the former vice president a 13-point lead.
Three more polls added to polling average trackers yesterday put the gap between Biden and Sanders at a little more than 20 points—including a survey from the progressive polling firm Data for Progress.
Its results gave Biden a 21-point lead over Sanders in the Great Lakes State, while polls from EPIC-MRA and Mitchell Research & Communications gave the ex-VP leads of 24 and 21 points respectively.
Democrat-led firm Swayable found Biden to be 34 points up on Sanders in a poll published on the morning of the Michigan vote and conducted between March 7 and March 9.
Another survey run by Concord Public Opinion Partners on behalf of The Welcome Party discovered Biden had a winning margin of 30 percent among likely Michigan primary voters.
The nominating contest in Michigan will be the closest watched of the six due to take place today, with 125 delegates up for offer in the state.
Prior to Biden's succession of Super Tuesday wins on March 3, Sen. Sanders looked most likely to win Michigan, having pulled off a major upset against Hillary Clinton in the state during the 2016 primary.
The Vermont senator came 1.5 percentage points ahead of the former secretary of state, despite some polls predicting that Clinton would walk away with the race.