Joe Biden Beats Democrat Rivals on Every Key Election Issue Except Climate Change: Poll
Democrats believe Joe Biden is the best 2020 primary candidate on several key election issues—including the economy, health care and foreign policy.
A new poll by CNN and market research firm SSRS found that 56 percent of Democrat voters thought the former vice president was the best person in the primary field to handle foreign policy, while 38 percent backed him on the economy, compared to just 19 percent who said the same of second place Bernie Sanders.
Biden was also found to have double-digit leads over his nearest rivals when it came to immigration policy and gun policy.
When asked which candidate they thought could best handle health care, Democrat voters again put the leading primary candidate ahead, but the gap between him and Sanders was closer, with the senator for Vermont polling just 3 points behind Biden on 28 percent.
Across the six policy areas covered by the CNN and SSRS poll—the economy, health care, immigration, the climate crisis, foreign policy, and gun policy—it was only on the climate crisis that Biden did not have a lead.
He was tied with Bernie Sanders in first place on the issue as both received the backing of 26 percent of 424 Democrat voters surveyed by CNN and SSRS.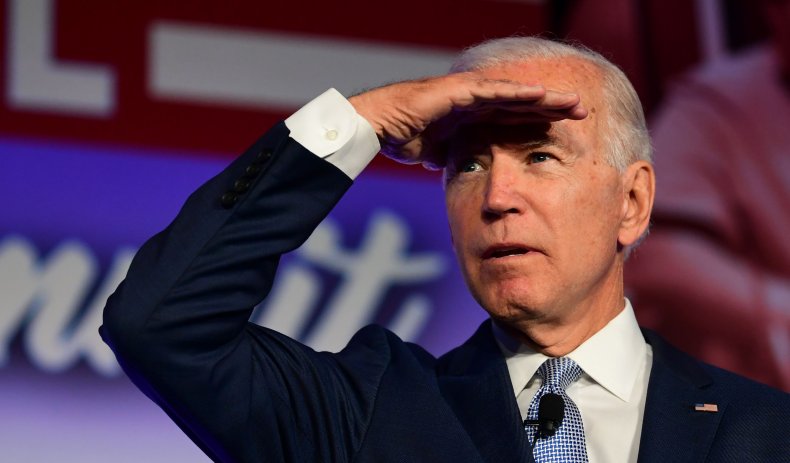 Sen. Elizabeth Warren of Massachusetts, who has enjoyed a boost in the polls of late, consistently ranked third place in the six top policy areas—but came joint second on immigration and was only narrowly behind Sanders on gun policy, foreign policy and the economy.
Joe Biden's sizeable lead on policy in the national survey of Democrats was similar to his overall support numbers. The CNN poll, released today, found the former vice president has a 15 percent lead over Warren, who came in second place with the backing of 19 percent of respondents.
His lead in the poll is the highest it has been since the same survey was conducted in April this year, when he was 24 points in front of then-second place Bernie Sanders.
The senator for Vermont is now close behind Warren in third place with 16 percent support among the Democrat survey group, who were polled on the cusp of Sanders' New York rally last Saturday, where he received the endorsement of the influential freshman representative Alexandria Ocasio-Cortez.
Although Biden was found to enjoy double-digit leads over his closest challengers in the new poll's overall support rankings and survey on key election issues, it does not appear that his policy positions were the only factor putting him well ahead of rivals.
Respondents to the poll were also asked whether it was more important that the Democratic Party's 2020 nominee had a strong chance of beating Trump or aligned with them on "major issues."
More than half of respondents (54 percent) said it was more important that a candidate could beat Trump while just 39 percent said stances on key issues were more important to them.
The CNN/SSRS poll was conducted from October 17-20 among a representative sample of 1,003 U.S. adults, including a sub-group of 424 Democrats and Democrat-leaning independents that were registered to vote.