Joe Biden, Bernie Sanders and Elizabeth Warren Polls: Here's How the 2020 Democratic Front-Runners Stack Up
A dozen Democratic presidential candidates will take the stage on Thursday night for the fourth primary debate, but all eyes are likely to be on the race's three frontrunners: Joe Biden, Bernie Sanders and Elizabeth Warren.
The trio has been steadily leading the pack for months as the crowded field of primary candidates continues to thin out. Biden has largely been considered the front-runner since entering the race in April, with Sanders and Warren often competing for second place.
But a new poll released Tuesday morning shows that both Biden and Sanders now have some catching up to do.
Warren has pushed ahead of both of her male competitors in the latest George Washington University poll. The Massachusetts senator led the Democratic field with 28 percent of the vote. Sanders came in second with 21 percent of the vote and Biden in third with just 18 percent support.
The survey also found that Warren was the prevailing second choice for voters. Thirty-four percent of those polled who support another candidate marked the Massachusetts senator as their second choice. Only 21 percent of voters said Sanders was is their second choice, and 17 percent chose Biden as second.
The poll also showed a 13 point-separation between the three top-tier candidates and the rest of the Democratic pack. California Senator Kamala Harris and South Bend, Indiana Mayor Pete Buttigieg were the next closest candidates, each drawing 5 percent of the vote.
Warren has also been surging among early-state Democratic voters. The CBS News Battleground Tracker recently found that 31 percent of voters in those areas backed Warren, while only 25 percent backed Biden and 17 percent backed Sanders.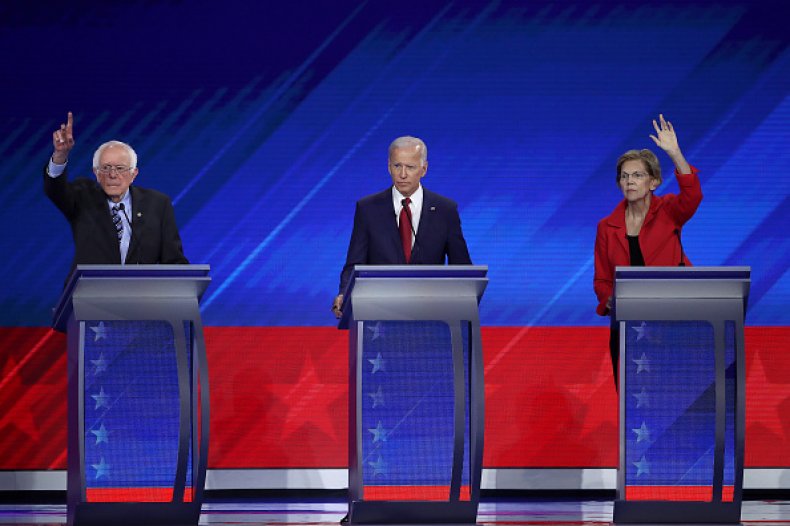 Tuesday's debate marks the first time that the 2020 Democratic candidates will be together since the House of Representatives launched an official impeachment inquiry against President Donald Trump. The inquiry began after it was revealed Trump tried to pressure Ukrainian President Volodymyr Zelensky to investigate Biden and his son Hunter.
Despite the Ukraine probe and Trump's incessant attacks, Biden's polling has remained steady. A Politico/Morning Consult poll from the early weeks of the Ukraine scandal found that 40 percent of likely Democratic voters still believed Biden has the best chance of beating Trump.
Biden, Sanders and Warren may be battling for first place in the Democratic primary, but most polls show the trio to easily be defeating Trump if head-to-head general election matchups were held today.
A poll conducted by Quinnipiac University earlier this month found that all three top-tier candidates would win against Trump by at least 7 percentage points. Biden was shown beating Trump by 51 percent to 40 percent. Sanders edged out Trump 49 percent to 42 percent. Warren also bested Trump by 49 percent to 41 percent.