Joe Biden Crushed Bernie Sanders in Illinois, a State Sanders Nearly Won in 2016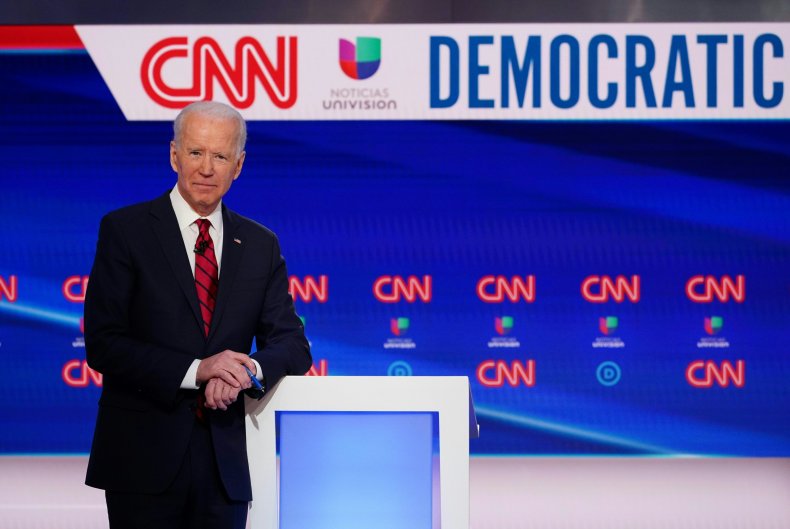 Former Vice President Joe Biden swept the midwestern state of Illinois Tuesday night, flipping dozens of counties that Senator Bernie Sanders captured in a state he nearly won during his primary fight against former Secretary of State Hillary Clinton in 2016.
So far, Biden has won 76 out of the 78 counties that Sanders carried four years ago. One of the two remaining counties Biden hasn't managed flip as of Wednesday has not yet reported results from Election Day.
When the complete returns are in, Biden—who further cemented his delegate lead and ensured an all-but-certain, first-ballot victory at the Democratic National Convention—will have won nearly every single of the state's 102 counties, forecasts showed. As of Wednesday morning, he was leading Sanders by a 23-percentage-point margin, equivalent to hundreds of thousands of votes.
In 2016, Sanders nearly won the state, lagging behind Clinton by a margin of less than 2 percentage points.
Early Wednesday morning, the Sanders campaign released a statement saying that the Vermont senator would "assess his campaign."
"The next primary contest is at least three weeks away," campaign manager Faiz Shakir said in the statement.
The FiveThirtyEight primary forecast showed a 99 percent chance that Biden will enter the convention in June with an absolute majority of delegates, forestalling a much-feared contested convention that would have spilled intra-party disputes further into the open.
"Today it looks like, once again... our campaign has had a very good night," Biden said in an address Tuesday evening. "We've moved closer to securing the Democratic Party's nomination for president. And we're doing it by building a broad coalition that we need to win in November."
The two other states that voted Tuesday night, Arizona and Florida, also went for Biden. Combined, the three states distributed a total of 441 delegates between the two candidates. Biden now has 1,153 of the 1,991 pledged delegates needed to secure the nomination outright at the convention.
Ohio Democrats were set to vote for their presidential nominee on Tuesday until the state's health director, Dr. Amy Acton, issued an emergency directive closing polling sites due to the COVID-19 outbreak.
The decision was made "to avoid an imminent threat with a high probability of widespread exposure to COVID-19 with a significant risk of substantial harm to a large number of people," Acton said in her order.
Governor Mike DeWine had earlier tried to obtain a judicial order blocking Tuesday's ballot, but Judge Richard A. Frye declined the state's bid.
However, after Acton's last-minute order, Secretary of State Frank LaRose was able to issue a memorandum to the state's county boards of elections ordering that they shutter on Tuesday.
Ohio's presidential primary election will take place on June 2. At least four other states have postponed their primary elections due to fear of the coronavirus.
Neither the Biden nor Sanders campaigns have yet responded to Newsweek's request for comment.