How Warren and Bloomberg Could Spoil Sanders' and Biden's Margins on Super Tuesday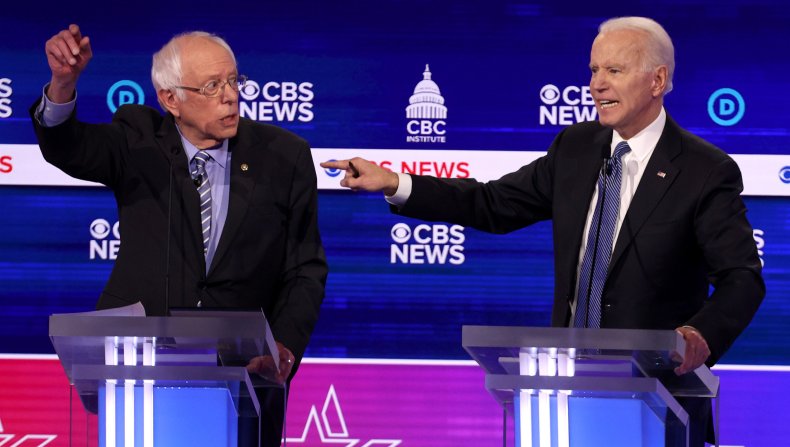 Vermont Senator Bernie Sanders remains the outright favorite to win the most delegates on Super Tuesday, when 14 states plus American Samoa hold primaries for the Democratic Party's 2020 presidential nomination.
A FiveThirtyEight forecast projects that Sanders will rack up 540 delegates once the final haul from Tuesday's vote is tallied, 145 more delegates than are projected to go to the anticipated second-place finisher, former Vice President Joe Biden.
However, the combination of other candidates remaining in the race could amplify a spoiler effect, forcing the most likely candidates for the nomination to share votes with almost-certain losers and further divide the party ahead of its July national convention in Milwaukee.
"What those candidates would need to have more than anything else is a sense of real momentum," Peter Hart, a veteran Democratic pollster, explained to Newsweek about how spoilers could persist through the race.
The Democratic National Committee's primary rules require that delegates be apportioned only to candidates who exceed 15 percent of the vote total either statewide or in individual districts.
While the race is currently a two-person battle between Sanders and Biden, other candidates who manage to breach 15 percent could siphon off just enough delegates to deny either of them the nomination on a first ballot.
The FiveThirtyEight forecast currently holds a 64 percent chance that no candidate will achieve a majority of pledged delegates before the convention. Sanders has a one-in-five chance, and Biden has a one-in-seven chance.
Polling in some of the most populous Super Tuesday states shows that former New York Mayor Michael Bloomberg and Massachusetts Senator Elizabeth Warren could play an outsize role in delegate splitting. In California and Texas, both are teetering around the edge of the 15-percent threshold, putting them in a position to siphon a substantial share of the delegate count.
Hart observed that "somebody has to emerge as the moderate choice" and so Bloomberg's presence on the ballot could serve to hamper Biden's quest to surmount Sanders.
"Biden may not be the moderate choice if Bloomberg starts to take off," he said.
In California—where FiveThirtyEight projects Sanders will receive nearly 200 delegates and Biden will receive 115—Bloomberg is averaging 13 percent statewide. Warren is averaging just a hair above 15 percent. Proportionately, 144 delegates will be awarded based on statewide vote totals.
A two-person race in California suddenly becoming a four-person race could redirect dozens of delegates.
The same is true in Texas, where Sanders holds around a five-point lead over Biden and both are well-positioned to walk away with a sizeable haul. Warren and Bloomberg have polled on either side of the 15-percent threshold in the state. On Tuesday, 79 delegates will be awarded based on statewide vote totals. Split among four people, the number of statewide delegates Sanders and Biden could otherwise accrue in a two-person race would be slashed by one-third.
Overall, 1,357 pledged delegates will be awarded across the country on Super Tuesday, more than one-third of the total number of delegates who will vote on the first ballot in July.
In other key races, such as North Carolina, the ongoing viability of Bloomberg and Warren will continue to jeopardize the ability of either Sanders or Biden to clinch the nomination outright. However, rather than acting as spoilers, these campaigns may be trying to use that effect as a strategy to dominate in the event of a brokered convention.
"Here's the real challenge for these candidates: Who can stick the landing?" Hart said. "That really means coming out of Milwaukee with a sense of both momentum and a unified party."
On the debate stage in Las Vegas in mid-February, Sanders was the only candidate to argue that a mere plurality of delegates, and not an outright majority, should determine the nominee on a second ballot. If either Bloomberg or Warren can ensure that a majority-chosen nominee never arrives ahead of Milwaukee, they can keep their hopes alive for a second ballot, where anything goes.