Joe Biden and Bernie Sanders Would Both Beat Donald Trump in the General Election if It Were Held Today, New Poll Shows
Democratic presidential candidates Joe Biden and Bernie Sanders would both beat President Donald Trump in a hypothetical general election match-up if either were to face off with the incumbent Republican today, according to a new poll.
The Morning Consult polling data, which has a margin of error of plus or minus 1 percent, showed Biden beating Trump 47 percent to 42 percent, while Sanders beat the president 46 percent to 42 percent. But both matchups showed that a sizable portion of voters remained uncommitted, with 11 percent and 12 percent of respondents saying they were undecided for each respective candidate.
Biden's lead over Trump has actually declined slightly in the past week. When the Morning Consult survey was previously conducted, Biden was a point further ahead of the president. Meanwhile, the former vice president has increased his lead over Sanders among Democratic voters. While the senator from Vermont was backed by 36 percent of respondents, Biden has increased his percentage of support by 3 points, with 60 percent of Democrats backing his campaign. Five percent of voters said they'd support "someone else."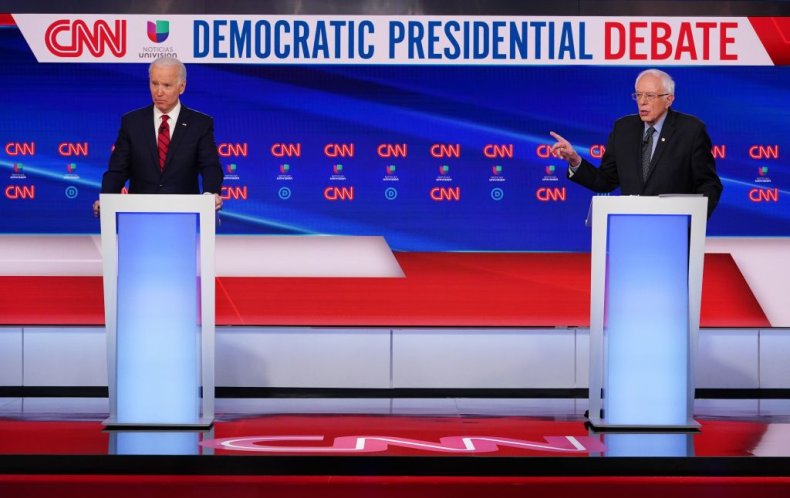 Other recent national polls have shown similar results, with both Democratic candidates several points ahead of the president.
A survey released on March 20 by Emerson College showed Sanders and Biden both ahead of Trump by six points, 53 percent to 47 percent. An NBC News/Wall Street Journal poll released on March 15 showed Biden with a more commanding lead of 9 points, 52 percent to Trump's 43 percent. Sanders, in that survey, also beat Trump by 4 points, 49 percent to 45 percent.
But Democrats learned in 2016 that significant leads in national polling do not necessarily translate to victory in November. Former Democratic presidential candidate Hillary Clinton was ahead of Trump by more than 20 points in nationwide surveys at one point during her 2016 campaign, but she eventually lost in the general election. While Clinton did win nearly 3 million more votes than Trump, the president won by a significant margin in the Electoral College after a series of narrow victories in key battleground states.
As the coronavirus pandemic has taken control of the news cycle, and multiple states have postponed their Democratic primaries, the election has faded noticeably from national attention. Biden, the frontrunner for the Democratic nomination, has attempted to convince voters that he would handle the growing crisis better than Trump, repeatedly criticizing the president. Sanders has made a similar argument while using his campaign to raise awareness and money for those negatively impacted by the pandemic.
"For too long, the warning signs were ignored. For too long the administration said the threats were 'under control,' 'contained,' 'like the flu.'" Biden said in a Monday video message from his home. "The president says, 'No one saw this coming.' Well, that's just not accurate. Our intelligence officials were warning of coronavirus threat in January," he noted.